Conor McGregor says Floyd Mayweather's financial difficulties have forced him out of retirement
By Michael Kelleher
Last Updated: 07/08/17 10:21am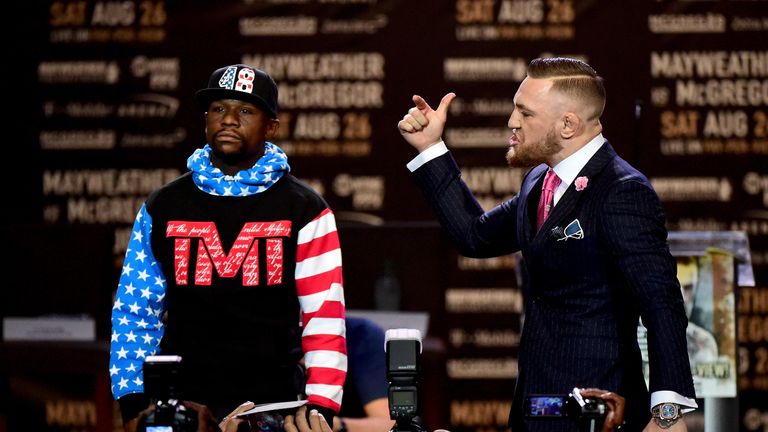 Conor McGregor believes Floyd Mayweather has been forced back into the ring because of his current financial situation.
The former five-weight boxing world champion will take on UFC lightweight champion McGregor in a boxing match at the T-Mobile Arena in Las Vegas on August 26.
But Mayweather has been in the headlines for the wrong reasons in recent days as news emerged he owes the Internal Revenue Service (IRS) more than $22.2m in unpaid taxes from 2015.
The 40-year-old admitted he has found his training camp "gruelling" after facing off with McGregor for the first time in Los Angeles on Tuesday and McGregor believes 'Money' has been forced out of retirement.
When asked if he believes Mayweather is taking the fight because of his tax situation, McGregor said: "I believe so. He is saying it is for the fans. I disagree.
"I believe he has to take this fight. He is in a dire financial situation.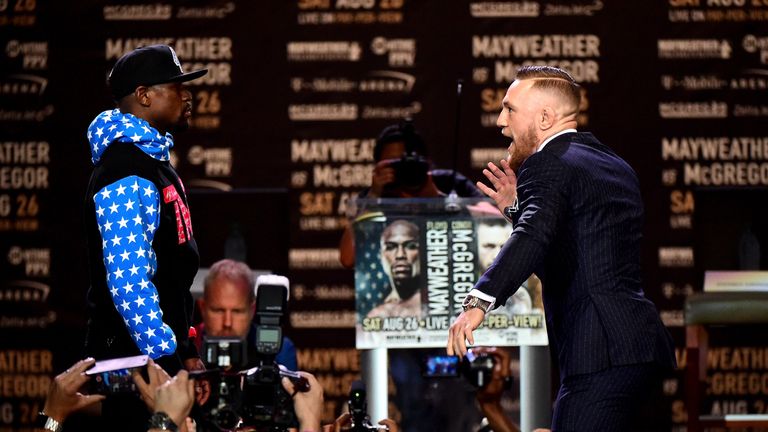 "I am still trying to learn this tax game as well. I am only new money.
"But it doesn't sound like a good position to be in. He was whipping out the cheque and all…. He owes money. That's over now and everyone sees it is over now."
The suited McGregor mocked Mayweather's decision to show up wearing a Stars and Stripes tracksuit to the Staples Centre in LA, suggesting it was linked to the American's reported tax difficulties.
"He's in a tracksuit - he can't even afford a suit anymore!" McGregor declared to roars of laughter from the crowd.
The Irishman also scoffed at Mayweather's suggestion during the press conference that he was willing to fight with eight-ounce or even four-ounce - which are used in UFC bouts - gloves.
"He was trying to say something about the gloves and I was like: 'You cried about the gloves. You cried about the ounces in the gloves'," McGregor said.
"He was saying they have got be 10 ounces. They can't be Mexican-made gloves. They can't be gloves made out of horse hair. I didn't even know there was a difference.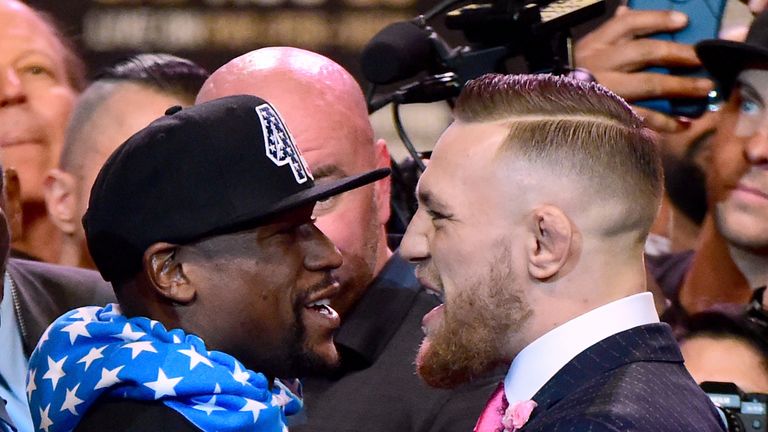 "I spar with six-ounce gloves and that is just sparring. We fight with four-ounce gloves. And we are only wearing gloves a few years in our game. I am just laughing at it all. Whatever…
"Just have the cheques ready and I am going to steam through your boy, take the cheques and take over this whole game as well."
McGregor is planning to bring former two-weight world champion Paulie Malignaggi into his camp as a sparring partner to help him prepare for Mayweather.
It is an interesting choice given Malignaggi has previously threatened to "knock the beard" off the UFC lightweight king and McGregor says he plans to make him pay for his comments.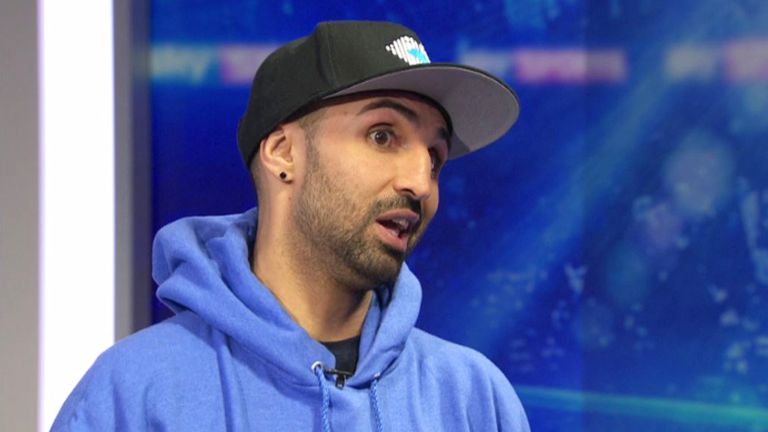 "I am going to knock the beard off you homie. You are going to be apologising for everything you have been trying to do to get into boxing."
Paulie Malignaggi on Conor McGregor
"Paulie talked a load of s**t," McGregor said. "He is being brought in to spar and he will answer for what he has been saying. We will go from there after that but we are going to have a knock in the gym."
The fight will represent by far the biggest payday of McGregor's career, with the 28-year-old confirming: "If it clears the [Manny] Pacquiao numbers, I will clear $100m."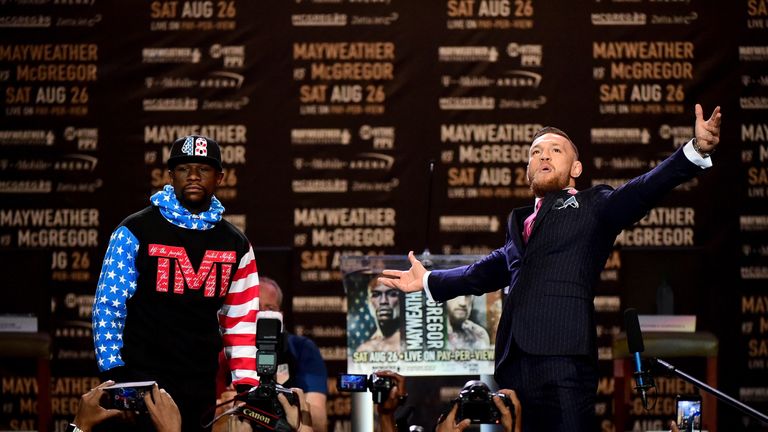 Reflecting on that fact, the usually-brash McGregor couldn't help taking a moment to marvel at the position he finds himself in as he highlighted the 'McGregor Sports Entertainment' logo on the advertising boards behind him.
"I'm very proud of that, I have to say," McGregor admitted. "Think of where we were - MMA has just risen up. I don't know, I'm blown away.
"I'm extremely happy and proud and grateful that this is my life and I am still only 28.
"When Floyd was 28, he was nowhere near this level. He was on Oscar De La Hoya's undercard."