Mayweather vs McGregor: Floyd Mayweather scoffs at 'rattled' Conor McGregor's knockout claims
By James Dale
Last Updated: 07/08/17 10:28am
Floyd Mayweather scoffed at Conor McGregor's vow to knock him out inside four rounds, insisting he has a "granite chin".
McGregor was branded a quitter when Mayweather went on the attack in New York on Thursday as the four-stop tour promoting their cross-combat superfight drew a pro-McGregor crowd of more than 13,000 at the Barclays Center, home of the NBA's Brooklyn Nets.
Five-weight undefeated champion Mayweather was in no doubt the claim he "won't see round five" was genuine from McGregor, but pointed towards his 49-0 record against some of boxing's biggest names as he questioned the 28-year-old UFC star's hubristic intentions.
"I truly believe that Conor McGregor believes in himself," Mayweather said. "But one thing you guys know is that I've got a granite chin.
"I've been hit by some of the best, so if he hits harder than Canelo [Alvarez], we'll see. If he hits harder than [Manny] Pacquiao, Oscar de la Hoya, Miguel Cotto or [Shane] Mosley, or any of those other guys, we'll see."
After being dubbed 'Money' by McGregor on their promotional stop in Toronto on Wednesday, Mayweather - draped in an Irish flag - showered his Mixed Martial Arts opponent with dollar bills as he laid claim to the bragging rights following another podium stand-off.
The pair have exchanged insults in each of their news conferences so far ahead of their fight at the T-Mobile Arena in Las Vegas on August 26, but 40-year-old Mayweather remains adamant his experience is ensuring he is not fazed by the verbal confrontations.
"I'm always relaxed, I always keep my composure," he added. "As you could see when we were on the podium, he [McGregor] was upset.
"I wasn't upset at all and he was rattled. I just tell myself I've been here before and I know what I've got to do."
Mayweather, who previously retired from boxing in September 2015, is the overwhelming favourite for the mega-bout next month, but insists he had to return to the ring to prove any remaining doubters wrong.
"I'm just thankful to be in this position," he added. "To be at this age and compete against young guys, it's a blessing.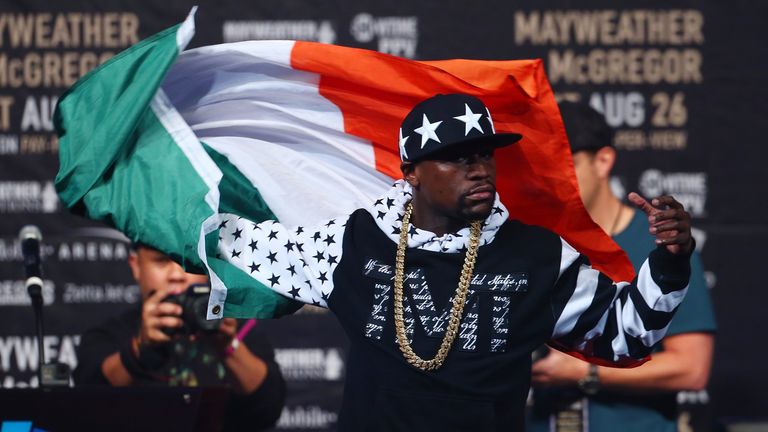 "He's bigger, he has a longer reach and I've been inactive. Plus, we've never seen him lose standing up. He feels like he's the best. I was the best when I was competing. So I think I had to come back for this last hurrah.
"Even though I haven't been competing in boxing, you still have young guys calling me out all the time. Even the MMA fighters call me out.
"My thing is that either I'm going to get him, or he's going to get me. The outcome is going to be what it's going to be. Once you have that mindset, you're going to be okay. He's coming for me and I'm coming for him."