McDonnell vs Solis II: Jamie McDonnell vows to leave victory in no doubt against Liborio Solis
By Matt Horan
Last Updated: 02/11/17 3:49pm
Jamie McDonnell has vowed to leave victory in no doubt as he gears for his rematch with Liborio Solis in Monte Carlo, live on Sky Sports.
McDonnell, 31, defeated the Venezuelan last year by a unanimous decision but it was a verdict deemed controversial and following Solis' team appealing the result, the WBA ordered a rematch.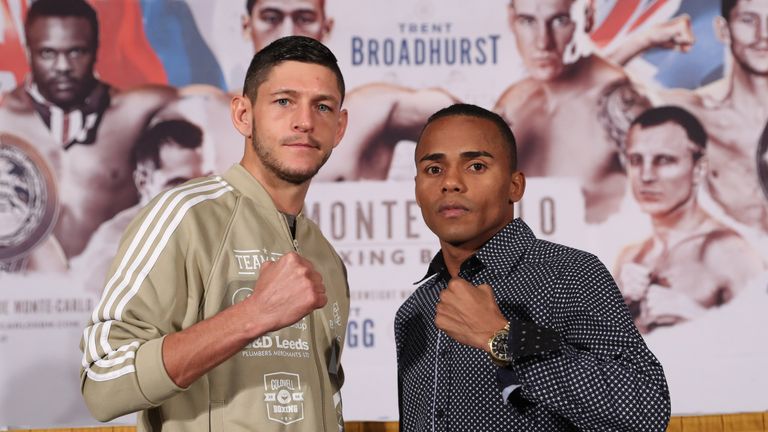 The Doncaster bantamweight has admitted that it was far from his best performance the first time round and McDonnell is determined to convincingly beat the former super-flyweight world champion on Saturday and prove his doubters wrong.
"I thought I boxed well against him last time," said McDonnell. "I knew it would be a tough fight but not as hard as it ended up being, I had to dig in a bit more but I was in control.
"I heard a lot of comments about it being tight and I was disappointed in them, I felt I ran the fight, there were tough spells and he caught me with some right hands and had good work rate, but I dealt with him and never felt in danger and he didn't hurt me. I thought I won by three or four rounds.
"I also know that I fought the wrong fight. I was sat on the ropes too much and I needed to be busier. I won't be taking any chances. I want to go in there, look good and get the job done. A stoppage would be great.
"People can see it differently but I believe I cruised through it, then I came out and some people thought he nicked it. That gets you down but people are allowed their opinions - this time there will be no doubt about me being the winner.
"I've been absolutely flying in this training camp and I don't think I've ever been on track with the weight as good as I have been."
McDonnell's trainer David Coldwell recently stated that he believes this would be McDonnell's last fight at the bantamweight limit, but the WBA title-winner says that he may hang around for one last major challenge.
"This will be the sixth defence and after I win I want to look for bigger things," he continued. "Paul Butler is lined up for the winner and that could be a big fight, but Ryan Burnett is the WBA and IBF champion and that would be great and I could look to move up in weight.
"I'm big for bantamweight and I've been saying for a while that I would move up, I'm staying here for one big fight before going up and I do think that super-bantamweight would really suit me.
"I want to leave bantamweight as the best but maybe I will need to look to make that step up if the fight I need doesn't come. I've been at this weight for a long time and it's hard."
Watch Jamie McDonnell, Scott Quigg, Dmitry Bivol and Dereck Chisora box in Monte Carlo, live on Sky Sports from 7pm this Saturday, before Deontay Wilder defends his version of the world heavyweight title against Bermane Stiverne, live on Sky Sports, in the early hours of Sunday morning at 1am.