Watch Anthony Joshua, Conor Benn, Katie Taylor and another brilliant 12 months of boxing on Sky Sports
Last Updated: 18/12/17 4:13pm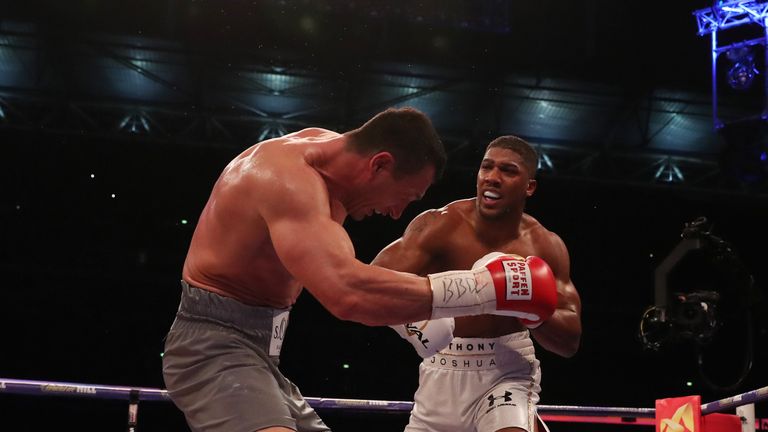 The boxing countdown to Christmas is on, with five fantastic shows coming your way this week. Anthony Joshua, Conor Benn and Katie Taylor all feature in individual shows, while Christmas Eve brings you a look back at another bumper year in the ring.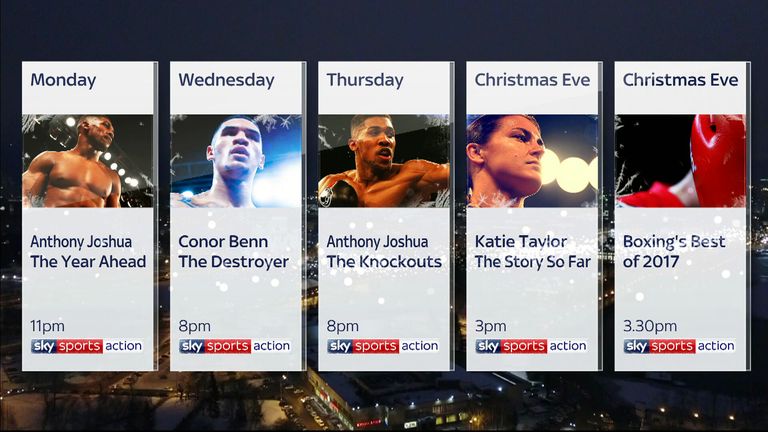 Anthony Joshua - The Year Ahead
The IBF and WBA world heavyweight champion has made it clear that unifying the division is his goal for 2018. We look at the options, including WBO holder Joseph Parker and WBC champion Deontay Wilder, and where do the likes of Dillian Whyte, Luis Ortiz and, of course, now he's on the comeback trail, Tyson Fury fit in?.
Conor Benn - The Destroyer
Conor Benn is creating the sort of knockout chaos that his father, Nigel, did decades ago. We look back at a fantastic year which saw 'The Destroyer' grow into a star in his own right. He began the year unable to box due to a broken jaw, but has had five fights in the last five months and won them all. Once those Big Ben chimes begin, sit back and watch Benn do what a Benn does best...
Anthony Joshua - The Knockouts
He is 20-0 with 20 KOs, with that sensational win over Wladimir Klitschko reminding you of Joshua's knockout power. From his professional debut in 2013, through to his recent title defence against Carlos Takam, this show will serve up a pre-Christmas treat. Remember his war with rival Whyte? What about his York Hall appearance? And what about the moment he stepped up and was crowned world champion. It's all here.
Katie Taylor - The Story So Far
The Irish sensation has not just become a world champion, she has also taken women's boxing to a new level. From winning Olympic gold and dominating the amateurs, Taylor has burst onto the professional scene in sensational fashion. We hear from Taylor and we relive that wonderful night in Wales, when Ireland's favourite won the WBA belt from Anahi Esther Sanchez.
Boxing's Best of 2017
It has been another blockbusting 12 months of boxing on Sky Sports, so there are all sorts of issues to discuss, from the best fights of the year to the biggest names in the sport, as well as just what we can expect in 2018.
We know we are getting Bellew-Haye II, so who better than the former to be part of a team, along with Spencer Oliver and Darren Barker, to debate the talking points, pick their pound-per-pound best, and share their thoughts on the likes of Joshua, Benn, Fury, Wilder, Gennady Golovkin, Vasyl Lomachenko and perhaps for the final time, Floyd Mayweather?