Anthony Joshua, Floyd Mayweather, Conor McGregor and David Haye feature in our best quotes of 2017
Part 2 - July to December
Last Updated: 27/12/17 2:00pm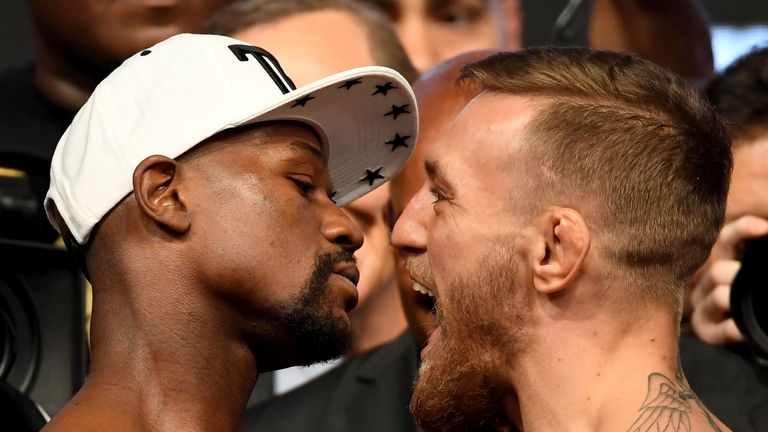 Anthony Joshua, Floyd Mayweather, Conor McGregor and David Haye all feature in more of our best quotes of 2017.
The verbal warfare between Mayweather and McGregor intensified during a press tour ahead of their summer showdown, while Haye resumed his war of words with Tony Bellew, and potential opponents continued to call out Anthony Joshua.
Here is a selection of memorable quotes from the last six months of the year...
July
"There's no other way about it. His little legs, his little core, his little head. I'm going to knock him out inside four rounds, mark my words."
Conor McGregor makes a confident prediction at first press conference with Floyd Mayweather.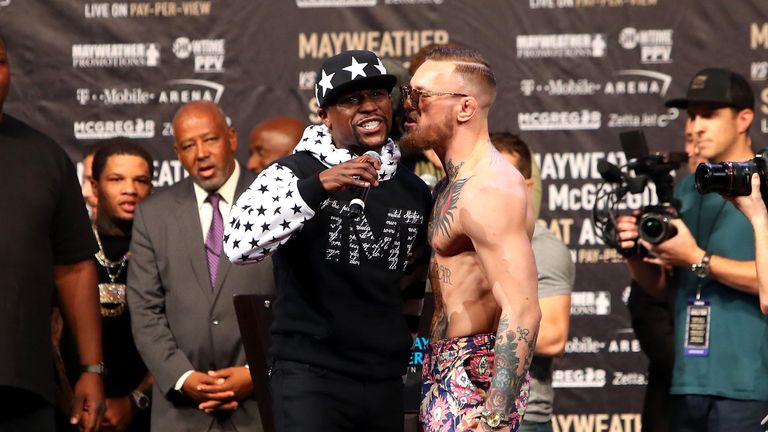 If you believe in yourself like you say you believe in yourself, bet your whole fight cheque. Turn the pressure up. I don't quit, I don't fold under pressure. I'm the best and I know I'm the best
Floyd Mayweather
"I'm going to change the face of the game the same way I have for Mixed Martial Arts. I'm going to change the way fighting is approached."
UFC star McGregor insists boxing will never be the same after the showdown with Mayweather.
"I've been hit by some of the best, so if he hits harder than Canelo [Alvarez], we'll see. If he hits harder than [Manny] Pacquiao, Oscar de la Hoya, Miguel Cotto or [Shane] Mosley, or any of those other guys, we'll see."
Floyd Mayweather says McGregor will not succeed after other ring greats failed to knock him out.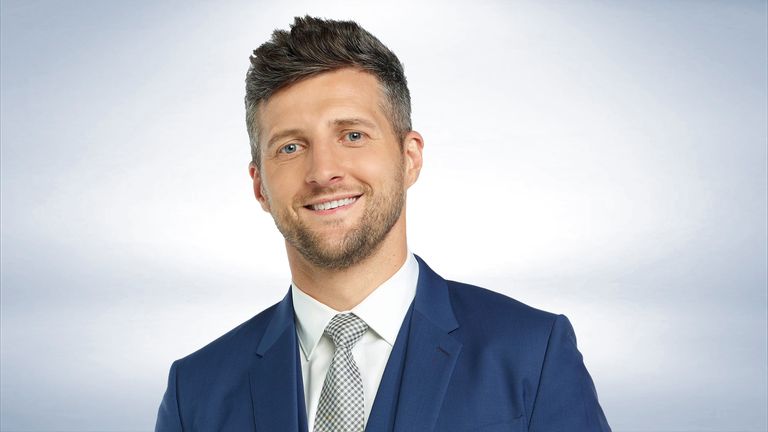 I thoroughly expect Floyd Mayweather to win, but he'd better not let the world of boxing down. I hope he wins it for boxing but this is an amazing event and I can't wait for it.
Carl Froch
"It makes me respect McGregor to see his work ethic that he's put into the training camp. Seeing him work hard every day and see that he's really determined to upset the odds."
Paulie Malignaggi reveals his first impressions of McGregor.
"My dream hasn't gone. I've still got a goal, I've still got ambition. We've still got big fights there ahead. But I don't regret anything that I've done, because everything that I've done makes me the man I am now."
Ohara Davies has no regrets after Josh Taylor inflicted his first professional loss.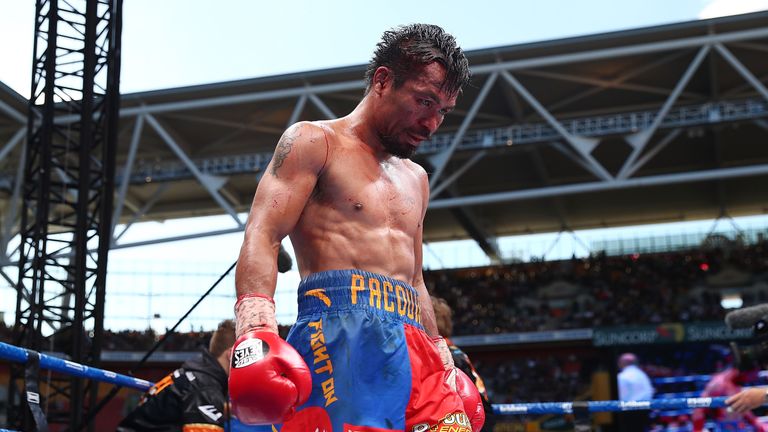 "I am also considering the opinion of people, the opinion of my family and my body. I plan to relax first and recover from the pains in my body and then after that, when I have already relaxed, that's when I will think hard about it."
Manny Pacquiao is forced to consider his future in the sport after a shock loss to Jeff Horn.
August
"It's a circus. And I do want that sparring video released. I understand it can't come out now, but Conor, if you have any balls, release what really happened."
Malignaggi quits McGregor's training camp after a photo of a sparring appeared in social media.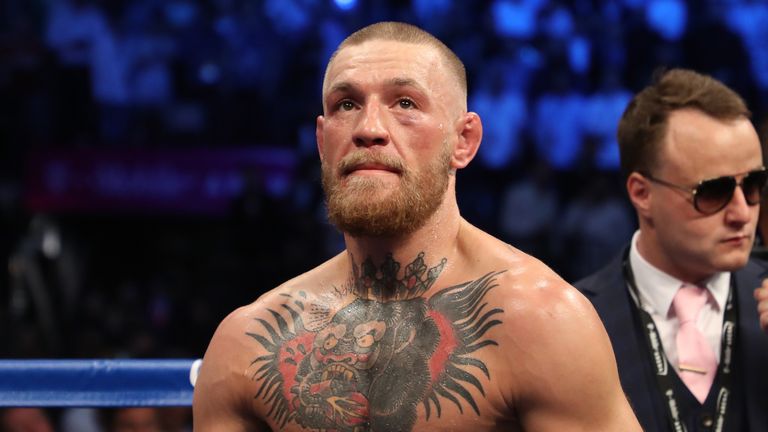 I would have liked the ref to let me keep going. I was a little fatigued, but let me go down, let's see how things play out. I've been strangled on live TV before and came back.
Conor McGregor
"Rocky Marciano is a legend and I look forward to going down in the hall of fame some day. This is my last fight ladies and gentlemen, my last fight. Tonight was my last fight for sure.:
Mayweather confirmed his permanent retirement after bringing up his 50th win against McGregor.
"I've lived it and loved every second of this sport. A few too many miles on the clock. Time to say goodbye. Thank you and goodbye boxing."
Nathan Cleverly announces his retirement after defeat to Badou Jack.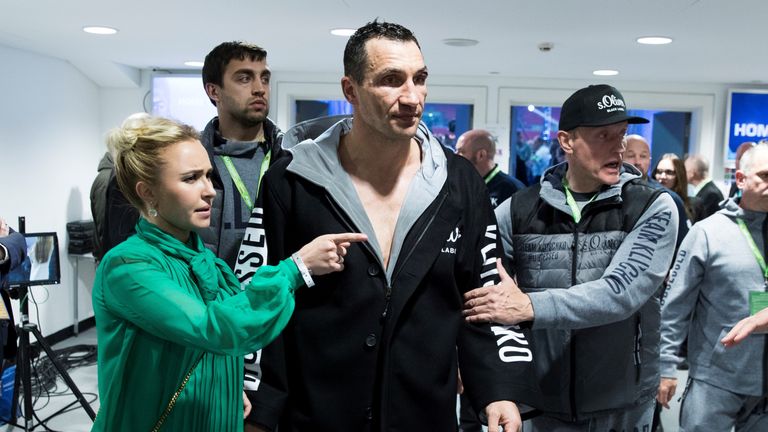 "As an amateur and a professional boxer, I have achieved everything I dreamed of, and now I want to start my second career after sports. I would have never imagined that I would have such a long and incredibly successful boxing career."
Wladimir Klitschko confirms his decision to retire rather than take a rematch with Anthony Joshua.
September
"I'm very happy to be able to take the belt back to New Zealand. He put up a good contest, but he ran most of the time."
Joseph Parker reflects on his points win over Hughie Fury.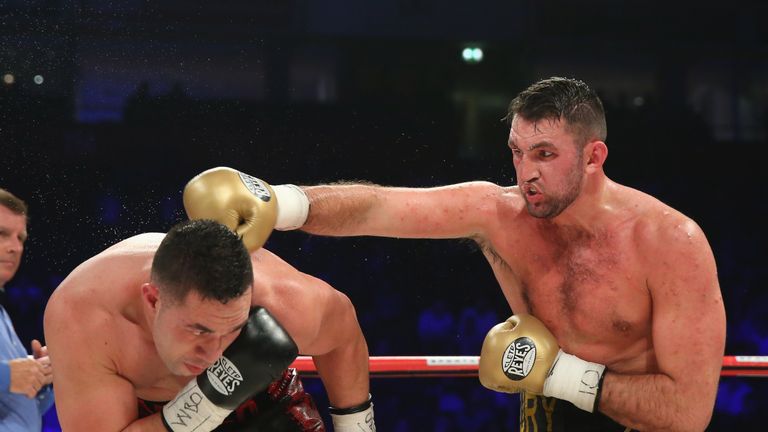 I thought he skated it, it was an absolute masterclass, shades of Ali. It was beautiful boxing in the heavyweight division.
Mick Hennessy on Hughie Fury's defeat
"The only thing that kept me going is I know what my dad would have wanted for me. To fight and to win. I probably cried once a day. I had to try and shut feelings off. After the fight I had a good cry."
Luke Campbell reveals that he had to cope with the death of his father before his points loss to Jorge Linares.
"As I walk away from the sport of boxing today, I leave at the top of your glorious mountain, which was always my vision and my dream. I did it. We did it."
Andre Ward stuns the boxing world by hanging up his gloves after rematch win over Sergey Kovalev.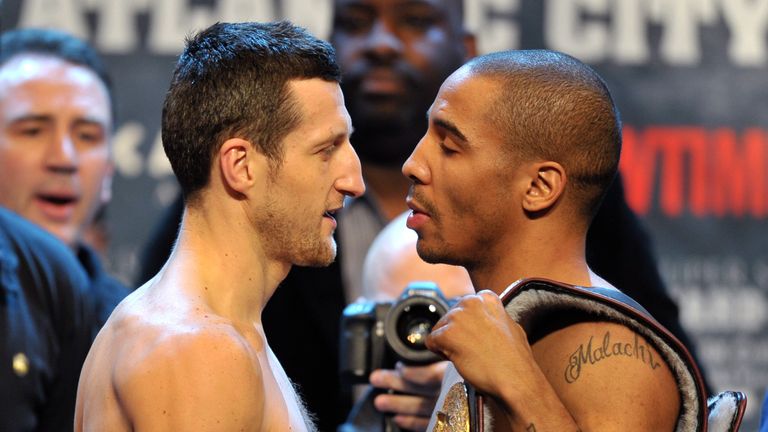 I won't be sad to see the back of him. It's not sour grapes. I know he beat me, but I never really got that excited when he boxed.
Carl Froch
"Every time I want a true fight, I want big drama show. Of course I want a rematch. I want to fight a true fight."
Gennady Golovkin calls for a second fight with Saul 'Canelo' Alvarez after their middleweight battle ended in a hotly disputed draw.
October
"I take it as a sign. If God decided, then that's how it was meant to be. Still, I will be myself and I will not betray my principles. A few million won't make me richer or happier."
Kubrat Pulev was a philosophical mood after pulling out of the Anthony Joshua fight.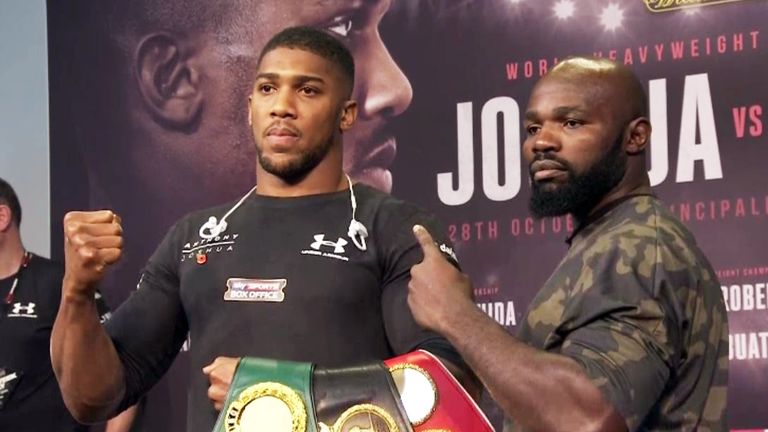 At this level, we are always ready. I have taken this great opportunity and have done what I can to be ready. We have done everything practically that we can do to give the fans a great fight.
Carlos Takam on taking Anthony Joshua fight
"He's a good fighter, strong, a good boxer who does all the basics well but I just believe I have the shazam! I find a way, whether I am boxing or fighting."
Dillian Whyte says his 'shazam' will be crucial in clash with Robert Helenius.
"For the last 10 weeks I've not touched a Curly Wurly, not one. If I win the Commonwealth title, I can have as many Curly Wurlys as I want, but I'll probably have something a bit more classy like a big bar of Cadbury."
Heavyweight David Allen reveals his strict new diet regime.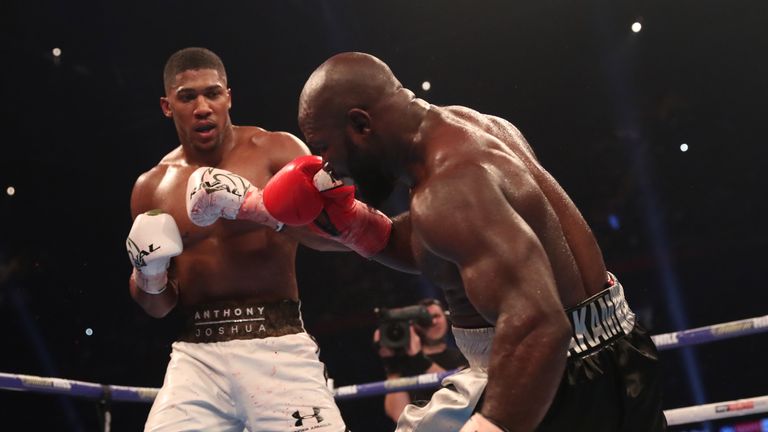 "My job is the opponent. I don't have control over the ref's decision. It was a good fight until the ref stopped it. I have the utmost respect for Takam."
Anthony Joshua reflects on his 10th round stoppage win over Carlos Takam.
November
"I got this weird email from Eddie's email address, but he must have been hacked. He made the most ridiculously low offer. It could have been the most insulting offer in boxing history."
Joseph Parker's promoter is far from impressed with Eddie Hearn's opening offer for a fight against Anthony Joshua.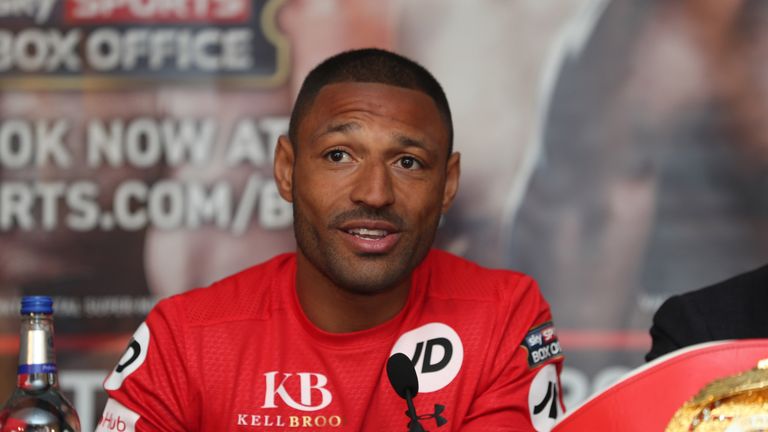 I think he's travelled over to the other end of the world to get away from me. The next thing he'll be saying is, if Kell comes to the jungle and lasts longer than he does, he'll fight me then!
Kell Brook on Amir Khan
"That bloke was a total bag of rotten cabbage. I don't know if you guys have that over there in England, but he was just trash."
Jarrell 'Big Baby' Miller gives a scathing assessment of British rival Dillian Whyte.
"You're Insta-famous. Fantastic short clips on the bag or pads. They look great. You punch from the ankles from the get go. Junior's been craving the big fights without actually wanting them."
George Groves mocks Chris Eubank Jr's use of social media.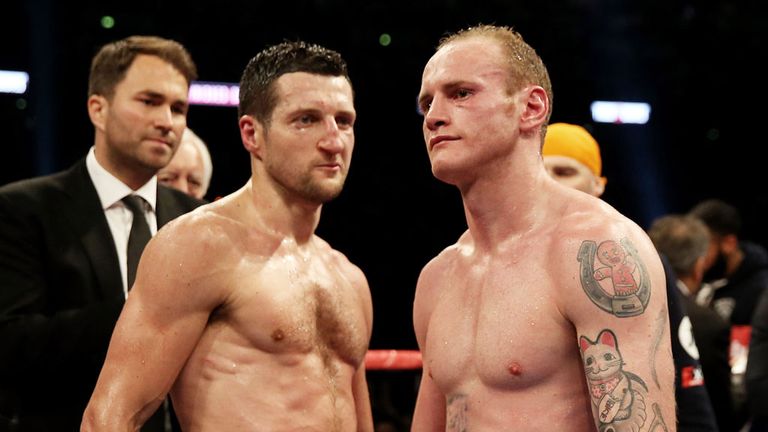 It is Mission Impossible for Groves. I just don't think he has the capability of stopping Chris Eubank Jr and now, if you don't stop Chris Eubank Jr you don't win on points.
Carl Froch on Groves-Eubank
December
"Even if he was reckless I liked to see the way he came through and I know he will go all the way. I just know he will. He's got guts."
Nigel Benn still believes that son Conor can win a world title.
"Someone labelled it the four kings right now, four undefeated heavyweight fighters in myself, Anthony Joshua, Joseph Parker and Deontay Wilder. But I labelled it 'three peasants and a king'. There's only one king of the division and that's me."
Tyson Fury vows to conquer the top division again after a UK Anti-Doping hearing allows him to continue his career.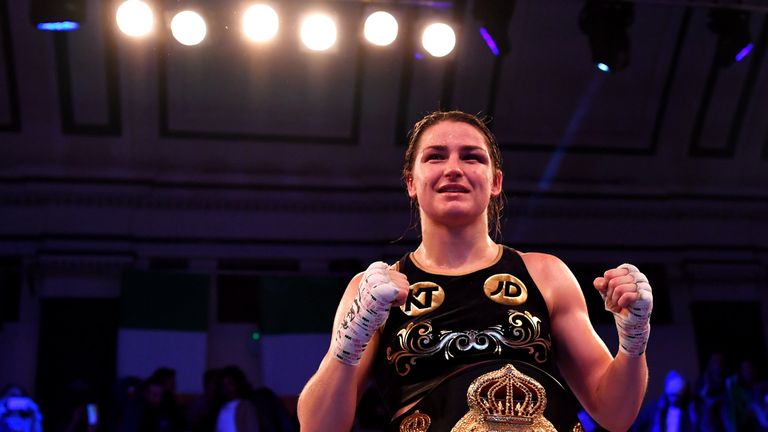 I was born to do this, created to box, I live the life of my dreams. Whoever has the other belts, I want them all, and I want to make history in this sport.
Katie Taylor
"I think it's going to be a bloody, brutal fight. I said when I first turned professional I'm not here to mess about, I want to take risks and push on. Chamberlain has done a lot of talking and on February 3 we'll see if he can back up his words."
Lawrence Okolie intends to end his feud with Isaac Chamberlain in explosive fashion.