Chris Eubank Jr pauses, turns away and says nothing for 10 seconds. He is trying to envisage a boxing career where his father plays no part whatsoever, writes James Dielhenn.
Eubank Jr is a remarkably normal bloke away from the monocle and winklepickers of Chris Eubank Sr, whose clout has opened doors for his son but also overshadowed him. Eubank Sr looms over every move his son makes but, without his father present, the younger incumbent to the weighty family surname has a significant presence of his own.
"I don't think my father will ever have absolutely nothing to do with me, in terms of boxing," Eubank Jr exclusively told Sky Sports. "I've come to terms that people will always compare us. But this is the type of fight that really does separate me from my father. Winning this fight, winning the tournament, puts me in a league of my own."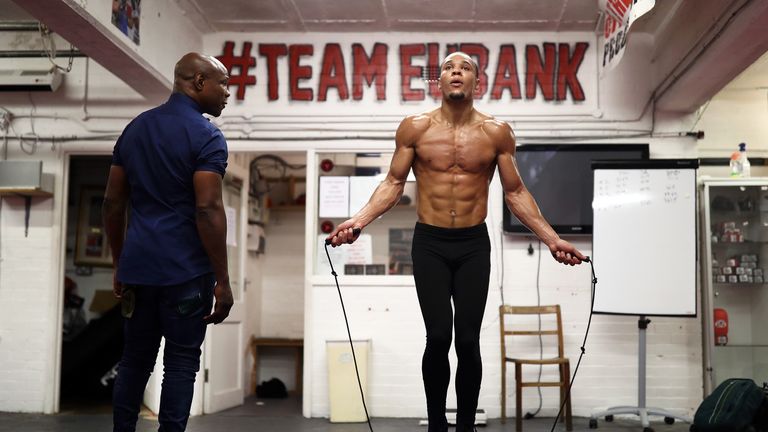 Live boxing on Sky Sports
March 3 - Kell Brook makes his light-middleweight debut against Sergey Rabchenko, before Deontay Wilder defends his heavyweight gold against Luis Ortiz.
He is talking about fighting George Groves, the WBA super-middleweight champion, in the semi-finals of the World Boxing Super Series. Eubank Jr considers it his most challenging and high-profile test but, despite what you might see on social media, he insists his father was merely a small part of the preparation.
"No," is the blunt response when asked if Eubank Sr is the brains behind the brawn. "Obviously as a kid starting off in the game, he was heavily involved because you don't know what you're doing so you look for guidance. Now, aged 28 and a world champion, I know what I'm doing. I don't need that instruction. I've been there, I've done it."
So Eubank Sr, a former two-weight world champion and still one of boxing's most enigmatic characters, is just a supporter rather than a trainer?
"I think so. Yes, I would say that.
"I'm now at the stage where it's nothing to do with my father. All the support, all the hate, comes from things that I have done as a fighter. As my own man."
When Eubank Jr opted to take boxing seriously as a teenager, his father sent him to train in Las Vegas where his surname couldn't protect him but, if the intention was to beat the dream out of him, it failed.
Over a decade later Eubank Jr is less than elaborate than his father, answers questions without reciting Wordsworth and has a far more serious demeanour, likely because he is still fending off assumptions of nepotism.
Eubank Jr on Saunders defeat
"This is much bigger. Massively. The attention. That was a long time ago and I wasn't as established as I am now. Groves is a bigger name and a better fighter."
"For sure. In the beginning people said 'he's just doing it because of his dad, it's a gimmick, he just wants to make a little bit of money then he'll do something else'. Now they say 'he's the real deal'. They see the graft and the hard work. They see the preparation. They hear the language. They see the performances. They know I am for real.
"This fight - after I beat Groves - it becomes undeniable. There are still some people that deny it but when I beat a guy like Groves on the world stage, there will be nothing people can say."
Detractors enjoyed his sole career loss, to Billy Joe Saunders via points three-and-a-half years ago, and Eubank Jr believes they still want to see his impressive self-confidence dented further.
"For sure. Listen, that's been the case for every one of my fights. There has always been a good percentage of people who want to be there when Chris Eubank Jr gets knocked out.
"People that didn't like my father, that dislike transferred over to me. But the people who did love my father were a much higher percentage and they became supporters of my career.
"I'm walking down the street and people are bibbing, shouting: 'knock Groves out'. People coming up to me and begging, saying 'please, please'. I haven't that for a long time - or at this magnitude, ever before.
Click here for Sky Sports' live boxing schedule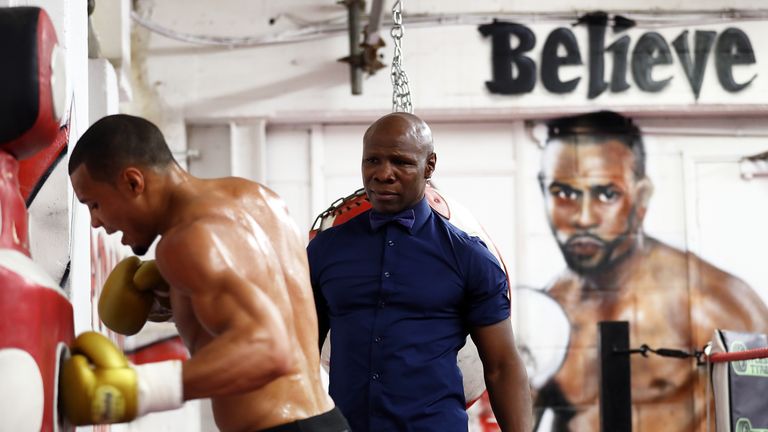 I'm a Marmite type of guy - you either love me or hate me. The things I do, the way I fight, the way I talk is not for everybody.
"I'm a Marmite type of guy - you either love me or hate me. The things I do, the way I fight, the way I talk is not for everybody. A lot of people love it and support me but it doesn't gel with how lots of people think a fighter should be. Those are the people who want to watch me lose.
"If you're a neutral character, then on a Saturday night when you fight, there is a nightclub on. There is a really nice girl at the club. 'Do I watch this guy fight or do I go to the club? I'll go to the club and catch a replay of the fight'. Whereas if they hate you, forget the girl and the club - 'I'll go to the fight to watch him lose'."
Perhaps Eubank Jr motivates himself by the idea of silencing critics because he insists that he has never met one in person.
"Never, never. People might find that surprising if you go through my social media. Genuinely, there's never anything but love and respect when I walk down the street. Shaking hands, taking pictures, talking to the kids. I've never had anybody come up to me and say something bad which proves that you can't take social media seriously.
"Some people get caught up with what's being said online. A lot of the time people won't mean the things they said - they've had a bad day, they log on, and vent. A few years ago, when I really watched what everyone was saying, there was a guy who gave me stick all the time. One day he posted a picture of me and we were shaking hands. I didn't realise this was the guy, when he came up to me."
The social media conduct of both Eubanks has been called into question by Groves. He first labelled Eubank Jr "Insta-famous" then spoke of "gimmicks" in footage showing Eubank Sr interrupting his son's sparring to protect the opponent. More recently Groves has disapproved at his perception that former opponents left permanently hurt by him, Eubank Jr and Eubank Sr have crept into the pre-fight jibing.
"What I do know - it's very bad for Groves to be focusing so much on me, my father, our relationship and what I'm doing on social media," Eubank Jr responded. "He said I'm 'Insta-famous'. None of that has any relevance to what will happen [in the fight]. I don't know why he takes time out of his day to talk about it, or think about it.
"The world's most dangerous gimmick is coming to take his belt."
Watch the Anthony Joshua vs Joseph Parker world heavyweight title unification fight, from Principality Stadium, Cardiff, on March 31, live and exclusive on Sky Sports Box Office.