Anthony Joshua would be 'happy' to face Deontay Wilder next, if they both successfully come through their world title fights, says promoter Eddie Hearn.
The American heavyweight aimed a fresh verbal attack at fellow champion Joshua and Hearn ahead of his WBC title defence against Luis Ortiz in the early hours of Sunday morning, live on Sky Sports.
Wilder accused Hearn of 'milking the cow' instead of taking a fight against him, but the Matchroom Boxing boss has welcomed this blockbuster bout, provided that Joshua firstly wins a unification clash with WBO title-holder Parker on March 31, live on Sky Sports Box Office.
"Talking of milking the cow, I think Deontay's got a chip on his shoulder, because his udders are dry," Hearn told Sky Sports News.
"He's making very small money and needs a new promoter. I don't think he has a promoter at the moment, so if he doesn't - Deontay just pick up the phone, drop me a line. We'll get this AJ fight, we'll make you some real money.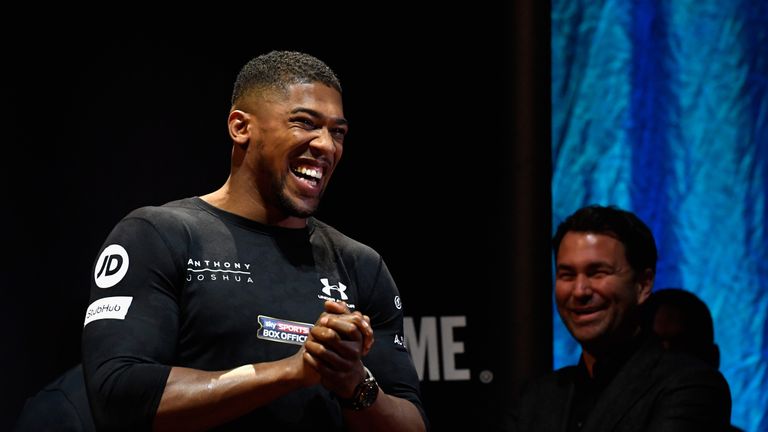 Make no mistake, I was with Anthony Joshua this morning, he wants to fight Deontay Wilder.
"He's WBC champion, he's a great fighter, who is a great personality, but for this camp he's been like a one-man salesman, just travelling around the globe, trying to sell his own fight. He should be in camp. This is a proper fight, his first real test.
"Make no mistake, I was with Anthony Joshua this morning, he wants to fight Deontay Wilder. He sees that as an easier fight potentially than the Joseph Parker fight.
"The plan is to become undisputed heavyweight champion of the world. He's got to deal with Parker first on March 31, it's a tough fight. After that, Deontay is coming to Cardiff, we can sit down, we can get that fight made. No problems from our side."
Live Fight Night International


Hearn is prepared to offer a two-fight deal to Wilder, which would see Joshua making his debut in the US.
"Yes, absolutely. Anthony is happy to go into that fight next. Wilder was talking about he wants a 50-50 split. This is ridiculous, we're going to have three belts, he's got one.
"He's doing his thing in America. Now he's saying that he will take any split, as long as that split is reversed in the rematch. No problem with that. Again, pick up the phone, call me Deontay. It's very easy, we can get it done over a cup of tea and a slice of cake.
"America is fine. We'll do two fights. There's loads of different ways we can do the fight, but let's just get it made."
Watch Deontay Wilder vs Luis Ortiz live from Brooklyn, New York, in the early hours of Sunday morning, on Sky Sports Main Event, from 2am.