Wilder vs Ortiz: Deontay Wilder's recovery and game-plan explained by trainer Jay Deas
By James Dielhenn
Last Updated: 06/03/18 1:43pm
Deontay Wilder's performance against Luis Ortiz went exactly to plan except for a "treacherous minute", his trainer Jay Deas has explained.
Wilder was forced to survive a difficult seventh round, Ortiz's best moment of the fight, before rallying for a stoppage win to complete his WBC heavyweight title defence.
"I knew he would respond well. I was worried but I could see he was problem-solving," Wilder's trainer Deas told Sky Sports about the seventh-round onslaught.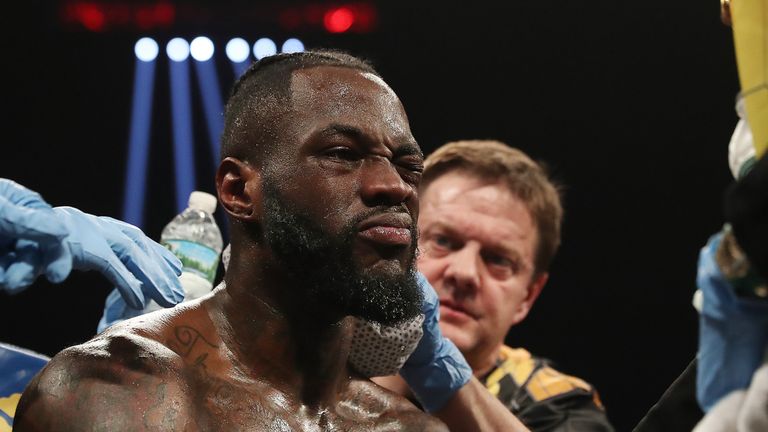 I've seen him in so many competitions and in so many personal situations where it looks bleak, from the outside. But I know Deontay pulls through those moments.
Jay Deas, Wilder's trainer
"He was grabbing and holding and, when there was space, trying to punch. He was in a hurricane but kept a level of composure and a presence of mind. That was a treacherous minute. Boy, what a tough fight.
"I've seen him in so many competitions and in so many personal situations where it looks bleak, from the outside. But I know Deontay pulls through those moments. He can dig deeper than anybody you will ever meet."
Wilder, who was depleted by "15 percent" due to a cold, was checked by the doctor before the eighth round but Deas insisted that any extra time he was afforded to recover was also given to Ortiz.
"The New York rules say the fighter's safety is paramount," Deas said. "I also know that, after Ortiz's first knock-down, he was given extra time. It wasn't just an eight-count. There were additional seconds.
"I asked Deontay if he was okay [after the seventh round]. He said he was. I said: 'Ortiz has wasted a lot of energy. With the minute's rest he's probably got another 30 seconds of real, serious output in him'.
"We had to be careful but I said: 'Ortiz is almost done, he's wasted almost his entire arsenal and doesn't have much left'. We just had to get through the next round - stay off the ropes, big pivots, move our feet."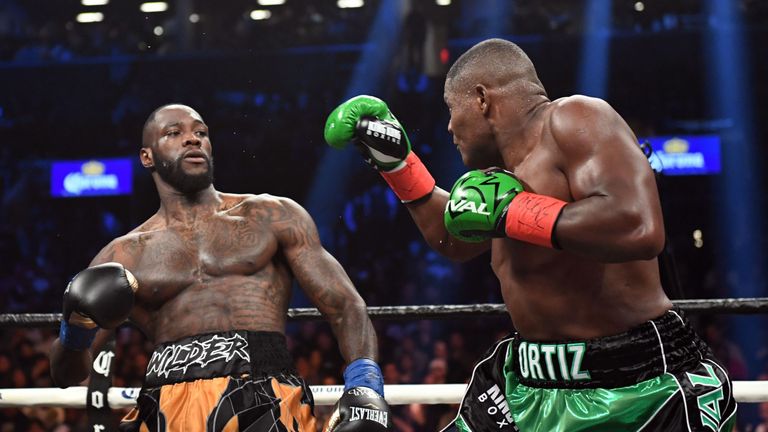 Wilder eventually won in the 10th round after flooring Ortiz for the third time - all three judges had the defending champion ahead on their scorecards at the time of the stoppage.
"Our thought process was that Ortiz wanted to counter Deontay's right hand," Deas explained. "They know it's an incredible weapon and the best thing that Ortiz does is a drop-snap - he takes a little lean back then comes over your right hand with his left hand. We thought their plan was to make Deontay reach or lunge, then drop-snap with the left hand.
"We decided not to play their game. We decided only to use the right hand when we could land without repercussions. Even if the rounds went by, even if we lost rounds, we didn't want to push the issue until we could burn some steam from Ortiz because we knew Deontay has better stamina than anybody.
"Don't take unnecessary risks with the right hand until we wear Ortiz down. Once we've taken the steam off his left hand, then we'll be willing to trade our right hand with his left hand.
"I expected a mid-to-late rounds knockout. I thought if we're even, or a little behind, after the middle rounds then through eight, nine, 10, 11 Deontay's stamina would be greater and we would sweep the last part of the fight."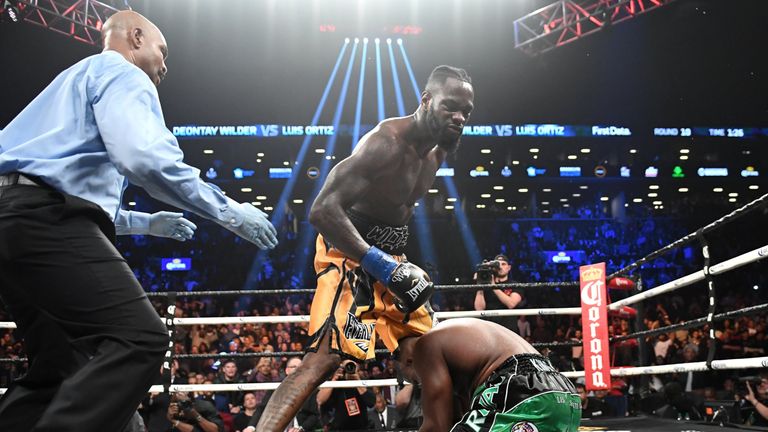 Wilder afterwards warned fellow title-holder Anthony Joshua that the heavyweight division needed "one champion, one face, one name."
Joshua's promoter Eddie Hearn responded: "You don't have to worry about AJ wanting fights like this - his track record speaks for itself.
"[Joseph Parker] is his second unification fight and it's his 21st fight. Others talk about unifications and 'one champ', but what are they actually doing about it?"
Watch Anthony Joshua vs Joseph Parker at the Principality Stadium, Cardiff, March 31, live on Sky Sports Box Office.
Anything stand out for you? Comment below to get involved in the debate, but please adhere to our House Rules. If you wish to report any comment, simply click on the down arrow next to the offending comment and click 'Report'.