Dereck Chisora helps Lucas Browne prepare for Dillian Whyte grudge fight
Last Updated: 12/03/18 5:51pm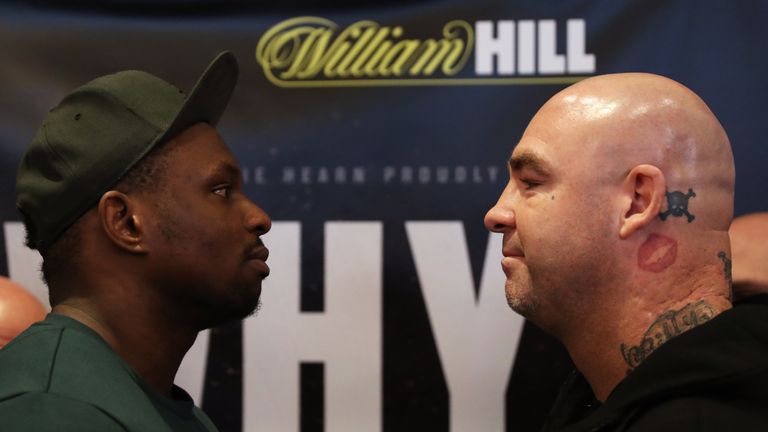 Dereck Chisora has risked the wrath of Dillian Whyte by becoming a sparring partner for his British rival's next opponent Lucas Browne.
Chisora tweeted a picture of himself helping former world champion Browne prepare for his fight with Whyte ahead of their WBC 'silver' title fight at The O2 on March 24, live on Sky Sports.
The Brixton fighter has been embroiled in a long-running dispute with Browne and Chisora's involvement is set to increase the hostility ahead of their heavyweight clash.
Whyte won his grudge match against British rival Chisora on a split decision in Manchester back in December 2016.
The Australian, who has an unbeaten 25 fight record with 22 knockouts, previously taunted Whyte by calling him the 'new Chisora' and claimed he was following in the footsteps of his bitter rival, who fell short when he stepped up to world title level.
Browne said: "To me, he's sort of like the 'new Chisora,' I feel.
"He's very good, don't get me wrong, Chisora also got to a world title shot, but didn't win it, and I think he's much the same. He's in that boat, much of a gatekeeper so to speak for the world title."
Chisora is not the first British fighter to help 'Big Daddy' Browne with his preparations, and follows in the footsteps of former world champion Tyson Fury who sparred with the Australian last week.
Browne said: "Complete and utter respect for the man (Fury), in and out of the ring, but especially in the ring considering we just had a spar.
"He's just magic. Being six foot, nine [inches], and being as long as he is, being able to move the way he does, is just phenomenal.
"It was quite hard for me. I'm fighting Dillian Whyte, he's nowhere near that long, and I haven't been sparring anyone that long. To come up against that, it's a bit daunting for me."
Watch Dillian Whyte against Lucas Browne at The O2 on March 24, live on Sky Sports.