David Allen says Lenroy Thomas should fulfil offer of a third fight instead of facing Joe Joyce
By Richard Damerell
Last Updated: 21/03/18 4:53pm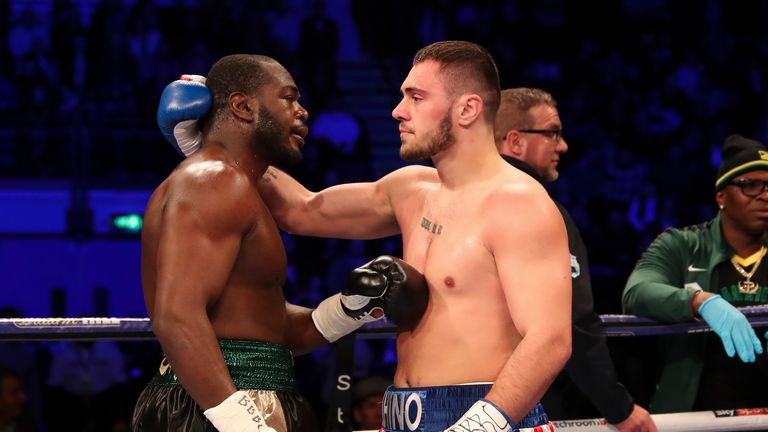 David Allen has urged Lenroy Thomas to stay true to his word by agreeing a third fight instead of defending his Commonwealth heavyweight title against Joe Joyce.
The Jamaican called for another title defence against Allen after this month's rematch ended in a technical draw when the Doncaster man was cut in the first round, but Thomas has since been targeted by Joyce's promoter David Haye about a possible fight.
Allen, Joyce and Haye are all expected to attend the Dillian Whyte-Lucas Browne fight at The O2 on Saturday night, live on Sky Sports, and the 'White Rhino' plans to have words with the 37-year-old former world champion.
He said: "I'm going to say 'look Dave' - that's what I call David Haye, because we're pals. 'Listen, leave Lenroy Thomas alone.'
"I want to fight Lenroy again, whatever happens, title or no title. I need to beat him."
But the 26-year-old insists he will not have any hard feeling towards Thomas if he does opt for Joyce, the Rio 2016 Olympic silver medallist.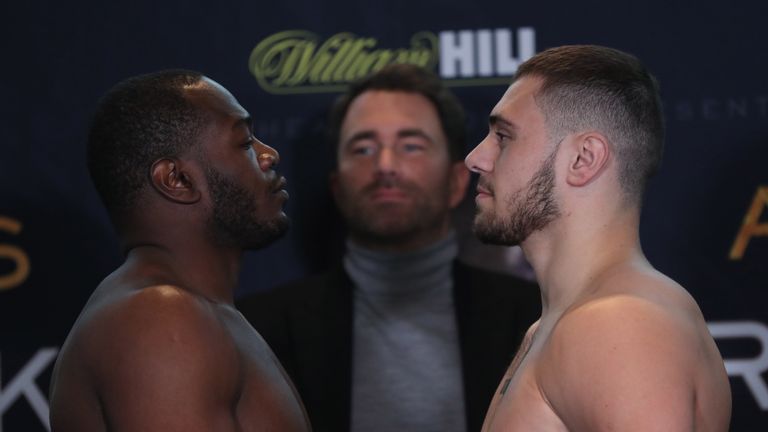 I don't dislike Lenroy anymore. Last time I saw him we had a cuddle outside his hotel room.
David Allen
He said: "Maybe that's a bigger fight for him, why not? If I was him, I'd fight Joyce. We'll both beat him, so he should lose to Joyce then lose to me.
"I don't dislike Lenroy anymore. Last time I saw him we had a cuddle outside his hotel room. I said: 'Have a safe flight'.
Allen plans to make a return in May and the 26-year-old will resist the urge to prove his bravery with a risky alternative opponent, wisely preferring a learning fight.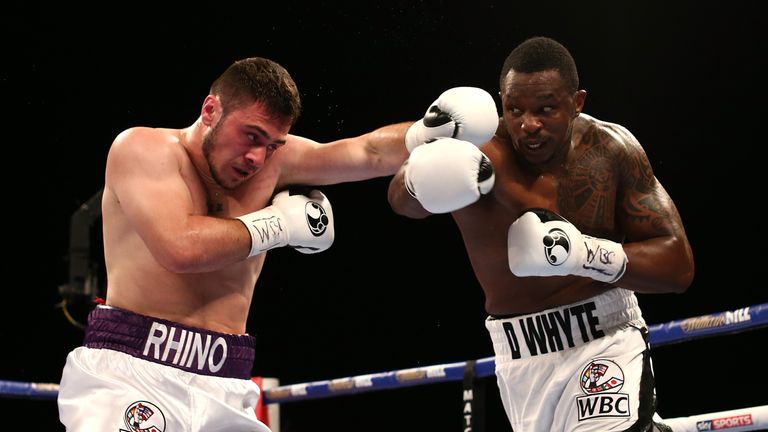 "Lenroy Thomas, a few eastern Europeans, I have no interest in anyone else," he said.
"I've come to a stage in my career now where people want to fight me to make a name for themselves, but that ain't going to happen. I'm too intelligent for that to happen.
"I'm not very experienced, I've not been boxing very long, I've not had many fights. My profile is a lot higher than my actual ability, and that's the truth of it."
Watch Dillian Whyte against Lucas Browne, on Saturday, March 24 at The O2, live from 7pm on Sky Sports Action.