Deontay Wilder is "ready and waiting" to receive an offer for a fight against Anthony Joshua, says his co-manager Shelly Finkel.
Joshua's promoter Eddie Hearn revealed on Wednesday how he initiated negotiations for a huge heavyweight showdown with WBC champion Wilder, and is confident a deal can be reached with the American's team.
With Hearn due to hold a meeting with Joshua and his trainer Rob McCracken on Thursday, Finkel is expecting the Matchroom Boxing boss to return with terms for the bout.
"We're ready and waiting," Finkel exclusively told Sky Sports. "He's [Eddie Hearn] coming back to us with an offer and we're waiting for it today.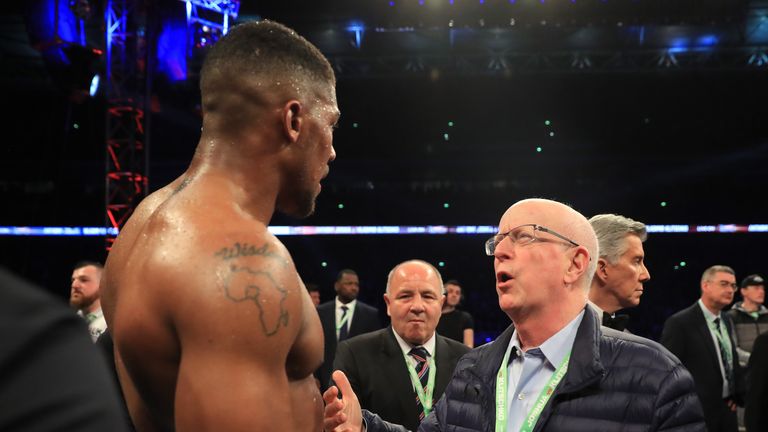 It's the only thing we're pursuing. That's the only thing to do.
"The fact is - we want the fight. Deontay has sent out a personal letter to the public and to Joshua: 'I'm ready to fight. I'm ready to fight you at a 60-40. I'm ready to fight you in the UK. My team, you asked to meet with yours - they're ready. Just let us know when and there is nothing on our side as an impediment.'
"He ended it with: 'I can't wait to meet you in the ring,' that's what we want. It's the only thing we're pursuing. That's the only thing to do."
Finkel reiterated that Wilder would accept a 40 per cent split of the purse, although he believes the unbeaten 'Bronze Bomber' will create more public demand than Wladimir Klitschko or Joseph Parker.
"The deal was 50-50 with Klitschko," said Finkel. "The [Wilder] fight should be bigger than Klitschko.
"We already said we would accept less than Klitschko. The fight with Parker was 33 [per cent to Parker].
"This is way bigger and Deontay is way bigger than Parker. We said we would take 40.
"Hopefully today or tomorrow, we'll have an offer from them, because that's what he's said he's doing."