Amir Khan says he is 'a bit nervous' ahead of return to the ring
By Sky Sports
Last Updated: 13/04/18 5:19pm
Amir Khan admits he is "a little bit nervous" ahead of his return to the ring for the first time in almost two years for his fight with Phil Lo Greco.
Khan takes on Canadian Lo Greco on April 21, live on Sky Sports, at the Echo Arena in Liverpool. He is currently in his hometown Bolton to complete preparations for the fight.
"It's great to be back home, it's been five years since I fought in England," he said. "The last couple of fights have been in the States, it's nice to come back and get a big fight over here."
He added: "I am a little bit nervous but I know my fitness is right, I've trained hard for this. I do feel a lot better than I did at 28. I'm 31 now, I'm at the peak of my career, I know I have a bit left in me to come back. I want to win another world title, that's what keeps me going."
Khan has been training with Southern Californian-based trainer Joe Goosson since late March, after he parted ways with Virgil Hunter after the American experienced undisclosed health problems.
Speaking about Goosson's training regime, Khan said: "He's a trainer that's always watching you. When I'm training he'll always be watching me, I've seen videos of him just watching me.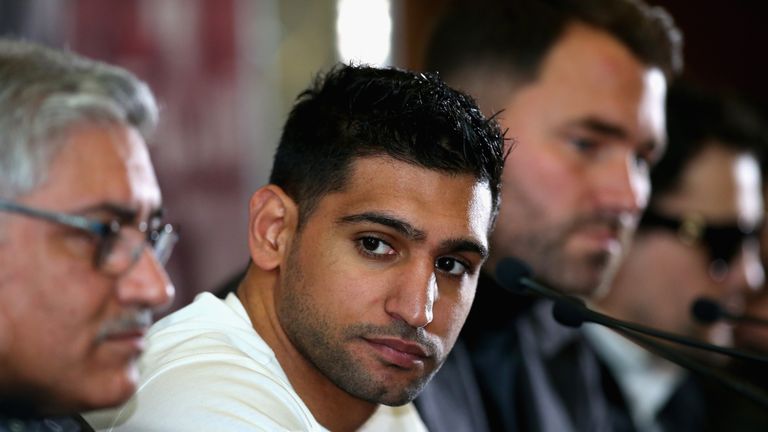 "He doesn't take his eyes off me, seeing what mistakes I'm making, telling me whilst I'm training, 'Amir your left hand's dropping, your right hand's dropping, keep your hands up higher'.
"He keeps you sharp but at the same time those things have become a habit, I'm not making silly mistakes. It's nice to have someone like him there, he's experienced he's trained some great champions in his day, and I still believe he's a great trainer, I'm glad to have him here."
Khan was speaking at a fun run event for kids from Bolton at the Macron Stadium on Friday.
Watch Amir Khan vs Phil Lo Greco from Liverpool, live on Saturday, April 21, on Sky Sports Main Event & Action, from 7.00pm.