Anthony Joshua vs Deontay Wilder talks 'positive' after $50m offer, says Eddie Hearn
By James Dielhenn
Last Updated: 27/04/18 7:25am
Anthony Joshua is "closer" to fighting Deontay Wilder after this week's $50m offer, promoter Eddie Hearn believes.
The deadline on Wilder's proposal will expire at midnight on Thursday [UK time] but Joshua's representative Hearn has still not seen details of the offer, and wants negotiations to resume on Friday.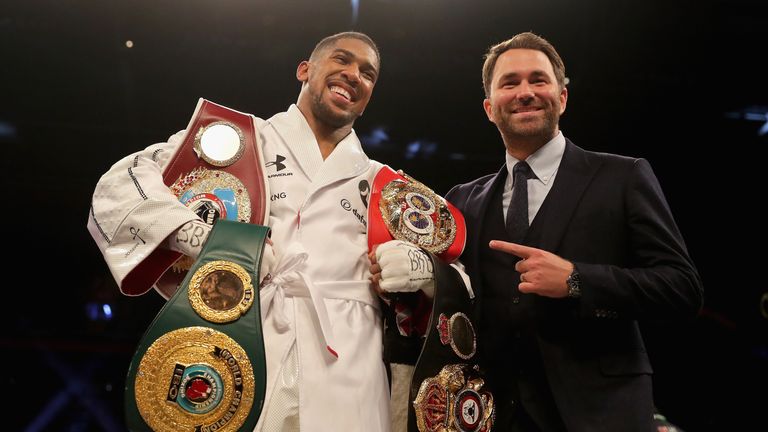 The positive thing to come out of this - whether it's a PR move or has substance - it's bringing the fight closer.
Eddie Hearn
Asked if the undisputed world heavyweight title fight would soon be made, Hearn told Sky Sports News: "I believe it will. I do believe it will. The negotiations are opening up now. We've made an offer, they've made an offer.
"There are other models and offers to explore, more details to explore. But the conversation is ongoing."
WBC champion Wilder revealed his offer (a 50-50 split with a guarantee of $50m to Joshua) on Instagram on Wednesday, to which the IBF, WBA and WBO titlist replied, "let's roll".
Wilder's representative Shelly Finkel validated the claim shortly afterwards but Hearn, in New York City this week, has yet to hold formal talks.
"The positive thing to come out of this - whether it's a PR move or has substance - it's bringing the fight closer," Hearn said of the offer that Wilder personally emailed.
"From our side, absolutely no doubt that this is the fight Joshua wants next. I believe Wilder wants it next.
"This has opened up the negotiations. It has everybody excited, it has everybody talking. Will this particular offer work? Maybe, but until we see the intrinsic side of the deal, we don't know. Is there another model that could work? Perhaps. It is positive all around.
"If the offer carries the right terms, it is of interest. The devil is in the detail and it's our job to look at that detail.
"I've written back and said we'd be very interested in that offer, but we can't rely on your email. We need to see a proof of funds and formal paperwork. There is lots to discuss.
"For a fighter to send another fighter an email, telling them about this money, is very strange.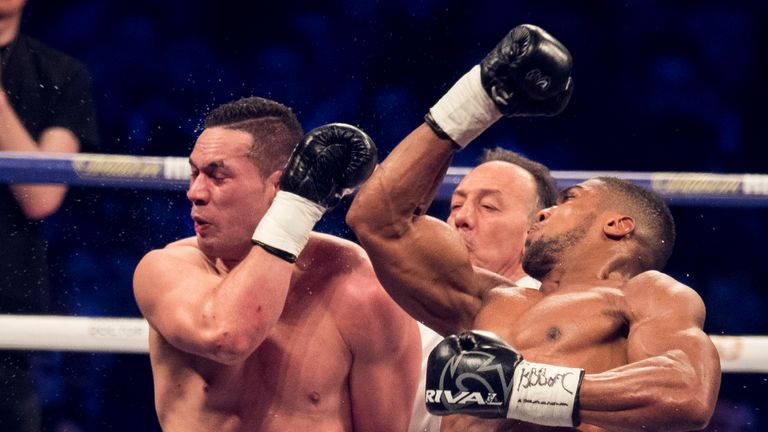 "I'm sure it does have some substance. There are decent people behind Wilder who are deeply involved in boxing. But we have to talk about it. If they want $50m from us they can have it tonight - so why can't they show us theirs tonight?
"You can't expect someone to accept a deal from a personal email from a fighter to another fighter. We have to see a contract, and see the terms."
Another sticking point could be Wilder's obligation to defend his WBC title against mandatory challenger Dominic Breazeale, who was confirmed earlier this week at Dillian Whyte's expense.
"I still believe they have agreed Dominic Breazeale next, in June or July. The WBC have told us that," Hearn said.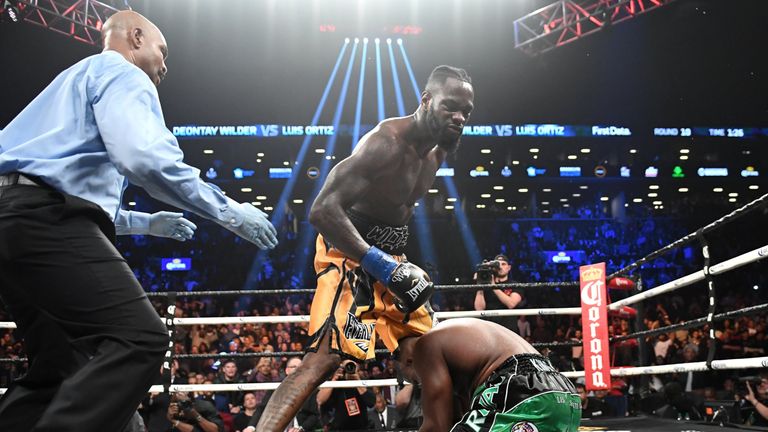 "They have said the mandatory will happen between Wilder and Breazeale, and the winner of Dillian Whyte vs Luis Ortiz will fight the winner of that. Maybe they're just using [Breazeale] as a back-up.
"If [Joshua vs Wilder] is not made next, it has to be made after. But forget after! Let's just make it now."
Joshua unified the IBF, WBA and WBO titles by beating Joseph Parker last month, after Wilder stretched his record to 40-0 by knocking out Ortiz.
Joshua has his WBA mandatory Alexander Povetkin, Whyte or Jarrell Miller - who fights live on Sunday morning at 2am on Sky Sports - as options if he cannot fight Wilder next.
Watch Tony Bellew vs David Haye 2, live and exclusive from The O2, May 5, on Sky Sports Box Office. Book online here.