Bellew vs Haye 2: Tony Bellew will not shake David Haye's hand after grudge match
By Matt Horan
Last Updated: 02/05/18 8:24pm
Tony Bellew has claimed he will not offer David Haye a handshake after winning their rematch on Saturday at The O2.
The bitter rivals surprised many when they embraced and shook hands after their gruelling clash over a year ago, which 'Bomber' won by an 11th-round stoppage, but the popular Merseysider is adamant he will not be so courteous again.
"Saturday night, you will see me knock out one of the greatest fighters this country has ever produced," Bellew said, speaking to Sky Sports after Wednesday's public workout.
There will be no shaking hands and he's getting dealt with, simple as that.
Tony Bellew
"There will be no shaking hands afterwards and he's getting dealt with, simple as that.
"He said some words last time that sat with me and I won't repeat them now, I'll repeat them at tomorrow's press conference.
"However, I don't need him to bite, he's not a dog. He made all the threats and promises last time. I was being challenged, confronted and got punched at a press conference.
"Everything's gone well. I'm in great shape as you can see looking at me."
As far as tactics are concerned, 'Bomber' is confident it will be him dictating proceedings when the pair meet under The O2 lights.
"Believe it or not, I'm in control of this fight if I do what I'm good at, that's hard for people to believe considering David's illustrious career," the 35-year-old continued.
"We exchanged on my terms last time, we traded punches when I saw fit. I have the better legs in this fight. I'm in control and I will be again.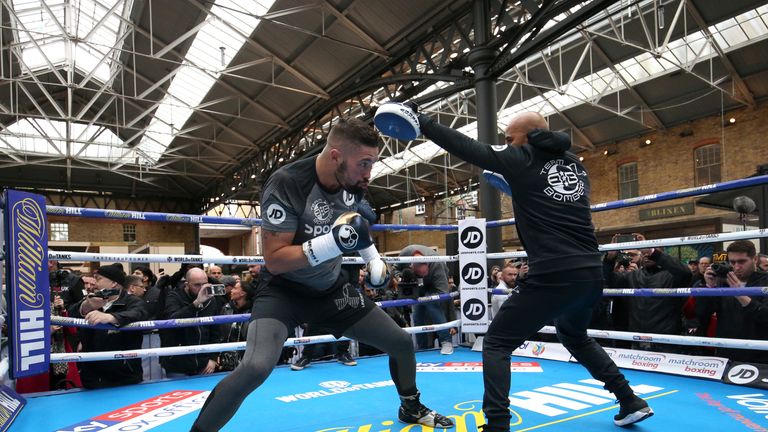 "We both have world-class coaches, but that all goes out the window when we get in there. It's just me and him and that's what I love, it's all on me - that's why I love boxing.
"It doesn't matter if it's in his back garden or in The O2, when that bell goes it's just me and him and that's the part, scarily, I enjoy the most.
"This time there will be no rematch. It will all end on Saturday night."
Watch Tony Bellew vs David Haye 2, live and exclusive from The O2, May 5, on Sky Sports Box Office. Book via your Sky remote or online here.