Bellew vs Haye 2: David Haye and Tony Bellew weigh in lighter for heavyweight rematch
By Richard Damerell
Last Updated: 05/05/18 10:34pm
David Haye and Tony Bellew were both lighter for their heavyweight rematch as around 10 pounds separated the British rivals at Friday's weigh-in.
The fighters shared the stage for a final time ahead of Saturday's clash at The O2, live on Sky Sports Box Office, and Haye tipped the scales at 15st 10lbs 2oz, looking leaner than the 16st 9oz he weighed for the first bout.
Bellew then weighed in at 15st 4oz, around three pounds lighter for the return bout following his stoppage victory last March.
Both men exchanged words throughout a lengthy face-off, although there was no repeat of the physical confrontation at the end of Thursday's press conference.
"The scales were heavy, but no problem," Bellew told Sky Sports News. "Weight is just a number.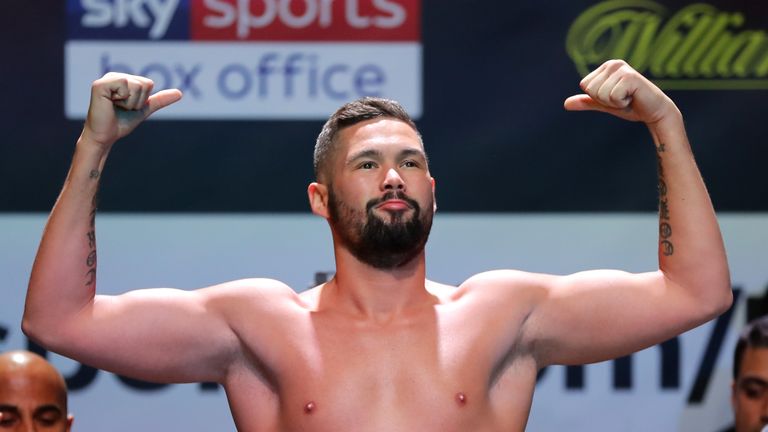 Your 37-year-old body can't do what my body can do.
Tony Bellew
"He really thinks I didn't get in the ring with the real David Haye. Someone please show me who I was facing?
"With those muscles, those beautiful abdominals, that sharp haircut, those big pectorals - I'm sure it was him!
"The only thing that's getting dragged out is me hitting you with body shots. Your 37-year-old body can't do what my body can do."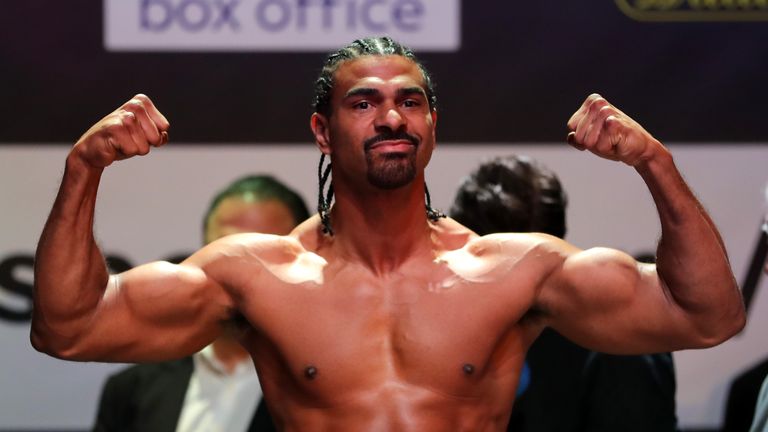 People will see a prime David Haye, I'm ready for war!
David Haye
Haye promised a much improved performance, dismissing any doubts about his fitness after overcoming bicep and Achilles injuries.
"I knew my weight would be lighter, I feel healthy," said Haye. "I just wanted to make sure I'm fast, accurate and ready for battle.
"My body has held up in training way better than before. I can do things I couldn't do for many years.
"He thinks I've made a mistake, I disagree, I told him I'm a very different fighter to who he fought last time.
"People will see a prime David Haye, I'm ready for war!"
On the undercard, Paul Butler was over the limit for his vacant IBF bantamweight title fight, but Puerto Rican Emmanuel Rodriguez was inside the 8st 6lbs mark at 8st 5lbs 7oz.
Joe Joyce weighed over a stone heavier at 17st 13lbs 6oz for his Commonwealth heavyweight title fight against Jamaican champion Lenroy Thomas, who came in at 16st 6lbs 6oz.
Watch Tony Bellew vs David Haye 2, live and exclusive from The O2, May 5, on Sky Sports Box Office. Book via your Sky remote or online here.