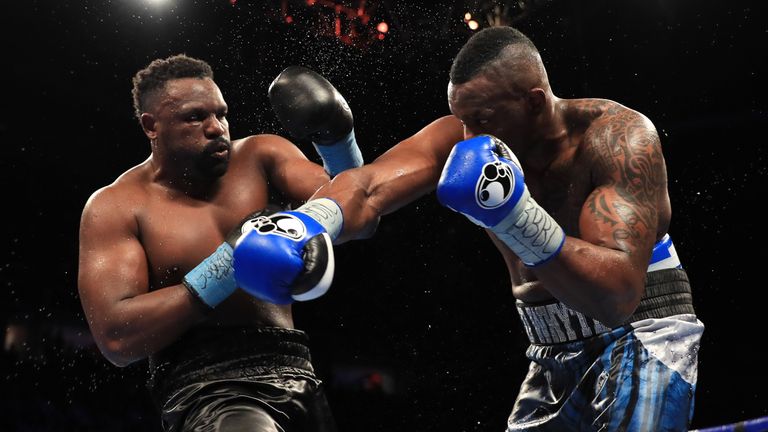 Dillian Whyte claims Dereck Chisora "ran behind the security" after a ringside row on Saturday night.
The heavyweight rivals shared a memorable battle in December 2016 which Whyte won via split decision, after Chisora had overturned a table in their bitter press conference.
Asked how their latest argument began, Whyte told Sky Sports: "Dereck is a deluded, strange man who talks nonsense.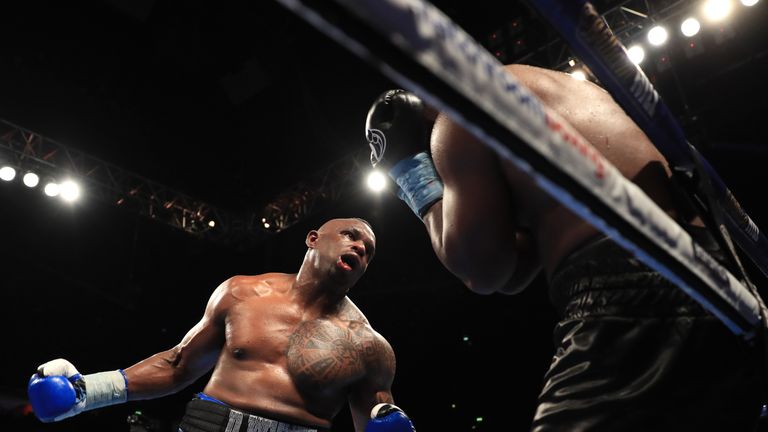 There's no point shouting when there's 10 security guards between us.
Dillian Whyte
"He acts like he's an unpredictable gangster. He sends me messages saying: 'when I see you, I'll slap you'.
"So when I saw him, as he's had a lot to say on the Internet, I told him: 'let's go [backstage] and speak about it man to man and face to face'.
"He ran behind the security, shouting and screaming, making lots of noise. He wants publicity when there's cameras around but, when you get him face-to-face, he's got nothing to say.
"I was calm. I told him facts. I said there's no point shouting when there's 10 security guards between us. When I asked him to speak mano a mano he didn't want to.
"I see Chisora for what he really is - an Internet bad-man."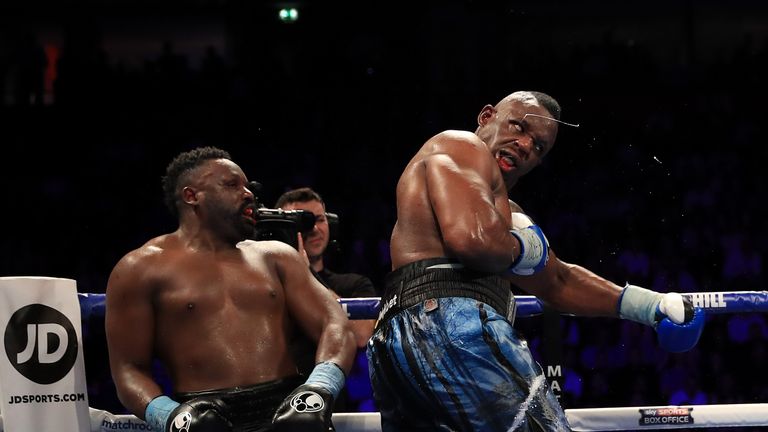 Whyte has won three times since beating Chisora and is currently wrangling with the WBC and IBF to organise a final eliminator before he can challenge for a world title.
"Dereck is desperate," Whyte said. "I was willing to fight him last February but he lost to Agit Kabayel in Monaco. I advised him not to take that fight. That pushed him far away from a rematch with me.
"If I knock Chisora out, people will say: 'Chisora is finished because he lost to Kabayel'. It's a business and people want to see me progress, not waste time.
"If Chisora gets a good win, he becomes relevant again. Until then he needs to sit down."
The rivals met at ringside during Tony Bellew's victory over David Haye.
Bellew would later describe his relationship with Chisora and Anthony Joshua as a "brotherhood" - which Whyte takes exception to.
"[Chisora] should aspire to fight the best in the sport - why are they calling it a brotherhood? He's scared of Bellew, and he's scared of AJ. That's why.
"I'm not scared of no man. I'll fight Bellew, David Haye, Joshua, Alexander Povetkin, Luis Ortiz, Deontay Wilder. But Chisora is scared to fight these guys so he's creating a fake alliance.
"How can you be in a brotherhood with fellow heavyweights?"