Alexander Povetkin is the party-pooper intent on trashing the place that Anthony Joshua couldn't avoid, writes James Dielhenn. From Russia with gloves, overlook this vicious challenger at your peril.
Joshua's teeth were gnashing at the idea of fighting a big-punching knockout merchant with a ruthless streak and he's certainly got his wish. It isn't Deontay Wilder, at least not yet, which in itself makes the threat of Povetkin a serious operational risk.
This is the first time that Joshua has been manoeuvred into an unsought after situation in his flawless career, and fighters will tell you that these occurrences are the most dangerous.
The breakdown in negotiations to fight Wilder has opened the door to WBA mandatory challenger Povetkin who has lurked in the shadows since the turn of the year, lingering with intent on Joshua's most recent undercard, but he possesses a presence so menacing that he could not be hidden for long. For Povetkin, chasing Joshua is as valuable as hunting Wilder was to Joshua. Povetkin is now close enough to smell his prey but might find a wounded animal that bites back.
This will be the first time that Joshua has fought a genuine puncher whose game-plan will be to attack him, and knock him out, ASAP.
Start lethargically with his subconscious still dreaming of Wilder, and Joshua will quickly learn that Povetkin will not jab and move. This fight is a banana skin.
It is also, for the 38-year-old Russian, his final chance to add a world championship to a career that has benefitted from sizeable investment from people with deep pockets. That brings pressure but means, for the first time, Joshua is fighting a desperate but dangerous challenger who knows there is no tomorrow (Wladimir Klitschko entered the Wembley extravaganza knowing his illustrious achievements were safe, regardless of the result).
Povetkin became the highest paid Russian boxer ever in 2013 when a $23,233,330 purse bid, financed by Andrey Ryabinskiy who is still behind him today, brought Klitschko to Russia. It was a rare occasion that Klitschko, during his reign, was forced out of his comfort zone. It ended in a unanimous decision defeat, his only loss in 35, but Povetkin showed grit to get off the canvas four times. No man has stopped Povetkin yet.
He will bob and weave, roll under incoming jabs, stand flat-footed and rely upon doing damage with hooks off either hand like a late Mike Tyson, albeit without the same speed. But there is evidence to say that Povetkin's hooks can land, and end fights in a flash.
Consider Carlos Takam. It is an imprecise science to compare mutual opponents, but Takam seems a reasonable yardstick. He ended fights bravely against Joseph Parker then Joshua, emerging to applause for his gameness. But prior to those fights he was brutalised by Povetkin in a way that seems unimaginable for anybody whose only experience of Takam was against Joshua. Povetkin hurt Takam's body, dropped him once, pounced, and won with a right hook-left hook combo straight from a movie.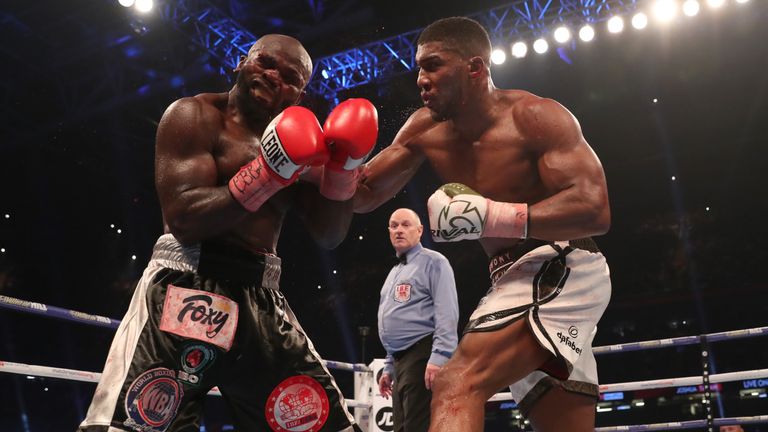 Those shots have knocked out taller heavyweights than Takam, who is a modest 6'1''. Johann Duhaupas is 6'5'', Mariusz Wach is two inches taller (either side of Joshua's height) and both men were banged out by Povetkin.
David Price, of course, is the most recent and memorable victim. The 6'8'' Liverpudlian could not prevent Povetkin closing the distance and landing a punch that genuinely made those of us at ringside wince, and briefly look away.
The height of these opponents is relevant because Povetkin, at 6'2'' and around the 16st 5lbs mark, is a small heavyweight. Shorter and lighter than Parker, who is also regarded as small for the division.
"Anthony is good against shorter opponents, anyway," his trainer Rob McCracken noted last year, talking about Takam who stands half-an-inch shorter than Povetkin.
This compact frame is well-used by Povetkin who is excellent at getting inside bigger men - his defeat to Klitschko is the only time he has failed to do so. Klitschko, for that fight, came in lighter than he had been for four years spanning seven fights.
Klitschko respected Povetkin's deceptive quickness to get inside and adjusted his own weight to cope with it. Joshua will have to do the same.
The Russian has skills. He won the Olympic gold super-heavyweight medal eight years before Joshua did the same.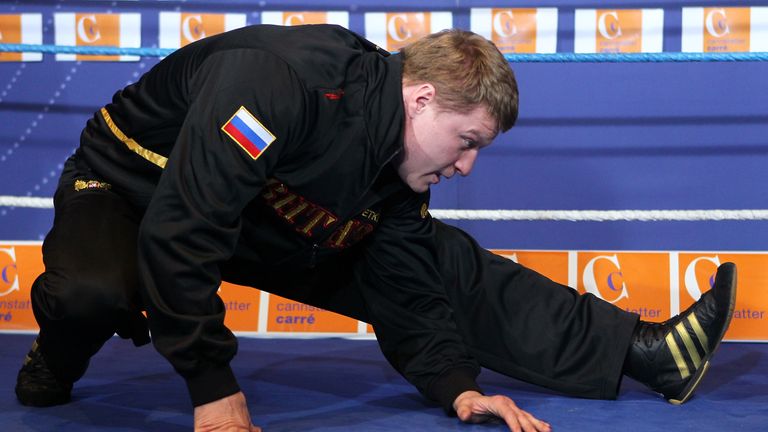 But there is an elephant in the room and it is trumpeting like a brass band. Povetkin failed two drug tests in 2016 costing him fights against Bermane Stiverne and Deontay Wilder. Povetkin (and Joshua) have signed up to a Voluntary Anti-Doping Association programme before they meet.
There are stamina issues with the challenger, who was puffing and panting against Price before finding the golden punch. Joshua is no stranger to the same accusation. Povetkin, to be fair, has stopped Wach, Takam and Manuel Charr after the halfway mark.
"Let's look at Povetkin's knockout victories against fighters who haven't been stopped before, like Takam, Duhaupas, Charr. Fighters like that, Povetkin has iced them," Price told Sky Sports. "He's knocked these fellas out cold. Parker couldn't knock Takam out cold. Joshua couldn't knock Takam out cold. Anyone who has beaten Takam, couldn't knock him out cold, but Povetkin could."
He is not the opponent that Joshua dreamt of but he's determined to give the champion nightmares.
Watch Anthony Joshua defend his world heavyweight titles against Alexander Povetkin at Wembley Stadium, on September 22, live on Sky Sports Box Office.