Joe Joyce and his new trainer Abel Sanchez have exclusively told Sky Sports about how they are basing their exciting partnership on becoming world heavyweight champion...
How has this link-up happened?
Abel Sanchez: I received a text from Sam, his adviser, asking if I wanted to look at a heavyweight. I suggested he came out for two to four weeks to see how we train. I didn't want to be married to him for 10 years if we didn't get along!
Is the trial period over?
Abel Sanchez: Yes, Joe has made up his mind. He feels comfortable and that was the most important part, for me. We are a family here, helping each other to excel.
What makes Big Bear unique?
Big Bear Lake is a small city in California's San Bernardino Mountains, two hours from Los Angeles. The high-altitude and remote setting makes it the perfect place for a fitness retreat. Sanchez's gym, The Summit, is based here and used by Gennady Golovkin and Murat Gassiev. Oscar De La Hoya popularised training in Big Bear during his heyday.
Joe, how would you describe Big Bear?
Joe Joyce: It's very remote, up in the mountains, with pine trees everywhere. There's not much going on. There's nice weather, lakes and altitude so running here is very tough.
Abel, were you familiar with Joe's career?
Abel Sanchez: No. I had no reason to be. But I had Lenroy Thomas here in camp sparring with Murat Gassiev.
Thomas told me about a guy he had fought. He said: 'Gassiev hits like that Joe Joyce guy - he hits you, it hurts, and you remember nothing'.
That was the first time I'd heard Joe's name.
Was it a big decision to uproot your life from London to California?
Joe Joyce: It was a massive decision, and I will have to adjust.
Abel Sanchez: He has to look at this move like college, to help his career. He is going to college to further his career. He is no spring chicken - Joe is at the age [32] when heavyweights are at their best so he has three or four years to develop.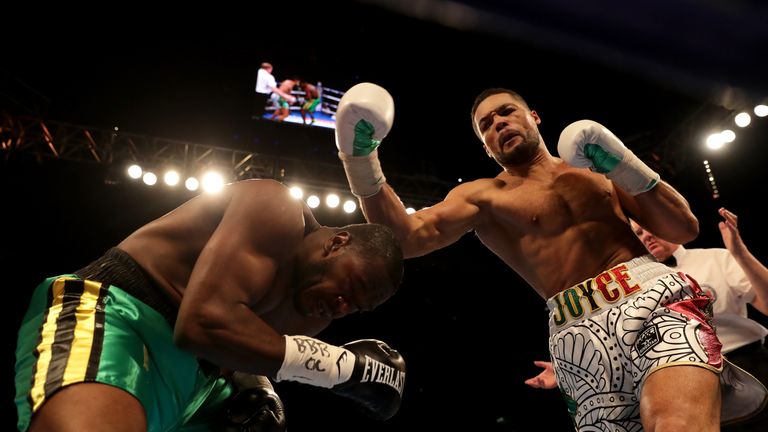 What expectations do you have for new fighters?
Abel Sanchez: There is a system here. A way of training, which Joe will attest to. We're not like other places. If he can withstand the rigours and get past the first 10 to 12 days, it becomes easier because you acclimatise to the altitude. We train hard to be the best, and our record speaks for itself. If Joe puts in the physical and technical work, with the talent that he already has, he will be unstoppable. It's a matter of making sure that Joe knows he must give 1,000 per cent.
Joe, what is the end-goal behind this move?
Joe Joyce: Heavyweight champion, then undisputed.
What is the atmosphere like at The Summit gym?
Joe Joyce: I'm part of a team again. We get up at 6am and run together, doing sit-ups in the mountains.
You're now training alongside Gennady Golovkin…
Joe Joyce: GGG is there, helping and inspiring us. He has been stitching me up by giving me the heaviest weights! He has been really welcoming. He is a really nice guy. Similarly to me, he is a nice guy outside the ring but is not a nice guy inside the ring.
Tell us about your first sparring session…
Joe Joyce: I did some work with Charles Martin. Just a few rounds. Possibly [I will spar Murat] Gassiev. There will be plenty of heavyweights coming into the gym for sparring.
Abel Sanchez: It was the first time he'd sparred in front of me. I had watched videos of his fights, but it's good to see what I'm working with. Charles Martin is an ex-heavyweight champion who lost to Joshua, but he's still a very skilled fighter. So I like what I saw from Joe. I saw him do things that are difficult for a fighter to do - like throw a jab to the body, because they put themselves at risk. Joe was willing to try which tells me he will do everything asked of him.
Abel - describe Joe as a fighter…
Abel Sanchez: He's got something I cannot teach - meanness. I can't teach that. I can teach lots of things but if you don't have an attitude where you want to hurt people, it's difficult to work around.
Secondly; his size - he is an intimidating man. He has a good jab. He's so big that he doesn't have to hit you perfectly to hurt you. We have to make Joe fluid with his shots, and to set-up the shots that he wants. He is intelligent at doing the things that he wants to do.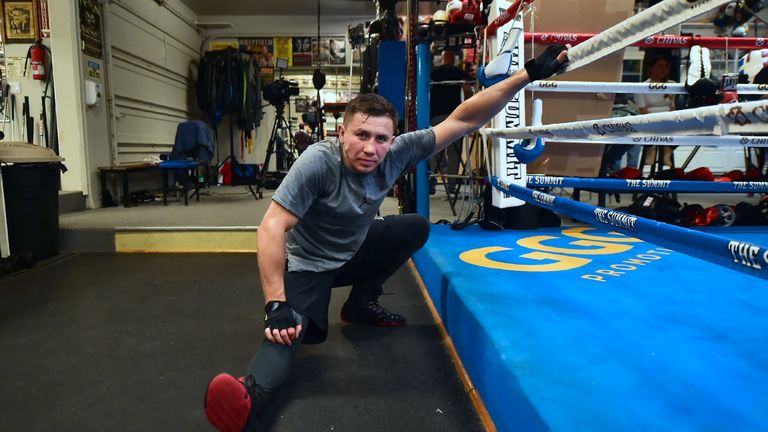 What attributes must improve?
Abel Sanchez: Everything. We want to improve. Everything is a weakness and we will improve the weaknesses. If we only look at strengths then we won't get better. I look at things to improve. We will video-tape him so he sees the improvement, and can replicate the things that we want him to do.
When will we see Joe fight the world's top heavyweights?
Abel Sanchez: We're hopeful that by the end of this year he has had a couple of fights. Depending on who he is matched against, people will demand a certain level of fight for him. I hope he has significant fights. By the first quarter of next year [he will face world-class opponents].
There is no time-frame because it depends how Joe develops. By the end of next year he will be 11-0 or 12-0 and ready to challenge for Joshua's titles, Deontay Wilder's title, or whoever has them at the time.
Have you started planning how Joe would beat Anthony Joshua?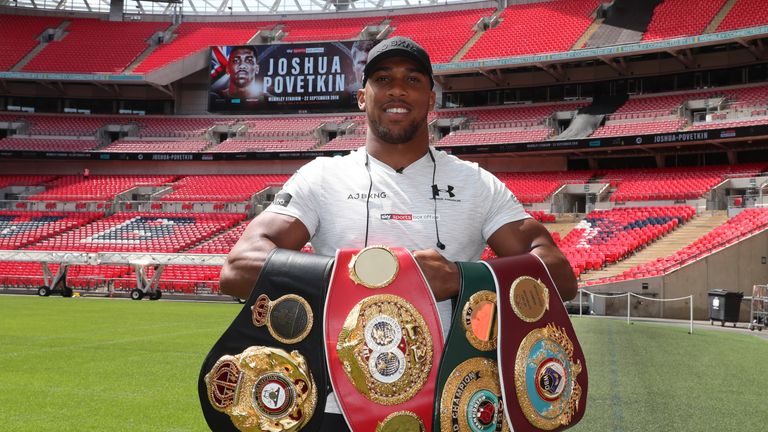 Yes. That is how to train. You should train to beat the guys at the top.
Abel Sanchez: Those guys have certain qualities which we must master, and become better than them at. Our advantage is that we look at them now, to prepare for the day when we fight them. Every day and every fight must be a learning experience.
How do you chill out in Big Bear…
Joe Joyce: There's not much to do. There's a pool down the road. I like cycling so I might ship over my bike. In the winter it snows so I might don my snowboard boots!
I've seen a little water park with slides so I might go on the jet skis. Gennady is a fun guy, he'd probably be game…