Fres Oquendo, 45-year-old world heavyweight title challenger, has not been inside a boxing ring in four years. But, writes James Dielhenn, he has been busy fighting injustice, ridicule and even natural disaster.
A world away from the rejuvenated heavyweight scene where Anthony Joshua, Deontay Wilder and Tyson Fury are desperate to decide one undisputed ruler, there is an underbelly scrapping for survival.
Chief among those protagonists is Fres Oquendo who, far from winding down his career despite last boxing as a 41-year-old in 2014, is set to contest the vacant WBA 'regular' title next month against Manuel Charr.
It is a fight that has its critics but one that Oquendo has battled for in the courts. He was beaten by Ruslan Chagaev four years ago for the same belt after arriving in Chechnya 24 hours before the first bell, and took his case for a rematch to court.
He won (his most notable win since Mike Tyson and Lennox Lewis ruled the division). Chagaev retired; Oquendo was still owed a shot at the peripheral version of the belt previously held by Wladimir Klitschko and now by Joshua.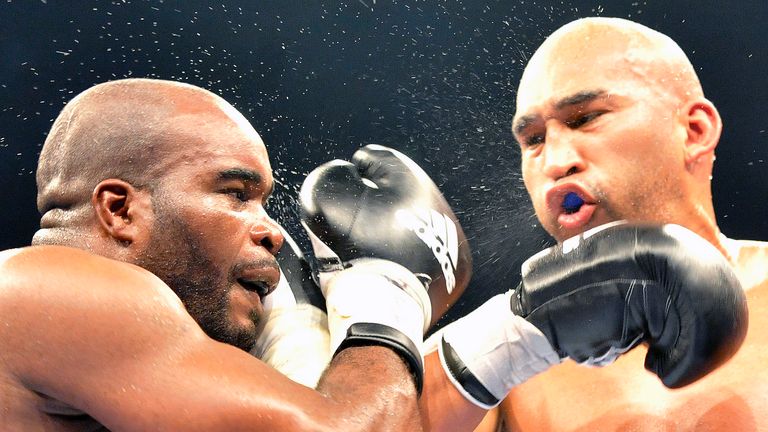 Once I'm crowned WBA world heavyweight champion they can never take that away - I'll be in the record books.
"One of the most prestigious belts in the world. Once I'm crowned WBA world heavyweight champion they can never take that away - I'll be in the record books," Oquendo told Sky Sports.
Oquendo's validity as a world champion will be questioned but nobody can dispute the more important service to boxing that he has quietly carried out this year in the shadows, where he been expelled to for the past four years.
***
Wilfred Benitez, the youngest world champion in boxing history and a veteran of bouts with Sugar Ray Leonard and Thomas Hearns, needed help.
The Hall of Famer from Puerto Rico is suffering from a form of dementia, a tragic result of his boxing career, and his mother who cared for him has passed away. Hurricanes Irma and Maria then decimated Benitez's home country last year - of those who survived, thousands were left homeless and a further million people were left without power. Benitez no longer had the medical care that his precarious condition required.
"It is difficult to think about how devastated the country has become, from the beautiful island that had tourists," Oquendo said of Puerto Rico, where he was born. "There are people living without power and nutrition, basically in the Stone Age."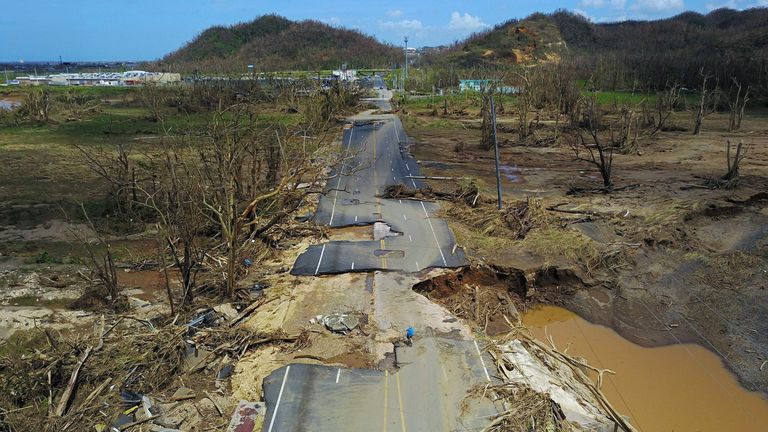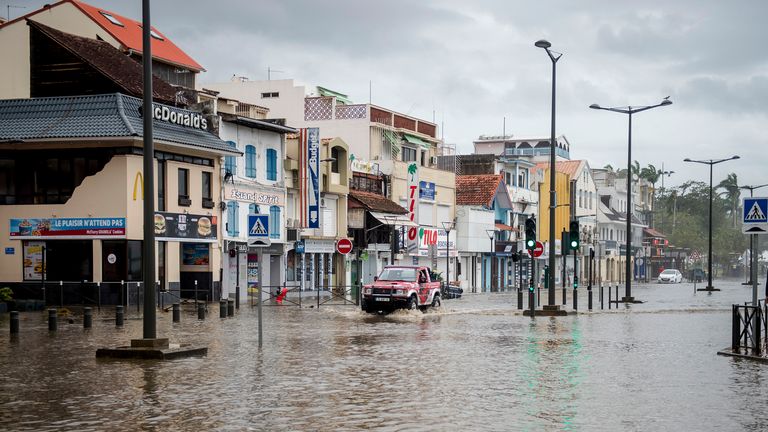 Benitez, one of the standard-bearers of a nation that has produced several world class boxers like Hector Camacho and Miguel Cotto, became the subject of a rescue mission headed up by Oquendo, a fighter whose in-ring accomplishments do not compare.
The Fres Oquendo Boxing Academy was a charity that became the Chicago-based heavyweight's focus during a four-year hiatus that was partly imposed by legal wrangling. The programme aimed to provide water, food supplies and clothing to hurricane victims in Oquendo's homeland. Benitez became the priority.
"My dad would tell me about him when I was growing up," Oquendo said.
"I was shocked that I had the opportunity to help him. Nobody was able to help this great champion of Puerto Rico.
"I was able to assist him and his family by bringing him to Chicago, the city I love, and where I was raised.
"This makes me feel like I've done something great in my life."
Benitez and his sister, now his primary carer, were relocated to Chicago this summer thanks to Oquendo and Luis Mateo, a former boxer and sparring partner of Benitez's.
The American city, where Oquendo has lived since he was a child, is the main beneficiary of the not-for-profit organisation that he runs. "Knocking out youth violence through boxing" is the motto and Chicago desperately needs the help; earlier this month 66 people were shot in 33 separate incidents over a single weekend, 12 fatally.
This, irrespective of Oquendo's result against Charr next month, will be his legacy.
***
It is inside the ring where Oquendo still has questions to answer.
His prime was during the sleepy period when the Klitschkos were first seizing control of the heavyweight world but, somehow and some way, he has outlasted his peers.
"One of my greatest fights was against 'The Black Rhino' Clifford Etienne," Oquendo said. "Remember him? He beat a prime Lamon Brewster. I knocked him down, and knocked him out. That was in 2001."
2001? He's still here. Oquendo has lost fights to James Toney, David Tua and Evander Holyfield. He has had three cracks at variations of the world title, most recently against Chagaev four years ago, the last time he boxed.
He lost to John Ruiz in 2004 in a fight so disappointing that the crowd chanted for Tyson and Lewis. Lewis, recently retired, left his ringside seat mid-way through. But it is his first shot at the belt that still haunts Oquendo.
"Did you see my fight with Chris Byrd? What's your personal assessment of that fight? George Foreman, the commentator, couldn't believe it."
Oquendo lost a close decision against Byrd for the IBF title.
"It was a disgrace to boxing."
Fifteen years later Oquendo is ready for a challenge again, albeit for the secondary version of the WBA's three belts (Trevor Bryan recently became the 'interim' champion).
"I have a strict health and eating regime which keeps me elite," he said, insisting that he remains a danger aged 45.
"If I didn't have this lifestyle, I wouldn't be here. I have maintained in the gym.
"I challenge teenagers and young adults - they are college athletes - but daddy can out-run them. I hang with people who are half my age."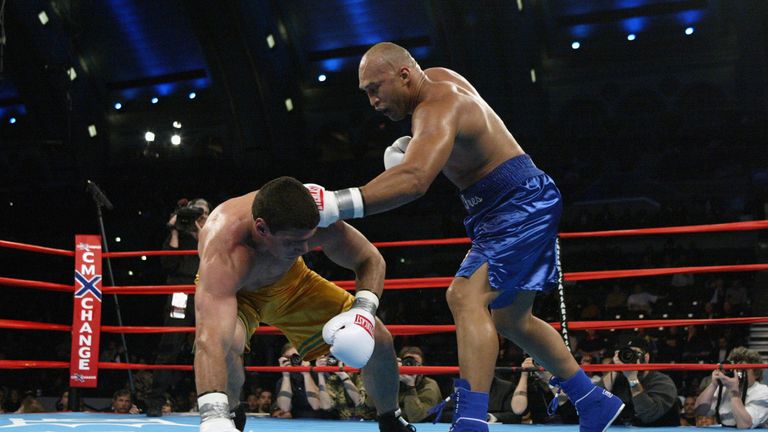 Fres Oquendo on Anthony Joshua...
"Is he one of the greatest? No, he still has to prove himself. The calibre of opponents that he has fought are nowhere near the calibre from my era, the early 2000s."
In his way stands Charr, the Germany-based 33-year-old who has shared a ring with Danny Williams, Vitali Klitschko and Alexander Povetkin.
"Who took more punishment?" Oquendo asks. "Me in my long career, or him in his average career? He has taken a beating way more than I have."
Oquendo is motivated, it becomes clear, by his perceived injustices.
"The politics of boxing; I'm like the poster child. But I always had faith, and never lost hope.
"People ask me: 'how do you do it? Chechnya, Don King, the promoters, the managers - how do you stay sane?'"
He stands to equal Foreman's record, from 1994, of being the oldest-ever heavyweight champion, at 45. Bernard Hopkins, 49, holds the record in any weight class. This pales into insignificance compared to Oquendo's greatest gift to boxing, through the humanitarian work that aided Wilfred Benitez.
"It's a rarity. It's an oddity. I'm blessed to give people hope in life."
Watch Anthony Joshua defend his world heavyweight titles against Alexander Povetkin at Wembley Stadium, on September 22, live on Sky Sports Box Office.