Rocky Fielding is thriving on the fear factor that has kicked in ahead of his New York showdown with superstar Saul 'Canelo' Alvarez.
Fielding defends his WBA super-middleweight title against the Mexican phenomenon in Madison Square Garden on December 15, live on Sky Sports.
The Liverpudlian is deep in camp following their two-day media tour over in America and although he is a massive underdog against one of the world's best fighters, is delighted a dose of realism has kicked in.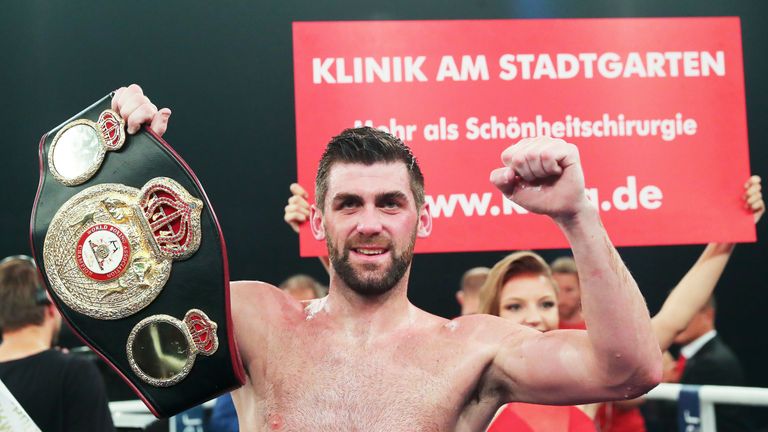 "With that step up and the challenge, you perform. I am happy I've now got this fear factor."
"Everything's kind of changed now," he told Sky Sports.
"I am arriving at the gym an hour early every day. I go to sleep at night, wake up the next day and get straight back to the gym.
"I am really switched on and it is a big step up but having the fear factor with that step up and the challenge, you perform. I am happy I've now got this fear factor.
"For the past couple of fights I never had that fear factor or never had any real nerves. I just went in there thinking "lets fight" and didn't perform to my best.
"Then I went to Germany to challenge [Tyron] Zeuge and had butterflies, the fear, the 'wow! yes!' feeling and I went out and performed.
"That is the exact feeling I've got now so I am in a really good place and am controlling it well. I am just looking forward to it now."
Fielding will be making the first defence of the 168lbs title he took from Tyron Zeuge back in July, becoming a world champion ahead of local rival Callum Smith.
Smith's No 1 choice for his first defence is Gennady Golovkin with promoter Eddie Hearn hoping the chance of a third fight with 'Canelo' will tempt him to follow his old foe and move up.
Alvarez is looking to become a three-weight world champion in New York but Fielding is delighted to be written off already.
"I am looking forward to it, that's when I will get all that underdog stuff," he said.
"Even in the past, going out to Germany to fight for the world title I was the underdog, was getting no praise and I went in there very confident I would win and that's what happened.
"All the big fights in the past they would say 'Rocky won't do this' or that and I pulled it off. I hope they keep saying that for this one."
Watch Rocky Fielding vs Saul Alvarez, from Madison Square Garden, New York, on December 15, live on Sky Sports.