Kristen Fraser becomes Scotland's first female Commonwealth boxing champion
Fraser beats Ellen Simwaka in five rounds in bantamweight clash in Aberdeen; 30-year-old proud to bring visibility to Rainbow Laces campaign in victory
Last Updated: 26/11/18 2:04am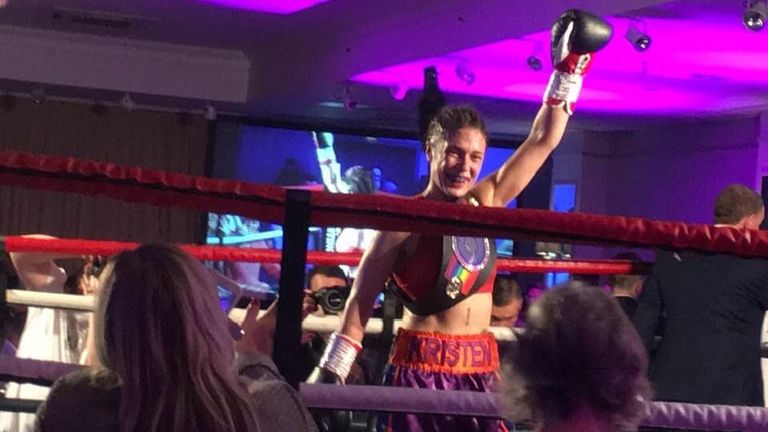 Kristen Fraser says she is "over the moon" after becoming Scotland's first female Commonwealth boxing champion.
The 30-year-old was victorious in her sixth professional fight in Aberdeen on Saturday night, defeating Ellen Simwaka and taking the vacant bantamweight belt to make national history.
Simwaka's corner called time on the bout between the fifth and sixth rounds after the Malawi native sustained a painful rib injury.
Speaking to Sky Sports, Fraser thanked her coach David McAllister and said she was still coming to terms with her success in her hometown.
"I can't believe it. I'm looking at the belt now and I'm over the moon," said Fraser.
"We knew Simwaka would be strong, that she'd come out fighting and take it to me, so I was prepared for that.
"But my gameplan was to deal with that. She landed some big shots towards the start, but then I was more in control.
"I got more clean shots off and there were lots of punches thrown from both of us. It was an explosive fight."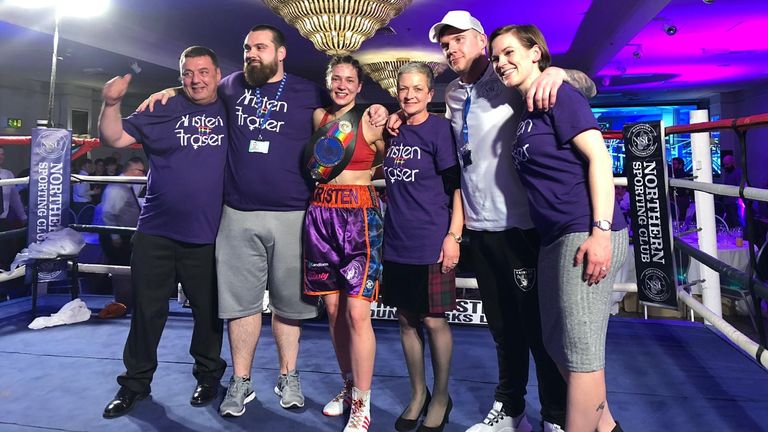 Fraser says the fight was relatively even in the first three rounds before she was able to hurt Simwaka.
"In the fourth round, I landed an absolutely great punch and she went down, flat out on the canvas," added Fraser.
"I was a bit surprised, as I'm not known for big shots. She got up just as the bell rang, and I just went to work on her in the fifth round. Then her corner retired her between the fifth and sixth round, due to damaged ribs."
"I'm not going to hide who I am"
Fraser was wearing Rainbow Laces in the ring as well as custom rainbow kit to show her support for the campaign for LGBT inclusion in sport.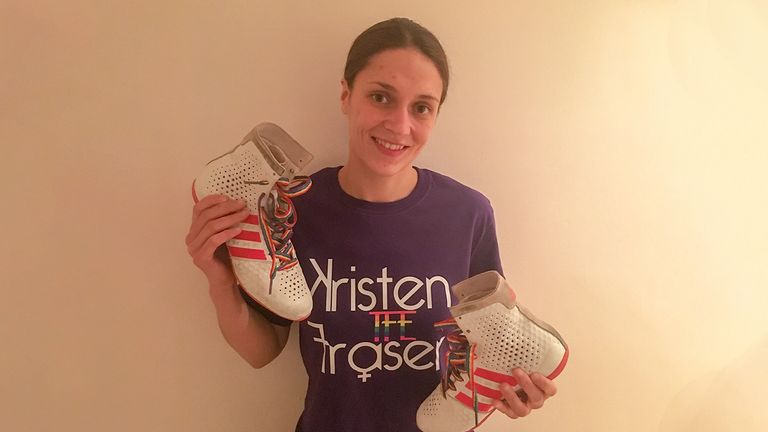 "I support the campaign because I'm out. I'm gay, I'm married... I don't care who knows that 'this is me'," she explained.
"It's good to have these gestures and to have positive conversations. The reaction to my kit on the night was that it was awesome visibility.
"For someone who's younger, it's a huge step from coming out to the point which I've been able to reach now."
As for her own career, Fraser says she now plans to spend time at Commonwealth level before attempting to realise her overall ambitions.
"The only way is up. I have to look forward and that means going for world titles when the time is right," she adds.