Allen vs Browne: David Allen admits he received a harsh lesson in first defeat to Dillian Whyte
Watch Allen vs Browne on Saturday's O2 bill, including Chisora-Gashi, Josh Kelly & Joe Cordina, live on Sky Sports from 7pm
Last Updated: 18/04/19 1:10pm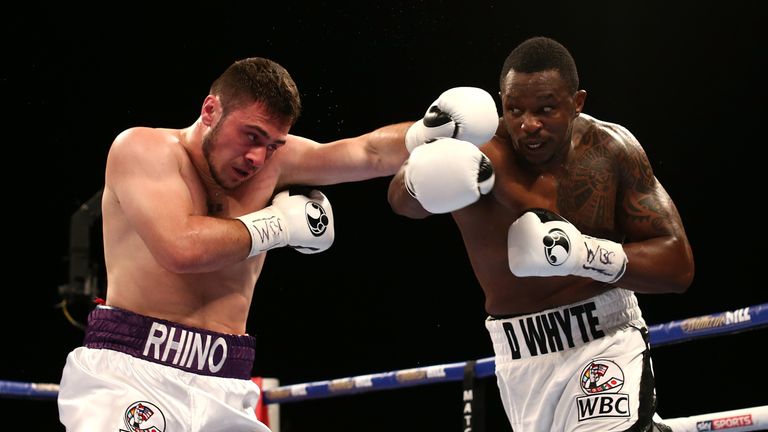 David Allen suffered defeat to Dillian Whyte when he first stepped onto a big stage, but is now relishing a career-changing battle against Lucas Browne.
'White Rhino' faces former WBA champion Browne on Saturday's bumper bill at The O2, live on Sky Sports, which also features fellow heavyweight Derek Chisora, Josh Kelly, Joe Cordina and Conor Benn.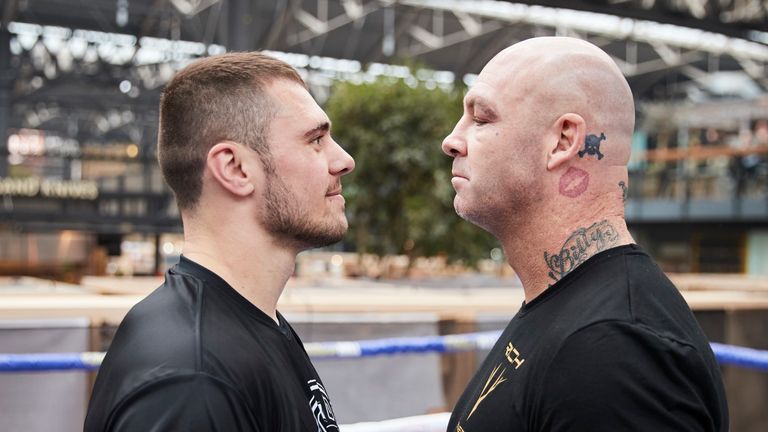 Back in the summer of 2016, Allen had successfully called for a clash against the formidable Whyte, and soon found out that he was not ready for a battle with the Brixton man...
How did you react to news of the Whyte fight?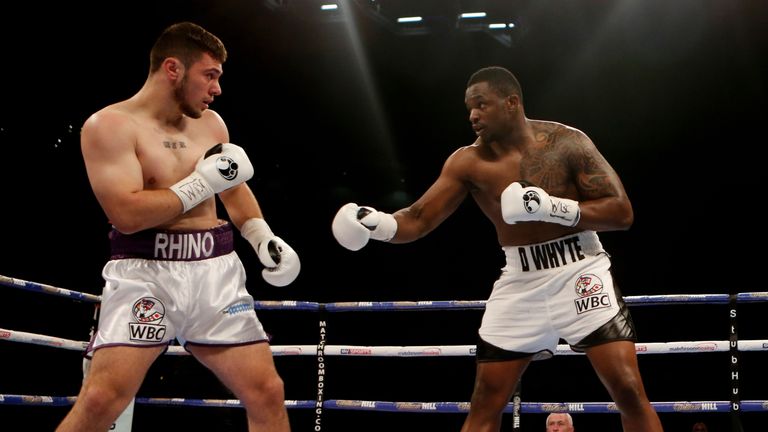 I was elated. I was really surprised, I didn't think it would happen. I never thought I would be in a fight of that magnitude. It was unbelievable, I thought it was going to change my life.
Were you well prepared for that step-up in class?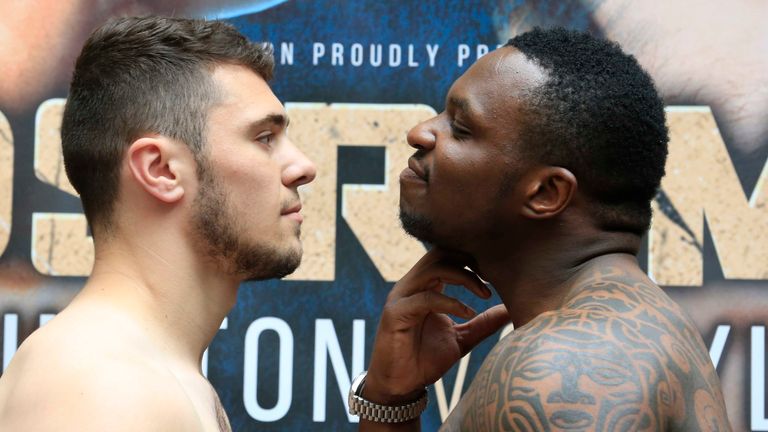 Probably like a four out of 10. I didn't have the most time to prepare for it, really. Three weeks where I knew about the fight. I was in the gym for probably five, but I was beaten by the better man. I wasn't ready for him.
I wasn't prepared because I didn't have enough experience. It was only my 20th fight ever, amateur or pro.
How did you react to a fiery head-to-head with Whyte?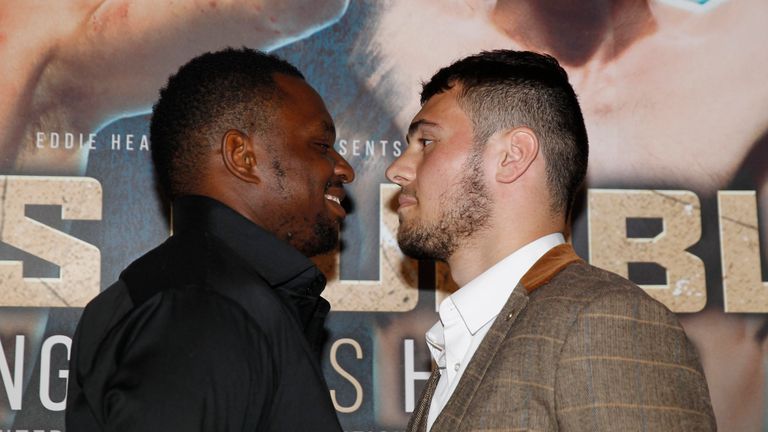 You know what, I knew I needed the money, so he could have done anything to me and I would have smiled at him and thought I'm getting paid, I'm not bothered.
He's just a very aggressive man, I think he wanted to punch me in the head. I've gone from a bedsit to being a multiple home owner, so thank you Dillian Whyte for making me see the error of my ways. It's all thanks to him really.
What were your first impressions of fighting on a big stage?
I was like a rabbit in the headlights. For six rounds, I wasn't sure if it was a dream or not, it was mental.
There were about 8,000 people in there screaming. I had been used to fighting in front of about 200 people before, so it shocked me, to be honest. I didn't get out of first gear for about six rounds.
Any regrets?
Dillian Whyte, he knew too much for me that night, he was too good at that point. Looking back, could I have changed things? Yeah, I don't think I would have won the fight no matter what I did that night though.
I didn't win the fight, so I would have to change something. What it is, I'm not sure. Have a third arm, maybe.
How did that fight influence your career?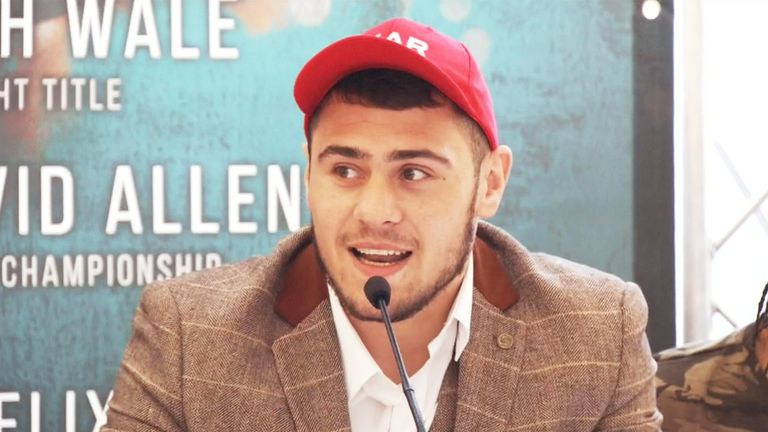 It made me a Z-lister in Doncaster and got my name out there in boxing circles, but that fight really transcended me into the Y-lister I have become today
David Allen
Lessons learned ahead of Lucas Browne?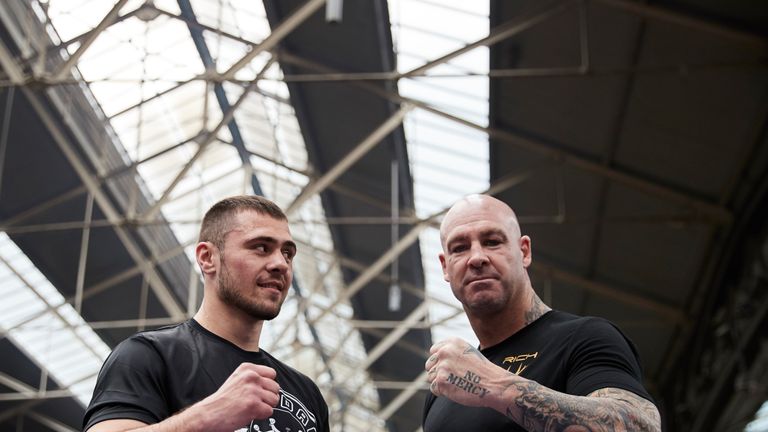 I'm going to win it. We'll have a right good night, I would imagine. I'm just going to punch him until he falls over, that is the plan. I'm going to punch him until he's exhausted and sick of me.
Watch David Allen against Lucas Browne on the O2 bill, including Derek Chisora vs Senad Gashi, Josh Kelly and Joe Cordina on Saturday, from 7pm on Sky Sports Action.