Paul Smith believes 'a puncher's chance' is all he needs to deliver one of the most sensational upsets in boxing history when he meets Andre Ward on June 21, live on Sky Sports.
Smith, who suffered back-to-back defeats against Arthur Abraham, travels to Ward's hometown of Oakland to tackle the undefeated Californian who is regarded as one of the best pound-for-pound fighters in the world.
But Smith is not fazed by the task that lies ahead and insists he has seen chinks in Ward's armour that he hopes to exploit when the pair clash at Oakland's Oracle Arena.
Live Saturday Fight Night


"Every fighter has got two arms and a chin. People are going around and saying all I have got is a puncher's chance but that's all I need," Smith told Sky Sports News HQ.
"There is nobody in the world who doesn't think I am the underdog. That's how it goes, that's what's expected in a fight like this against an opponent like that. I am a massive underdog but again there is no pressure, there's no pressure whatsoever.
"At the end of the day I'm not going to go in there and try and let him look good, try and outbox him and let him do his stuff.
"That would be suicide, but Ward can be caught. He's slicker than Abraham but he's there to be caught, he leaves himself open sometimes. That's all I need, a puncher's chance."
Ward is the current WBA and WBC super-middleweight champion of the world but the bout with Smith has been made as a catchweight contest at 172lb with no titles on the line.
But Smith is unperturbed by the fact he is not fighting for Ward's belts, insisting a chance to upset the apple cart and defeat the American was too good an opportunity to refuse.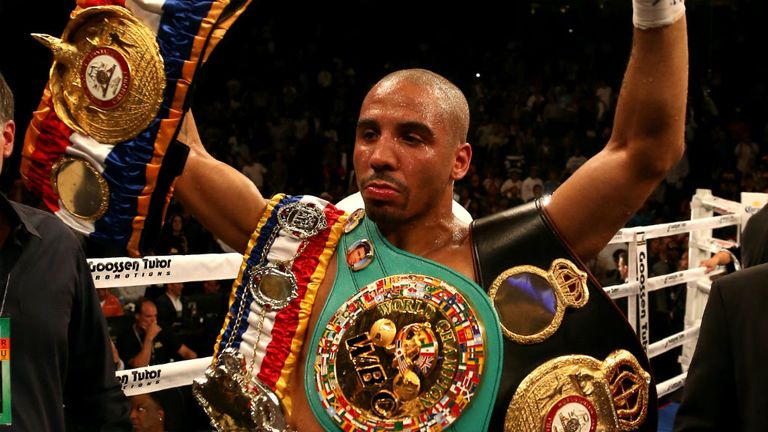 "I'm getting along in training I'm doing my stuff and I'm going to get in there on the night and give it a go in the ring," he said.
"The plusses and the positives in the fight are major, they're massive. The negatives are the same as every other fight I have had whether it was against a journeyman or a British title contender in the fact that I could lose.
"That's the only negative that I have got against an opponent like Andre Ward. I could lose any fight I go into but the positives are through the roof on this one."
Watch Paul Smith v Andre Ward on June 21, exclusively live only on Sky Sports.