Paul Smith
Boxer & Pundit
Paul Smith: Joe Gallagher will not change even with two world titles on the line
Last Updated: 16/07/15 6:24pm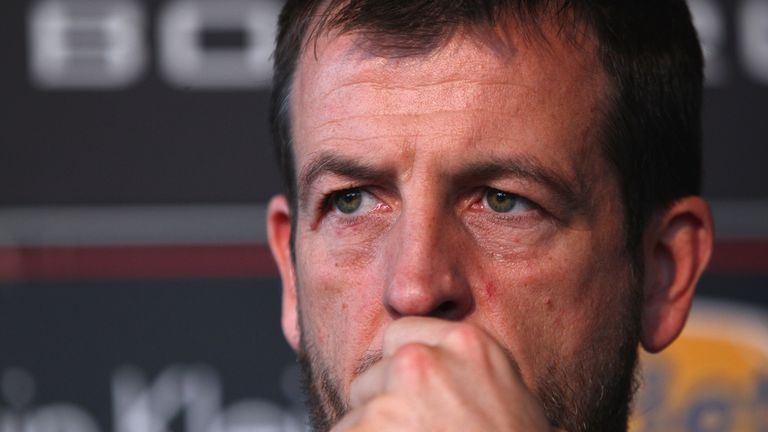 Joe Gallagher is in the corner for two huge world title fights on Saturday night but that presents the sort of challenges he'll relish, says Paul Smith.
They're calling it High Stakes and it is - but even with two huge fights on, it's just another night for Joe Gallagher.
It could be two of his gym fighting for their first English titles, never mind a world title. That would be as big as Saturday night will be to Joe. He loves all his lads, he's got a lot of time for every single one of us and it doesn't matter who and what they're fighting for.
If I think about what Ant Crolla went through and the injury that has kept Scott Quigg out, it reminds me that Joe does as much for you out of the ring than it it. He is like a father figure outside and he's one of the lads in the gym - although he doesn't want to be!
I know I am going to be biased but I honestly think he is the best trainer in the country. I think there's been 11 British champions from the gym and he has had four and five of his fighters on the same card a few times. We hear about trainers having three at most, well Joe has had three brothers to deal with - never mind Quigg or Crolla.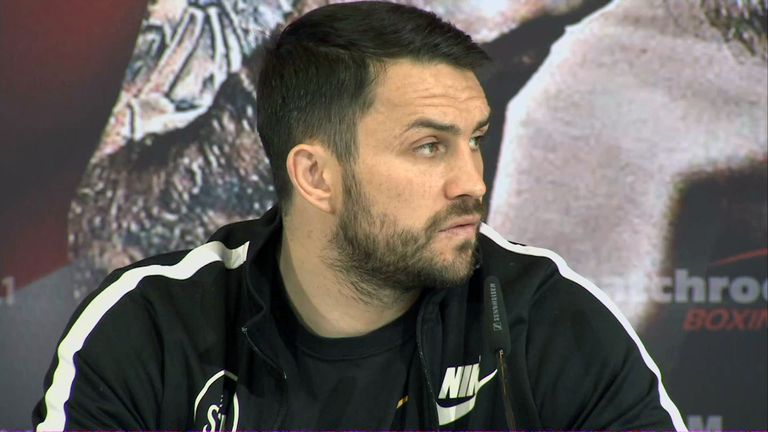 Whatever title you are fighting for you are going to get all of Joe's passion and attention because it's your fight, your big night and he's there for you.
Paul Smith
Saturday night might carry more pressure because of what Crolla went through or how long Quigg has been out, but I believe Joe likes it that way and wants it that way. I know if I ever become a trainer I would want it that way, be it a guy fighting for the Southern Area or the WBC.
Whatever title you are fighting for you are going to get all of Joe's passion and attention because it's your fight, your big night and he's there for you.
Joe throws every punch with you, he takes every punch with you and that has to be a rarity in a trainer. And you rarely get the same trainer have two guys fighting for a world title. Well, I know Joe will take all the pressure off those two.
He threw the towel in against Andre Ward and that immediately shifts things. That sort of thing has seen fighters fall out with their trainers but I haven't even mentioned it to Joe. It hasn't even crossed my mind because if Joe felt I needed towelling and he towelled me, that's that. I trust him and even if he told me to run through a brick wall, I would do it for him because I trust him.
It's the same with Quigg and the same for Crolla. You have that 100 per cent trust, you get 100 per cent from Joe and it makes you give 100 per cent back. They will be ready for this.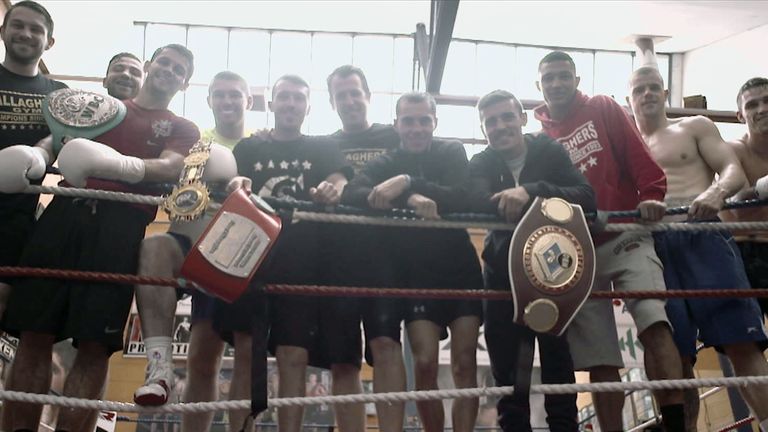 Joe will be calm and they will be calm too. If Crolla beats Darley Perez to win the WBA lightweight title, he is champion of the world and especially after what happened to him, can you imagine the euphoria that will be in that dressing room?
Well, straight away, he's got to go out there with Scott to keep his title. Joe's never short of a few words but he isn't one for celebrating and to be honest once the fight is over, he is already moving onto the next one.
He'll turn his attention straight away on to my brother Stephen and Scotty Cardle because they've now been given their dates and they are already grafting in the gym for their biggest fights yet.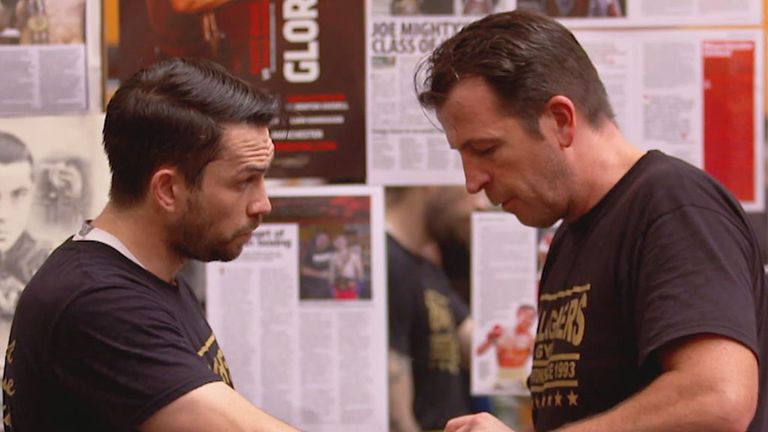 It's a conveyor belt with Joe Gallagher right now. It's constant and Joe is not going to be training fighters when he's 60 and he knows more than anyone it is not going to last for ever. He knows he has to enjoy while it lasts, and that means he would never sit back and wallow in it.
He honestly doesn't stop. If he's not in the gym he's at home studying fights, working out what tactics to use, coming up with Plan A, B, C and more. He is a grafter but he gets the rewards.
Me and Joe are like cat and dog in camp but that's fine and I wouldn't have it any other way. He just pushes you all the time - but at the right time. Sometimes you'll hear Callum moaning because he's made him do another round, despite the calls of 'I'm done, I'm done' but at the end of that extra round you hear him thanking Joe.
It's the same with Quigg but the other way round. Scott needs reining in sometimes and Joe has to tell him to go and take the day off, you've been doing too much. He'll argue with Joe but he always loses and when it comes back in after that break he'll thank him and he'll realise he needed it.
Crolla is the opposite. It's always 'Blimey, Joe are we really doing 10 today? I thought it was only eight today' but he'll do the same, thank him. Joe knows them both, he knows them all and he reads every single one of us.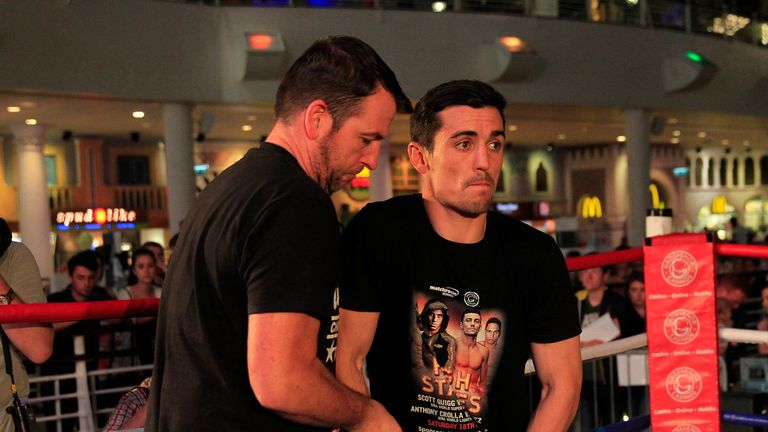 I think Saturday night will suit Joe down to the ground. All the praise Joe gets, he doesn't take it to heart. He doesn't walk into the gym with his chest sticking out, not only because someone will make a wisecrack but because he will be there zipping round at 90mph head down, lobbing his bag down, setting it all up and then that's it, we start. The same goes for the stick he gets.
He doesn't walk around fuming with his head down, he just carries on and has a laugh about it. And the fact that he is getting criticism means he is doing something right. Joe just takes it with a big pinch of salt.
We all know that and in fact, the more I think about Quigg against Martinez and Crolla fighting Perez, those two will have said plenty about them because they are, like all of us in the gym, knowledgeable guys.
They will know what they've got to do and they will have talked to Joe about it a lot. Joe brings that out of you because he will make them break down a fight and you learn from that and how to assess things.
But with two of his fighters fighting for world titles on a massive night in Manchester will we hear less from Joe? I am not sure. No comment!