Marco Huck failed to break Johnny Nelson's consecutive world-title defence record
Last Updated: 15/08/15 1:56pm
Marco Huck lost his world cruiserweight title and failed to break Johnny Nelson's record with a shock defeat.
The German-based Serbian was stopped in the 11th round by Krzysztof Glowacki Newark, New Jersey, on Friday night, to lose his WBO belt.
It was Huck's 14th consecutive cruiserweight world title defence and victory would have taken him ahead of Nelson, who had been willing to make a comeback in a decisive record-breaking showdown last year.
But, following the surprise defeat, the record remains shared, with Glowacki the new WBO world champion. To make matters worse for Huck, it was his American debut and had only boxed out of Germany once in his previous 41 fights - in Switzerland.
The Polish challenger came to win and started off on the front foot but Huck's experience and solid shots kept it level for the first few rounds but by the sixth Huck looked to be taking control and put Glowacki down for the first time in his career.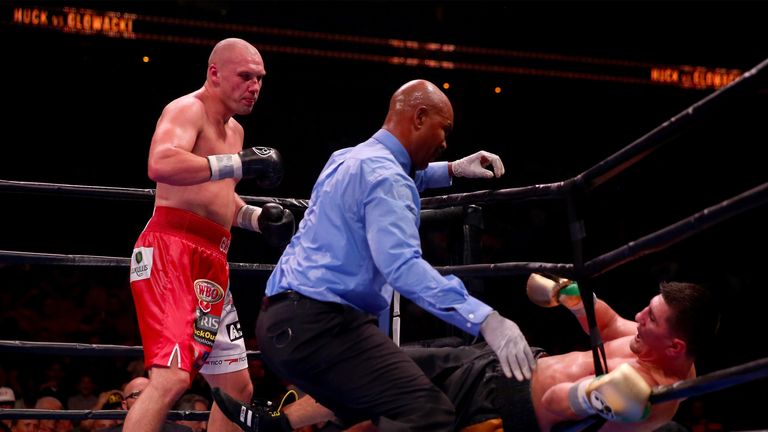 A hard left floored him and although he made the count, his legs had gone. Somehow thought he made it to the end of the round, firing back with his own straight shots getting through.
But things changed dramatically in the 11th when Huck was knocked to the canvas for the first time in his own illustrious career, as a left hook followed by a finishing right left him down and almost out.
He just about made the count but Golwacki immediately swarmed in and left him slumped on the ropes with the referee rightly stepping in.
"The US market is now open to me, and fans around the world are going to have to respect the cruiserweight division now," said the new champion.
"When I was knocked down in the sixth round, I didn't know where I was and it took me a whole round to regain myself.
"I still cannot hear well. I was listening to my corner though and when I heard that there was only one minute left in the eleventh round I knew I had to come on strong."