Jermell Charlo and twin brother Jermall create headlines and history
By Isaac Robinson
Last Updated: 22/05/16 2:52pm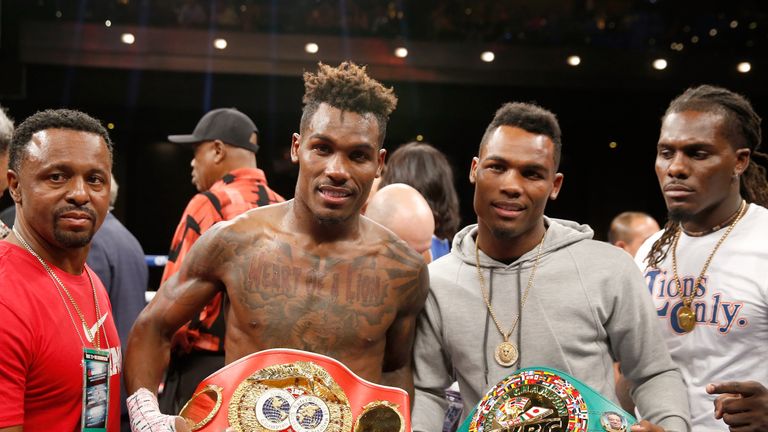 Half of the super-welterweight division is now ruled by twin brothers from Texas; Jermell and Jermall Charlo. Yes, really...
Born a minute apart in the small city of Richmond, the pair became only the second twins in history to hold world titles at the same time when Jermell dramatically knocked out John Jackson at the Chelsea Ballroom in Las Vegas on Saturday night.
With Jermell (28-0-KO13) first on the bill, the history was already made - the Charlos had equalled the feat of Thailand's Galaxy brothers - but Jermall followed that up by retaining his IBF crown with a unanimous points win over Austin Trout to prolong their dual reign. Furthermore, Khaosai and Khaokor Galaxy fought in different weight divisions (super-flyweight and bantamweight respectively), so the Charlo brothers are in that sense unique.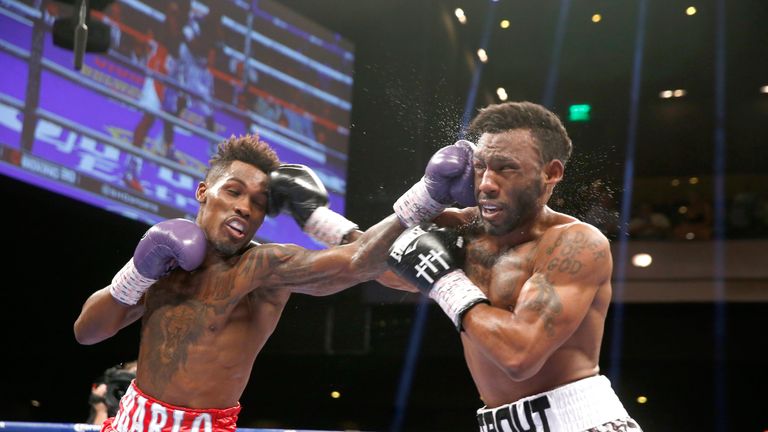 At 5'11", Jermell is an inch shorter than his WBC world champion brother. Considered the superior and more natural boxer of the two and with four fights more experience, he was handed a tricky assignment in Jackson - son of the legendary Virgin Islander Julian Jackson.
With the vacant IBF title on the line, Jackson began impressively. Instructed by his father in the corner, the underdog produced several eye-catching punches and seemed to dictate most if not all of the opening rounds. Struggling for rhythm, Jermell's sole significant early success was a blindly-thrown counter right that briefly stood his opponent up.
Switching stances with ease, Jackson continued to box his way to putting the sessions in the bank up until the eighth, when Jermell suddenly produced another blistering overhand right that landed low on the temple. As Jackson struggled to open his eye and pawed at his own mouth, Jermell showed no hesitation in throwing a pair of fight-ending left hooks that left his man slumped on the second rope; his head dangling outside the ring.
Whether the shots that decided the fight in Jermell's favour owed something to luck or not, they say there's a knack in landing big backhand punches without being able to see the target. His were particularly effective homing missiles, and proved that the boxing twin can punch. So can the punching twin box?
It turns out he can. In taking on savvy southpaw Austin 'No Doubt' Trout, Jermall (24-0-KO18) was making the second defence of the title he seized from Cornelius Bundrage by third-round stoppage in September 2015. Former world champion Trout boasts a victory over Miguel Cotto and has only ever lost to WBA king Erislandy Lara and former divisional No 1 Saul Alvarez.
At 6ft tall, Jermall is towering for the weight and if you like your super-welterweights rangy, his physique seems to be an optimal example. What was most impressive about his performance was composure, though. Talented and wily, Trout gradually began to time his shots and force his way into the fight but Jermall retained discipline and shape at the crucial times. The odd eye-catching right hand landing flush was often enough to take the majority of the rounds, too.
During Jermall's post-fight interview, Jermell's mandatory challenger - another Texan, Chris Hatley - got too close to him in trying to start trash-talking, and was eased out of the way. Hatley pushed Jermall back and it briefly threatened to turn ugly. It's clear these siblings are driven partly by rivalry but steeled by unity.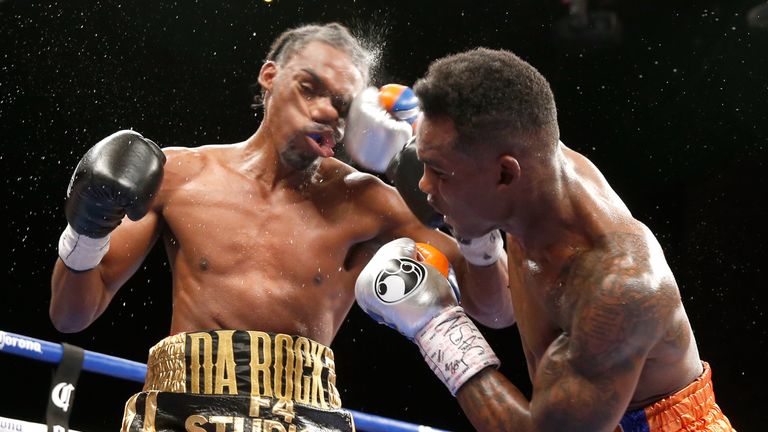 Jermall said of the flare-up: "Everybody is trying to steal the show. He was breathing all over me. I don't care what he is. It felt good because I knew my brother would get the job done. We belong at this level and for us to get the attention that we need from the Canelos and the greats out there, we need these titles and we're going to keep these titles.
"It wasn't a struggle in there. It was an experience. Austin Trout is a hell of a fighter and I see why Canelo had a rough fight with him."
The obvious question is: Who is better? Jermell says: "We are better together. We are competitors but there's so much love. It gets a little rough in sparring. Everything is like a fight. I don't get that intensity anywhere else. We are so different from each other. My brother is heavy-handed and my speed is more than his.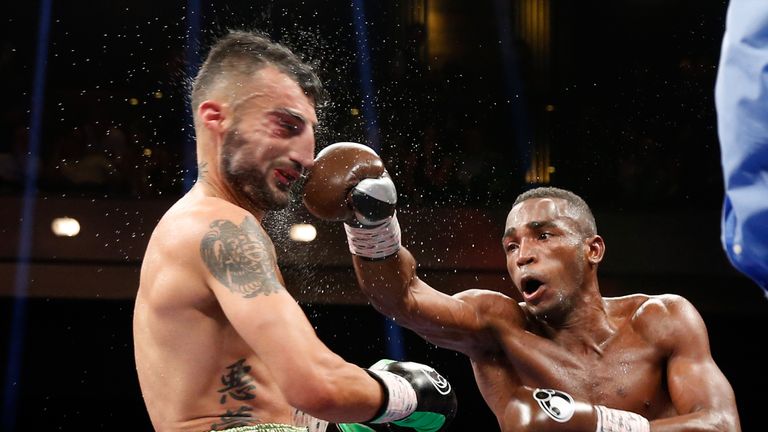 Jermall added: "He's telling things that help me get faster because he gets away from punches better than I do. Everytime I see my brother fight, it makes me sharper. I learn from your mistakes and you learn from my mistakes. Five years from now, we'll have every belt in the division."
And so to the issue of their impending attempt to add the WBA and WBO straps to their haul and claim a family monopoly at 154lbs...
WBA champion Lara headlined the night in Vegas and the Cuban was slick enough in making a defence against Vanes Martirosyan. They say he beat Canelo. He says he's prepared to step up to face Gennady Golovkin. In short, Lara could be one of boxing's more underrated forces and the timing and fluency of his straight left (he's a southpaw) often makes him pleasing to watch.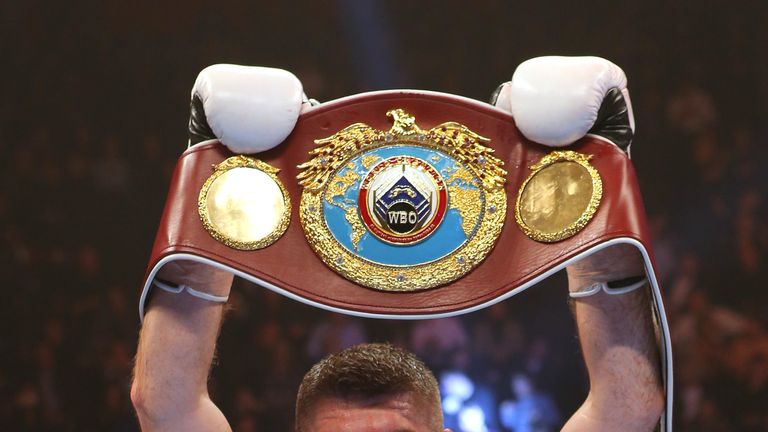 Then there is, of course, Liverpool's WBO holder Liam Smith. 'Beefy' defends his crown against Montenegro's Predrag Radosevic (30-1-KO11), who has boiled down from being a super-middleweight two years ago. Smith will go into that bout as a clear favourite to retain his title.
With Lara and Smith providing two clear and more than capable objectors to the Charlos' designs, there also looms the possibility of Alvarez returning to what he's always called his 'natural' weight class. The Mexican's decision to vacate his WBC middleweight title may have prompted accusations he is avoiding Golovkin, but it could also spell bad news for the super-welterweight champions.
In conclusion for the Charlos, 'the Jerms' have spread and their belt tally has multiplied, but they remain some way short of reigning supreme. Whether any of the four champions would be prepared to welcome Canelo back with a big-money world title shot remains to be seen.