Amir Khan still has something to offer inside the boxing ring. Finding out what will be a bumpy ride, writes James Dielhenn.
Khan remains must-watch entertainment whether he is fending off a brute like Marcos Maidana, playing a dangerous game of Russian roulette with Saul 'Canelo' Alvarez or bravely coming up short in his most recent fight, against a snake in the jungle.
His reality TV adventure had the public laughing with him, and occasionally at him, but it was a reminder that Khan remains one of the best-known British boxers alongside Anthony Joshua, David Haye et al. But his relevance as a fighter is an overdue question that can't be answered hanging out with Toff or Boris Johnson's dad. Finally, we will discover what Khan has left.
At his best Khan was a supremely talented boxer - lightning fast with his hands and feet, with an impressive list of conquests including Marco Antonio Barrera, Paulie Malignaggi, Maidana and Devon Alexander. Two world titles in the super-welterweight division validated a pro career that began after Khan shone for Great Britain at the 2004 Olympics as an amateur, winning a silver medal, a time when he was celebrated as a once-in-a-generation starlet.
The undoing of his career has been a tendency to abandon his slick skill-set in favour of a pub brawl, ill-advised against a puncher like Danny Garcia who dealt him a defeat in 2012 that he has arguably never fully recovered from. There have been three knockout losses in total so his critics, and every future opponent, will suspect a vulnerable chin hides behind his guard so those feted reflexes had better be in full working order after a two-year hiatus.
It will be three years since his most recent victory, against Chris Algieri, when he finally steps back inside the ropes where he hasn't spent enough time in his late-20s. Now 31, there are still major fights that Khan earn himself on both sides of the Atlantic.
Kell Brook is the obvious one, especially now Khan has aligned himself with the same promotional company in Matchroom. But Khan is still a recognisable contender in America and whispers have linked him to fighting Adrien Broner, while he has always wanted to avenge his loss to Garcia. It is refreshing to debate his fighting, rather than gossiping about his life.
He might find problems when he steps back inside the ring, where fighters cannot kid themselves about their pasts. Is his speed what he remembers? Has the damage he has suffered accumulated? But Khan remains young enough where his skills should not have diminished, and he might have accrued the in-ring wisdom to stick to his trainer's instructions for 12 full rounds.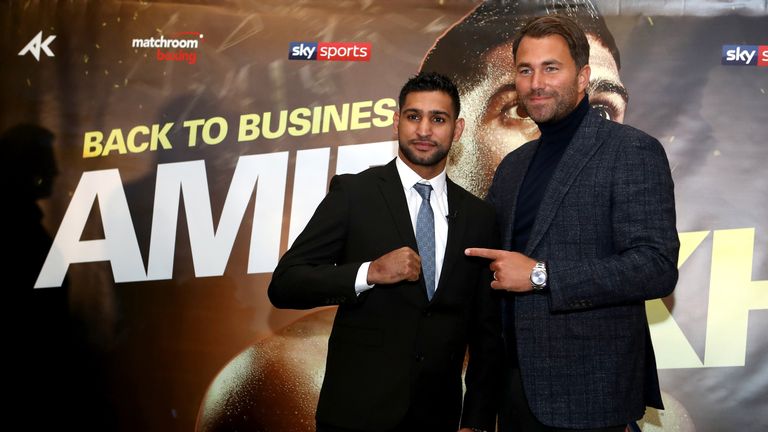 Returning to the UK (where just two of his past 12 fights have been held) alongside promoter Eddie Hearn, whom he has previously opposed to ramp up a fight against Brook, suggests a degree of maturity surrounding his return. Khan boxing back home feels like seeing an old friend for the first time in years.
The thrills he has provided, in victory and in defeat, have been unquestionable and that is what makes Khan's homecoming worth getting excited about.