After Floyd Mayweather confirmed Andre Berto as his 49th opponent, we have taken a look at his latest challenger.
When Mayweather suggested he would walk away from the sport after his next bout, few expected Berto to be in the opposite corner for his apparent farewell fight in Las Vegas on September 12.
It remains to be seen whether the American superstar really will abandon boxing, for he has returned from retirement once before, but his choice of foe is still a big anti-climax after this year's career-defining win over Manny Pacquiao.
Berto's status as a two-time welterweight champion deserves respect, but his ring skills appear to be on the decline, with all of his three defeats coming in the last six fights.
This damning statistic casts serious doubt over his ability to threaten Mayweather's unbeaten reign and, most worryingly for Berto, he has looked increasingly vulnerable.
The Florida-based 33-year-old was floored heavily in a 2011 points loss against Victor Ortiz, who himself climbed off the canvas, while he suffered a brutal stoppage defeat to Jesus Soto Karass in 2013.
That surprise setback to Soto Karass, a crude Mexican with an unspectacular record, raised serious doubts about Berto's future, but he returned to the ring after recovering from shoulder surgery.  
He has since linked up with respected trainer Virgil Hunter, who also oversees Amir Khan's career, and is hoping to recapture the form that earned him the WBC and IBF welterwight titles.
Hunter is fully aware of Mayweather's masterful skills, but insists that Berto is a much improved fighter since working under his tutelage.
Speaking to boxingnewsonline earlier this year, Hunter said: "Once he gets your rhythm, once he's allowed to fight at his pace, the conditioning that he has now and the knowledge, he could pretty well get you out at any moment from that point on. Because he can punch with both hands and he's fast, and he's a better boxer than people give him credit for."
"You have to be able to fight over your head because Floyd is a master of controlling range and distance and any time somebody can control range and distance, you're going to have a problem with him, unless you know how to do the same."
Berto does hold respectable wins over former Ricky Hatton opponents Luis Collazo and Juan Urango, while he most recently halted world title challenger Josesito Lopez.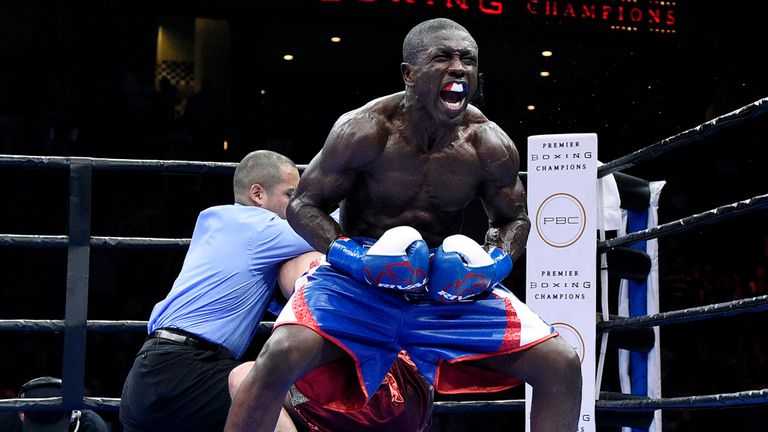 "Somebody is getting knocked out and it won't be me. You don't want to miss this."
He possesses swift hand speed and genuine knockout power, with 23 of his 30 wins coming inside the distance, and needs to somehow produce the finest punch of his career to dethrone Mayweather.
"Somebody is getting knocked out and it won't be me. You don't want to miss this," he said.
But in reality Berto only holds a puncher's chance, a damning assessment of a fighter's capabilities, and Mayweather is likely to pick up his first stoppage since 2011 before he takes a break from boxing.