Wayne McCullough says Adrien Broner showed some weakness before and during Gavin Rees fight
Wayne McCullough asks if Adrien Broner is the real deal after spotting some flaws against Gavin Rees.
Last Updated: 19/02/13 9:26am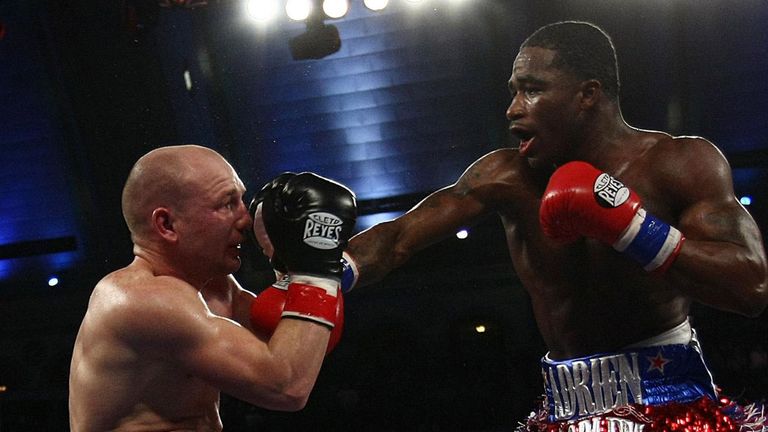 Rees, a British, European, and former World WBA light welterweight champion, had been at the world level before but against Broner he would be fighting at the elite level.
Broner is only 23 years old, a champion in two divisions and undefeated at 25-0 with 21 of those wins coming by KO. He is a talented young fighter who resembles Floyd Mayweather Jr's style at times, but he hits harder and looks great when he goes for the stoppage.
Rees, 32, had only one defeat on his record; a stoppage loss when he lost his World Championship in his first defence to Ukranian Andriy Kotelnyk in March 2008. He was up against all the odds going into the fight with Broner but really had nothing to lose as he was supposed to lose anyway.
Rees hadn't fought since July 2012 when he defended his British and European belts and Broner last fought in November 2012 when he stopped Mexican Antonio DeMarco in the eighth round to capture DeMarco's WBC lightweight title.
Welshman Rees was probably at his best weight of lightweight for this fight even though he had campaigned at light welterweight when he won the world championship but he had started his career much lighter as a featherweight back in September 1998.
The hype in the lead up to this fight was pretty much all Broner as he talked about how good he is and said when Mayweather retires he will be the best. He can talk the talk but he needs to be able to walk the walk and hope the fans want to see him win and not get beat because he talks so much about himself.
It's unclear if Broner's mind really was on this fight or was he just nervous in the way he talked in the build-up?
Ready
The preparations for Rees were spot on. He spent several weeks in New York, even through the cold weather and was ready for the fight, looking to cause a major upset.
However, Broner had other ideas.
Broner looked in great shape but on fight night they both unofficially weighed 150 lbs which means they had each gained about 15 lbs since the weigh in.
The 5' 4" Rees out worked Broner in the first two rounds and took a lead early in the fight mostly landing hard left hooks to Broner's body. Broner got things going in the third as he landed about a 10-punch combination fast and hard to Rees' head. Rees took them all and came back.
Broner's superior skill began to show in the third as he started picking his shots better. In the first minute of the fourth a quick right uppercut by Broner to Rees' chin, dropped him. The referee counted to eight but Rees got to his feet and continued.
Rees showed a big heart as he fought back and even though Broner continued landing hard shots to the head and body, Rees made it to bell.
Rees' corner wanted to pull him out before the fifth got started but he talked them out of it. Broner had to show the world that he was an elite fighter and stop Rees who fought back well in the first two minutes of the fifth. He went down again from a left to the body but got up with about 30 seconds left and finished the round.
Broner landed left hooks and rights off Rees' head continually which was enough for Rees' corner to throw in the towel just before the fifth round ended to save him from any more damage.
Broner had started off slow but got the TKO win at 2:59 of round five and successfully defended his WBC lightweight title in style.
Maybe Broner is the real deal after all but did this elite fighter really have to lose at least two rounds and take clean shots before he got rid of Rees?