Cleverly v Bellew II: Tony Bellew triumphs in rematch with points win over Nathan Cleverly
Last Updated: 23/11/14 10:48am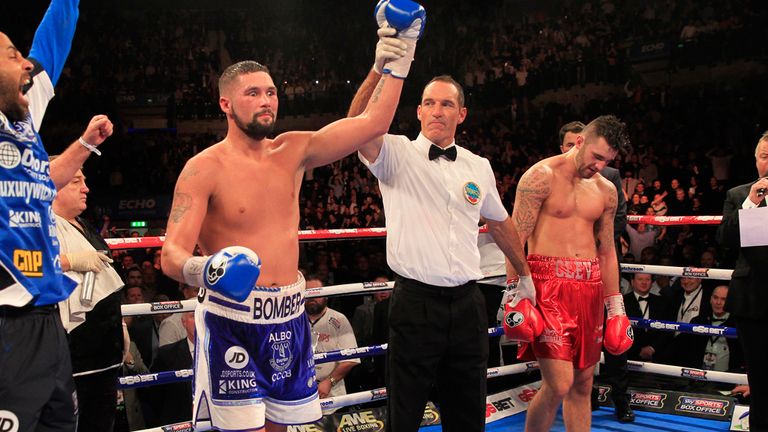 Tony Bellew gained sweet revenge with a split decision points win over Nathan Cleverly in their cruiserweight rematch.
The Liverpudlian dominated the latter rounds of a cagey contest and received the verdict from two judges with scores of 116-112, 115-113, while Cleverly appeared fortunate to edge the other card 115-114.
After a war of words, fireworks were expected when the pair attempted to settle a feud which stemmed back to Cleverly's points victory in 2011. But the return fight, this time at cruiserweight, was a cautious, often scrappy affair until the naturally bigger Bellew seemed to break his opponent's resolve with a draining assault in the closing rounds. 
The fight started at a brisk pace, with both men trying to gain a foothold. Cleverly pumped out a busy jab, but his defences were breached by a stiff right hand.
Bellew stepped out for the second with a confident strut and enjoyed more success with straight rights, but there was little spite in the work of the Welshman, who offered only tentative jabs in the third.  
With his opponent on the back foot, Bellew tried to force the fight in the fourth, but received a taunt for his trouble after Cleverly slipped away on the ropes. The smile did briefly slip, however, when the Merseysider punished him with a body shot.  
Wayward punches
There were plenty of wayward punches, with both men reluctant to commit in this high-stakes encounter. Bellew did briefly find the target, rattling the ribs of Cleverly as he backed to the ropes in the fifth.
Solitary left hands remained the sole weapon for the Welsh fighter, raising suspicions of an injured right, although Bellew was unable to take advantage, often missing wildly as he attempted to pin down an elusive quarry.
I won't go back on my word - there's not going to be a big embrace and a hug - but let's just say there is respect here and it's over, it's done with.
Tony Bellew
At last, the pair started to trade in the eighth, and Cleverly landed a crisp right before bobbing out of range when Bellew crudely tried to respond.
But the local favourite turned the fight in his favour with a sustained attack in the ninth. A big hook sparked the start of a torrid spell for Cleverly, who suddenly sagged under a barrage of punches before the bell offered respite.
But the 'Bomber' resumed his relentless assault in the 10th, bullying him back to the ropes before unleashing more right hands. Cleverly spent the entire round shielding himself by the strands and any ambition appeared to have been beaten out of him.
The former world champion was in survival mode, retreating into a shell as Bellew piled on more punches in the 11th. Yet another right dipped the legs of Cleverly when he unwisely sought refuge again on the ropes. 
Only a wild punch could spare the weary Cefn Forest man in the last, but Bellew did not let him take a breath, pouring on more punishment until the final bell sparked scenes of celebration in his corner.
After the decision was announced, Bellew gestured for Cleverly to join him in the post-fight interview, and they finally shared some respectful words.  
"I'm over the moon, listen it's over, it's put to bed," Bellew told Sky Sports Box Office. "We said a lot of things. I don't like him now, but it's been settled tonight. It's over, it's done and I've outworked a great athlete.
"I won't go back on my word - there's not going to be a big embrace and a hug - but let's just say there is respect here and it's over, it's done with."
Struggled
Cleverly admitted he struggled to cope with the size of Bellew at a higher weight, but called for the winner to face him again in a third bout. 
"It was similar to the first fight and a majority decision, one apiece, but I just think it shows my character, what happened," he said. "I've come up from welterweight and his strength showed in the second half of the fight.
"The first half, I was quite comfortable on the jab. The second half, I started to slow down, he was using his natural strength, pushing me back the last six rounds. He made it pay. Another close fight, one apiece, maybe we'll have a third fight."
Bellew insisted he would be willing to fight Cleverly on his own turf, if there was sufficient demand.
"I think it's over, but if this can fill the Millennium Stadium, I'll go there," he said. "If this can fill the Millennium, you'll have my word I'll go there."