Tony Bellew says Katie Taylor proved her toughness in WBA title defence
Last Updated: 14/12/17 2:34pm
Katie Taylor showed grit along with superior skills as she defended her WBA lightweight title with a points win over Jessica McCaskill, says Sky Sports expert Tony Bellew.
The Irish star shared an entertaining battle with McCaskill and was briefly wobbled by the spirited challenger, before she closed out a unanimous decision with scores of 97-92, 97-92 and 98-91 at York Hall in Bethnal Green.
Taylor had made a successful first defence of the WBA belt in just her eighth fight and Bellew believes she deserves praise for coming through a punishing encounter.
"You can see when she chooses to box and move, she's levels ahead of everybody," said Bellew. "But for me, that wasn't a hard boxing match for her, that was very hard physically.
"That girl made it rough, she was ready, she wrestled, she made it messy and that's something Katie Taylor has never experienced, because in amateur boxing immediately as soon as you get close - it's break."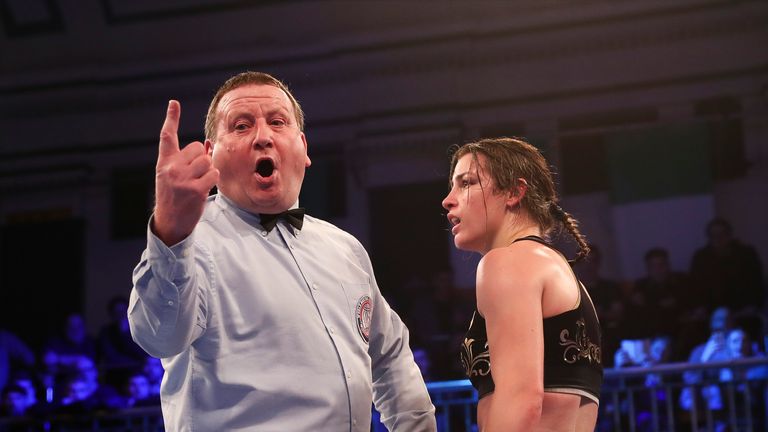 Taylor was docked a point by referee Howard Foster after being warned for holding, but Bellew felt that McCaskill was also guilty of infringements throughout the 10-round bout.
"I thought the heads clashed an awful lot of times," said Bellew. "McCaskill was very rough, maybe beyond the call of duty, but ultimately Katie Taylor found a way, she tied her up at times, she worked her angles really well and she check-hooked all night.
"How McCaskill took it, I don't know, but she's a very brave girl, very strong and both of them put on a fantastic display."