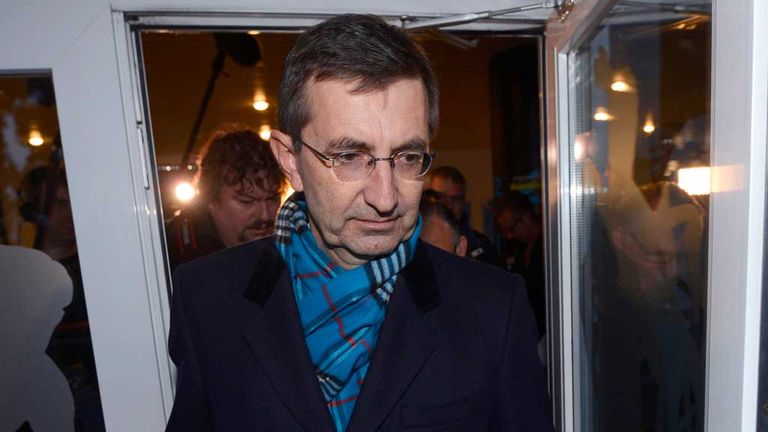 Geert Leinders has been banned for life for multiple doping violations while he was chief team doctor of Rabobank.
Leinders was part of the Dutch team between 1996 and 2009 and he has been brought to account by the US Anti-Doping Authority (USADA) after an investigation that began in 2012.
In 2007, Rabobank sacked Danish rider Michael Rasmussen while he was leading the Tour de France after he admitted he had lied to the International Cycling Union (UCI) about his whereabouts during training.
Rasmussen later admitted to doping extensively during his career, saying he had done so from 1998 to 2010. He rode for Rabobank from 2003 until his dismissal in 2007 and co-operated fully with the USADA team.
USADA chief executive Travis Tygart said: "It shocks the conscience that a board member and team doctor would abuse his trusted position by overseeing and participating in this type of dangerous and fraudulent activity.
'Global commitment'
"This case also demonstrates the global commitment of independent anti-doping organizations to ensuring that those who break the rules in an attempt to win and to profit from their cheating are held accountable.
"As we said from the beginning of our cycling investigation, ridding those in the system who attempt to justify doping as a means to an end is the only way to truly clean up cycling for current and future generations of athletes."
As a result, Leinders is prohibited from training or advising athletes and taking part in any event sanctioned by the UCI or any other agency overseen by the World Anti-Doping Agency.
Rasmussen's cooperation and testimony in the investigation of Leinders were "integral to the outcome", said the head of the Danish anti-doping agency, Lone Hansen.
The reformed doper also implicated Mario Zorzoli, the former chief of the UCI medical commission, accusing the doctor of protecting potential cheats, and encouraging doping.
Zorzoli allegations
According to the Usada document, Rasmussen testified that on the first rest day of the 2005 Tour de France, his team was approached by the UCI because a test showed a very low reticulate count suggesting blood transfusions.
Leinders met with Zorzoli, then told the rider that he should not worry and was "the most protected rider in the race".
The UCI released a statement welcoming the decision to impose a lifetime ban on Leinders and also said Zorzoli will not be involved in any anti-doping matters while an investigation into his involvement takes place.
The statement said: "The UCI is aware that the reasoned decision includes allegations made against UCI Doctor and Scientific Advisor Dr Mario Zorzoli.
"The UCI is now waiting to receive the full file to look closely into these allegations, and whilst this investigation is taking place, Dr Zorzoli will not be involved in any matters relating to anti-doping."