Phil Taylor needs to accept his status and start enjoying his darts says Eric Bristow
By Paul Prenderville
Last Updated: 20/12/15 7:43pm
Five-time world champion Eric Bristow believes Phil Taylor is struggling to deal with not being the best dart player in the world.
Taylor eased into the second round on Saturday with a comfortable win over preliminary round qualifier Keita Ono but had his troubles throughout the game.
Wayne Mardle believes the 16-time world champion is suffering from self-doubt on the oche and 'The Power's' old nemesis Bristow has echoed the thoughts of his fellow Sky Sports expert.
"There are problems in his head at the moment," Bristow told Sky Sports.
"Even when someone is interviewing him, he's very defensive. He tries to put over that everything is alright, but everything is not alright Phil. He's been getting aggressive. He's not the Phil of old.
"If he is to go out - go out gracefully."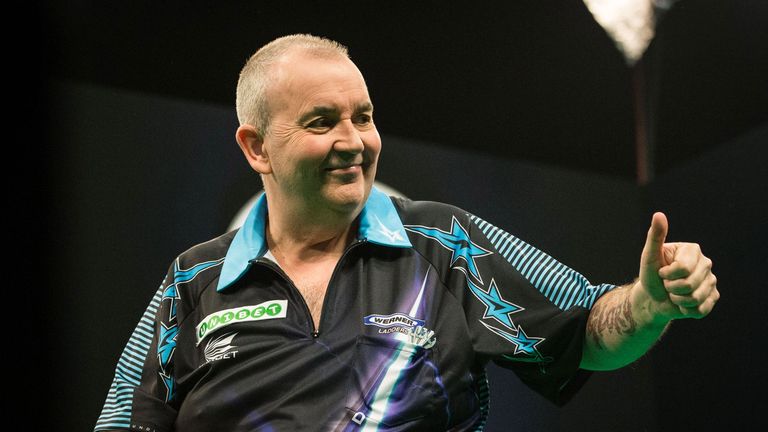 Taylor has changed his tungsten for this year's Alexandra Palace extravaganza and Bristow says reverting to the tried and trusted as well as enjoying himself again might get some of the old magic back - if he accepts his standing behind world No 1 Michael van Gerwen.
"I'd tell him to get his old darts back - throw [the new ones] in the bin. Or get someone else to throw them in the bin because the way you're throwing at the moment you'll miss the bin.
"Go up there and enjoy the game of darts. It doesn't look as though he's enjoying it at the moment.
"Michael van Gerwen's getting all the limelight now. Phil's always been big daddy and now it's like 'out the way Phil, I want to talk to Michael' and perhaps he can't take that very well being not the best. You can't be the best forever."
You can watch the PDC World Darts Championship live on the Sky Sports Darts Channel.
Non-subscribers can also enjoy daily, weekly or monthly access to Sky Sports Darts and Sky Sports other six channels contract-free with NOW TV.