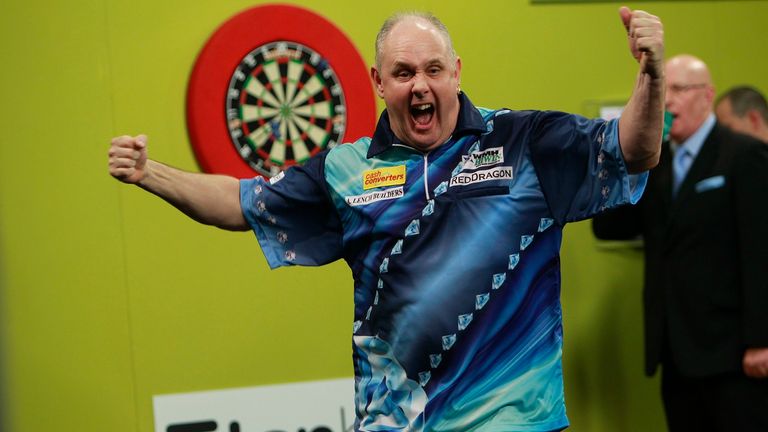 Ian White has won a second Players Championship of the year after beating Joe Cullen 6-3.
Having claimed a first prize with a shocking whitewash of Michael van Gerwen back in April, White added a second title at the weekend in the £10,000 Barnsley tournament.
White dropped just four legs in dispatching Steve McNally, Jeffrey de Zwaan and Jason Marriott before a 6-3 win over Daryl Gurney.
He then eliminated Ronny and Kim Huybrechts consecutively in the quarter-finals and semi-finals before sealing victory against Cullen in the final.
Meanwhile, Robbie Green qualified for the World Matchplay with a run to the quarter-finals.
Don't miss the World Matchplay, live on Sky Sports between 16-24 July.
Players Championship 11 Results
Sunday July 3, Barnsley Metrodome
First Round 
Kim Huybrechts (1) Bye
Dirk van Duijvenbode 6-3 Ray Campbell
Mark Barilli 6-3 Devon Petersen
Tony Newell 6-4 James Richardson
Steve Beaton (16) 6-0 Kevin Thomas
Jonathan Worsley 6-2 Jim Walker
Justin Pipe (17) 6-3 Michael Power
Curtis Hammond 6-2 Jeffrey de Graaf
Jermaine Wattimena 6-3 Gerwyn Price (8)
Vincent Kamphuis 6-4 Simon Preston
Robbie Green (25) 6-3 Scott Dale
Ryan Meikle 6-1 Prakash Jiwa
Harry Robinson 6-4 Terry Jenkins (9)
Mike Zuydwijk 6-4 Ricky Evans
Brendan Dolan (24) 6-5 Stuart Kellett
Peter Hudson 6-5 Darren Webster
Paul Milford 6-3 Jelle Klaasen (5)
Ronny Huybrechts 6-3 Keegan Brown
Jamie Lewis (28) 6-3 Jonny Clayton
Andy Smith 6-5 Ron Meulenkamp
Berry van Peer 6-5 Simon Whitlock (12)
Johnny Haines 6-1 Andy Boulton
Josh Payne (21) 6-2 Mike De Decker
Stephen Willard 6-3 Shaun Griffiths
Ian White (4) 6-2 Steve McNally
Jeffrey de Zwaan 6-5 Matthew Edgar
Kevin Painter (29) 6-5 Aden Kirk
Jason Marriott 6-5 Mark Walsh
Daryl Gurney (13) 6-1 Christian Kist
Ryan Palmer 6-5 Jerry Hendriks
Jamie Caven (20) 6-2 Michael Barnard
Dimitri Van den Bergh 6-5 William O'Connor
Michael Smith (2) Bye
Nathan Aspinall 6-2 Steve Brown
Alan Tabern 6-5 John Henderson (31)
Wes Newton 6-3 Andy Parsons
Joe Cullen (15) 6-3 James Wilson
Lee Evans 6-5 John Bowles
Mark Webster (18) 6-0 Ronnie Baxter
Jan Dekker 6-4 Mick McGowan
Jason Wilson 6-4 Robert Thornton (7)
Ted Evetts 6-3 Simon Stevenson
Darren Johnson 6-2 Andrew Gilding (26)
Dennis Smith 6-3 Dave Ladley
Alan Norris (10) 6-3 Chris Dobey
Joe Murnan 6-3 Ross Smith
Yordi Meeuwisse 6-1 Rowby-John Rodriguez (23)
Kevin Dowling 6-0 Ricky Williams
Mensur Suljovic (6) 6-0 David Pallett
Steve Hine 6-5 Brett Claydon
Brian Woods 6-4 Max Hopp (27)
Mickey Mansell 6-3 Robert Owen
Stephen Bunting (11) 6-5 Wayne Jones
Andy Hamilton 6-0 Jamie Robinson
Kyle Anderson (22) 6-4 Jason Lovett
Nigel Heydon 6-5 Darron Brown
Benito van de Pas (3) 6-1 Nathan Derry
Andy Jenkins 6-1 Matt Clark
Cristo Reyes (30) 6-0 Antonio Alcinas
Mark Frost 6-2 Nigel Daniels
Mervyn King (14) 6-1 Dean Winstanley
Steve West 6-2 Matthew Dennant
Vincent van der Voort (19) 6-5 Magnus Caris
Mick Todd 6-5 John Michael

Second Round 
Kim Huybrechts 6-5 Dirk van Duijvenbode
Tony Newell 6-3 Mark Barilli
Steve Beaton 6-2 Jonathan Worsley
Curtis Hammond 6-3 Justin Pipe
Jermaine Wattimena 6-4 Vincent Kamphuis
Robbie Green 6-4 Ryan Meikle
Mike Zuydwijk 6-1 Harry Robinson
Peter Hudson 6-3 Brendan Dolan
Ronny Huybrechts 6-2 Paul Milford
Jamie Lewis 6-1 Andy Smith
Berry van Peer 6-5 Johnny Haines
Stephen Willard 6-3 Josh Payne
Ian White 6-0 Jeffrey de Zwaan
Jason Marriott 6-1 Kevin Painter
Daryl Gurney 6-3 Ryan Palmer
Jamie Caven 6-2 Dimitri Van den Bergh
Nathan Aspinall 6-5 Michael Smith
Alan Tabern 6-5 Wes Newton
Joe Cullen 6-1 Lee Evans
Mark Webster 6-2 Jan Dekker
Jason Wilson 6-1 Ted Evetts
Dennis Smith 6-3 Darren Johnson
Joe Murnan 6-5 Alan Norris
Kevin Dowling 6-2 Yordi Meeuwisse
Mensur Suljovic 6-1 Steve Hine
Mickey Mansell 6-5 Brian Woods
Stephen Bunting 6-5 Andy Hamilton
Kyle Anderson 6-5 Nigel Heydon
Benito van de Pas 6-3 Andy Jenkins
Cristo Reyes 6-5 Mark Frost
Mervyn King 6-2 Steve West
Vincent van der Voort 6-3 Mick Todd

Third Round 
Kim Huybrechts 6-3 Tony Newell
Steve Beaton 6-1 Curtis Hammond
Robbie Green 6-5 Jermaine Wattimena
Peter Hudson 6-4 Mike Zuydwijk
Ronny Huybrechts 6-3 Jamie Lewis
Stephen Willard 6-4 Berry van Peer
Ian White 6-2 Jason Marriott
Daryl Gurney 6-0 Jamie Caven
Nathan Aspinall 6-4 Alan Tabern
Joe Cullen 6-3 Mark Webster
Jason Wilson 6-4 Dennis Smith
Joe Murnan 6-3 Kevin Dowling
Mensur Suljovic 6-2 Mickey Mansell
Stephen Bunting 6-1 Kyle Anderson
Cristo Reyes 6-5 Benito van de Pas
Vincent van der Voort 6-5 Mervyn King

Fourth Round 
Kim Huybrechts 6-3 Steve Beaton
Robbie Green 6-2 Peter Hudson
Ronny Huybrechts 6-3 Stephen Willard
Ian White 6-3 Daryl Gurney
Joe Cullen 6-3 Nathan Aspinall
Joe Murnan 6-4 Jason Wilson
Mensur Suljovic 6-3 Stephen Bunting
Cristo Reyes 6-1 Vincent van der Voort

Quarter-Finals 
Kim Huybrechts 6-5 Robbie Green
Ian White 6-1 Ronny Huybrechts
Joe Cullen 6-5 Joe Murnan
Cristo Reyes 6-2 Mensur Suljovic

Semi-Finals 
Ian White 6-3 Kim Huybrechts
Joe Cullen 6-4 Cristo Reyes

Final 
Ian White 6-3 Joe Cullen