Michael van Gerwen beats Phil Taylor 18-10 in World Matchplay final
'Mighty Mike' retains trophy and pockets £100,000 first prize with emphatic win
By Raz Mirza
Last Updated: 25/07/16 1:22pm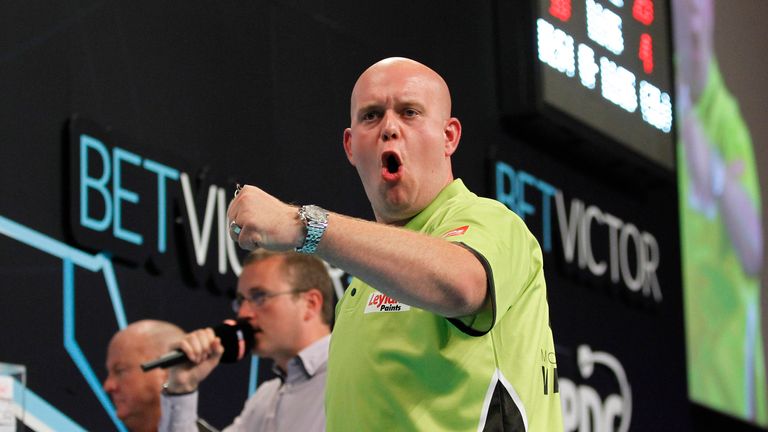 Michael van Gerwen won the World Matchplay for a second successive year after thumping 15-time Winter Gardens champion Phil Taylor in Blackpool.
The Dutchman collected his 12th tournament title in 2016 by inflicting only Taylor's eighth defeat on the seaside resort since 1994 with a crushing 18-10 victory.
Taylor's eccentric behaviour on stage could do little to disrupt 'Mighty Mike' from cleaning up with an emphatic performance.
In what was billed as a blockbuster showpiece between the two arch enemies, Taylor saw his challenge to capture a 16th crown come to a shuddering halt as Van Gerwen averaged 103.60, landing 32 ton-pluses, hitting 12 140s and 180s with a 61 per cent success rate on the doubles.
The triumph sees 'The Green Machine' become only the third player - alongside Taylor and Rod Harrington - to retain the prestigious title.
Not even Taylor's 'Thunderclap' behind van Gerwen's back in the 18th leg could do little to perturb the world No 1 who, after losing the opening leg, romped away with the match thanks to several breaks of throw.
"I thought I dominated the final," Van Gerwen told Sky Sports. "I've played well throughout the tournament. I didn't make a lot of mistakes and I didn't even play my best but against Phil you have to step it up and that's what I did.
"Now I have the title back again and it feels amazing. I did the right things at the right moments and my finishing was fantastic."
The match started in electrifying fashion with the 55-year-old from Stoke-on-Trent taking the opening leg and then Van Gerwen stepped on the gas breaking in the third leg after crucial missed doubles.
In the next, the Dutch ace looked to be on for a nine-darter, but his seventh arrow wired the treble 20. He still completed an 11-darter. Taylor stayed in touch with a stunning bull finish to stay 3-2 behind.
The 27-year-old nailed another 11-darter in the 10th leg for a 6-4 lead and then broke for the second time with a neat 65 finish with his last dart in hand.
After that Van Gerwen rallied, winning the next four, including a 110 on double 16 for his eighth three figure outshot of the week.
Taylor appeared to be wilting under increasing pressure and attempted to rattle Van Gerwen by starting a 'Thunderclap'. He did break throw for only the second time to claim his sixth leg for 12-6.
'The Green Machine' then struck with a 112 checkout in the 23rd leg, before his opponent responded with a 130 in the next - the highest of the match.
Van Gerwen won the last three legs and sealed back-to-back triumphs in brilliant fashion with double 16.
Taylor, who turns 56 next month, admitted he let the Winter Gardens crowd down, as well as hailing Van Gerwen as 'the best ever'.
"I just faded. I was shattered," he said. "I'm gutted with myself. My energy levels were not there and he killed me - he bullied me. He's very, very aggressive. When he hits a good shot he lets you know. He's a nasty player. We need to turn to tables - that's the only way you can beat him.
"We're not giving him quality practice. This was like a practice session for him.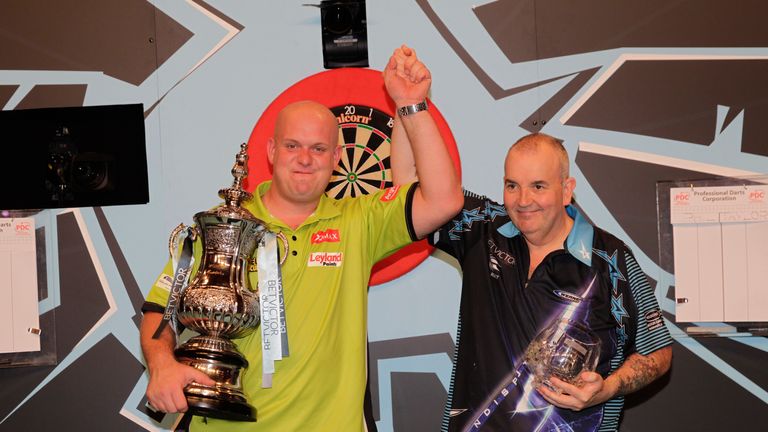 My energy levels were not there and he killed me - he bullied me. He's very, very aggressive. When he hits a good shot he lets you know. He's a nasty player.
Taylor on Van Gerwen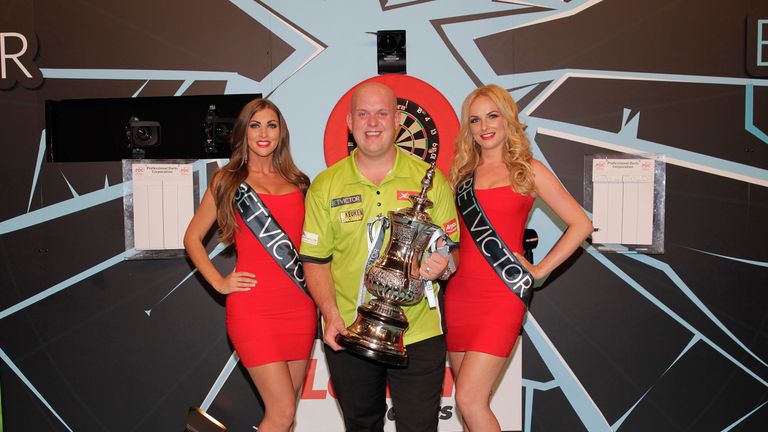 "He does everything. Darts has changed. I was lucky enough to play against every great that's ever played - this is the greatest [Van Gerwen] as far as I'm concerned. This is a fella that's domineering the game. There's only one way to beat him - match him - he believes in himself and at the minute we're not.
"I've got to start making changes and that starts tomorrow morning. Trust me, maybe I'm too old now, but I'm going to lead the way. If I get a player, I'm going to teach him to beat a player like him. He is phenomenal."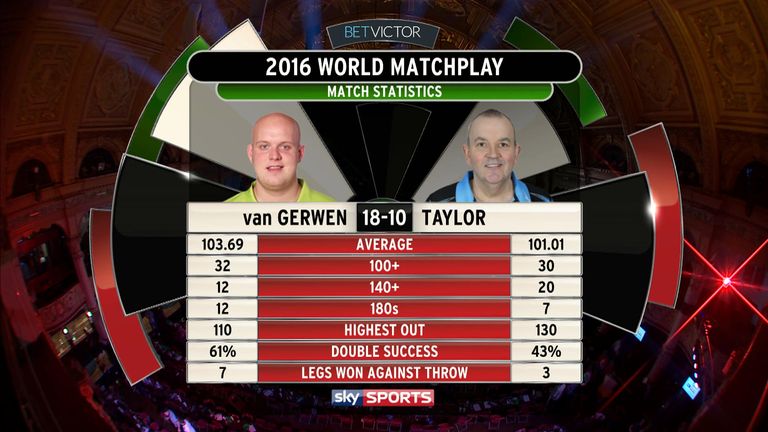 Check out daily Darts news on skysports.com/darts, our app for mobile devices and iPad and our Twitter account @skysportsdarts.
By purchasing a Sky Sports Day Pass for £6.99 or Sky Sports Week Pass for £10.99, you can enjoy access to all seven Sky Sports channels and watch on a TV with a NOW TV Box or on a range of devices.