James Wade talks Grand Slam of Darts and returning to form
Having built up some momentum in recent weeks, 'The Machine' is relishing the challenges that await at the Grand Slam and beyond
By Josh Gorton
Last Updated: 11/11/17 10:10pm
After enduring a difficult year which has seen him fall outside the world's top 10 for the first time in a decade, James Wade is relishing the challenge at this year's Grand Slam. Josh Gorton spoke to the seven-time major winner, who is more determined than ever to get back to where he belongs.
When asked about how he would assess his darting year thus far, Wade was typically self-effacing. "Apart from about two weeks ago it's been rubbish," he quips.
"I haven't put anything into it in the last year or so, but I haven't stopped practising in the last four weeks, so it is just starting to show its face and it will improve from now."
The Grand Slam is one of the most captivating and unique events on the darting calendar, as the elite from both the PDC and BDO collide in the star-studded cross-code event.
It's also a tournament that's been kind to 'The Machine' over recent years, although he kicked off with a 5-1 defeat to Robbie Green, matches against Peter Machin and Phil Taylor mean he is still in the hunt.
Wade is a two-time finalist in Wolverhampton, reaching the final just 12 months ago. He beat Gary Anderson 16-14 in a thrilling semi-final, before losing out to an irrepressible Michael van Gerwen in the final.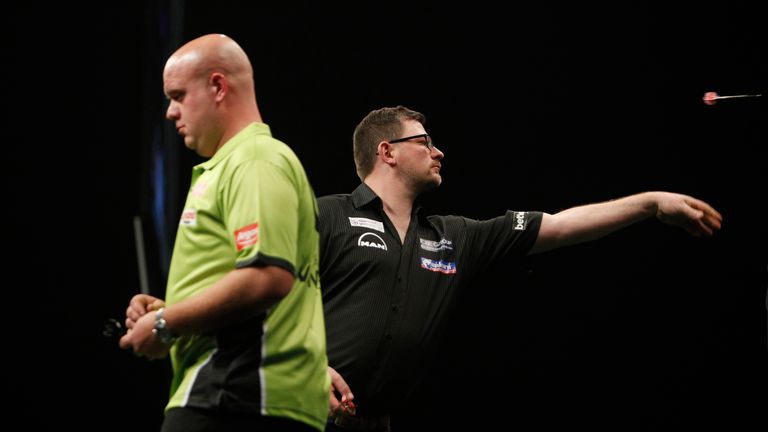 The Aldershot ace also reached the final back in 2010, while he landed his first televised nine-darter in the 2008 tournament, which also came against Scottish star Anderson.
However, it's a case of home comforts for Wade, who fondly compares the atmospheric Wolverhampton Civic Hall to playing in his front room.
"It's one of the old tournaments with respect of the size of the crowd and how intimate it is with the crowd. You can react with them, they can react with you, and it's like playing in your front room if that makes sense, compared to the big arenas we are used to playing in now."
Wade has enjoyed a decade at the top level in the PDC ranks, with his triumphs including a brace of titles at the World Grand Prix and the UK Open, plus victories in the 2007 World Matchplay, 2009 Premier League and 2014 Masters.
However, it's been a challenging period for the most successful left-hander in PDC history. He suffered successive first-round exits at the World Matchplay and World Grand Prix earlier this year, results that have seen him relinquish his top ten status, but he reflected on this setback in candid fashion.
"Unfortunately it's one of those things. If you don't put anything into it you don't get anything out and I've been managing to do that for the last six years so I have been very very lucky. Now the work's going in and the results will follow. It's a good challenge."
Nevertheless, his spirits have been lifted by his recent revival, which has seen him reach the semi-finals of the German Darts Masters and last weekend's World Series of Darts Finals in Glasgow.
Therefore for Wade, his focus is very much on maintaining the momentum he's built up over recent weeks. He took a month off from darts after his World Series excursions in August and has returned feeling revitalised, with a few changes to his game.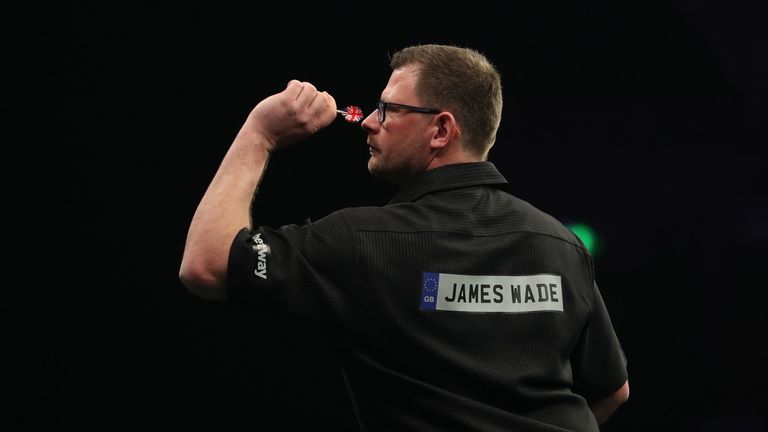 I went back and still played poorly, but now I'm practising and my arm feels different and the whole game feels different to me. Now I just need to keep going and see the results.
James Wade
"I have changed my stems themselves, my throw has changed as well. My throw is more like it used to be; much smoother now. I can just feel it's different. It's smooth, it's more natural, it's more relaxed, it's not jerky anymore, there's no hesitation there; it's nice."
Wade has been pitted alongside 16-time world champion Taylor, Green and BDO World Trophy winnerMachin in Group C of this year's Grand Slam, in what will be Taylor's final Wolverhampton appearance.
The pair have met an astonishing 70 times and contested some of the greatest matches in darting history - including the famous 2010 Premier League final, when Taylor incredibly landed two nine-dart finishes to edge out Wade 10-8 in a breath-taking tussle.
Although Wade has only beaten 'The Power' on 13 occasions, he has inflicted some of his most painful defeats - most notably ending his 44-match Premier League unbeaten streak in 2008 and he will need another one after starting with that defeat to Green.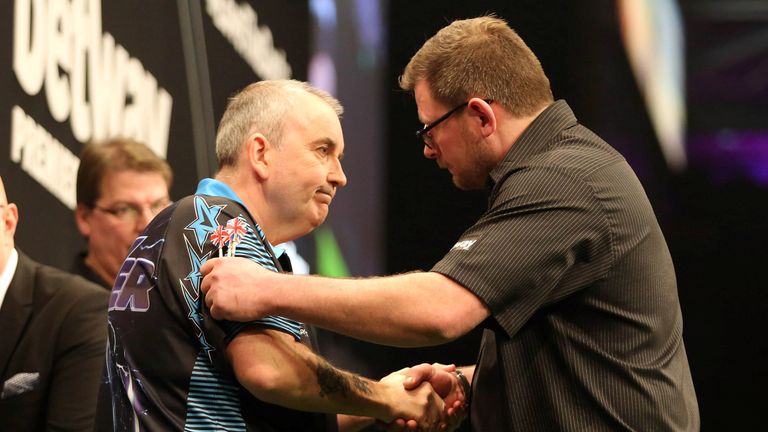 'The Machine' also halted Taylor's unprecedented 38-match winning streak at the World Matchplay in 2015, but he is unfazed by the romanticism of facing the Stoke legend in his Grand Slam farewell.
"As I've said before it doesn't really bother me. He's another dart player who wants to take money off me, so I can thank him for everything he's done for the game and wish him well."
There's a healthy respect from Wade towards Taylor, but his business-like and clinical approach which has served him so well throughout his illustrious career is evidenced once more.
Only Taylor and Van Gerwen have won more individual PDC majors than Wade, but with the Grand Slam in full flow and the World Championship on the horizon, 'The Machine' appears to be sparking into action at the perfect time.
"I feel comfortable now and when you feel comfortable, things can happen. I am sort of enjoying it if that makes sense.
"I am frustrated because I have put my back against the wall with how much I have neglected it, but I have always tried to the very best of my ability when I can. It's a challenge to me now and I've got to sort myself out. I've got no option."
Keep up to date with the Grand Slam news as the tungsten enters its busiest time of year with the PDC World Championships just around the corner - get all the latest at www.skysports.com/darts and join in the conversation @SkySportsDarts.