Rob Cross is enjoying the Grand Slam of Darts and his debut PDC Tour season
The former electrician has risen to no 24 in the world rankings and is not finished yet......
By Paul Prenderville
Last Updated: 17/11/17 12:50pm
If you are making a rival out of Michael van Gerwen then you must be doing something right in the world of darts, so Rob Cross is certainly heading in the right direction.
Sunday's meeting with MVG was Cross' seventh of the season, significantly for a Tour debutant these have not been first rounders but three finals and a quarter-final - a sign of the stellar year Cross is enjoying.
The former electrician, nicknamed Voltage, pushed the world No 1 all the way on Sunday at the Grand Slam and in the process will feel he wasted his best chance to beat to the two-time world champion. For the third time in as many weeks, the 27-year-old has stayed with the best in the game but for the third time he lost - Cross is learning and learning fast in his debut year.
After beating Raymond van Barneveld on Thursday in the last 16 at the Wolverhampton Civic Hall another meeting with MVG looms large.
The beach in Hastings is perhaps not the first place to look for such a player making his mark amid the bright lights, walk-on music and glitz and glamour of the PDC Tour, but it's where you'll find Cross walking the latest addition to the family on a rare day off.
"I am walking all the time, I am getting out, walking along the beach, getting fresh air and clearing my head and it is helping me concentrate better," Cross tells Sky Sports' Paul Prenderville in an exclusive interview.
What a fantastic match to play in that was... even nicer to win ☺

All credit to Rob Cross. He is already a top player.

I love to play in great matches and that was one of them.

Thanks for support! Hope you enjoyed that as much as I did. 🎯

— Michael Van Gerwen (@MvG180) November 12, 2017
By any stretch a season as a professional in an individual sport can be a long slog, more so for those in a sport that requires a year-long commitment to tournaments varying from majors with huge prize money to the standard week-to-week grind.
And in that respect, at least, the life of a darts player, much like golfers and tennis players, can leave you depending on the lesser events to make your mark, climb the rankings and earn the money to make the sport your livelihood.
Not for Cross who has revelled in the chance to make his passion his career and his livelihood.

"I spend a lot of time away from my family but they are so supportive and have been brilliant - the confidence you get from them, cheering you up when you feel a bit low," says Cross.
"Winning helps, I can treat the kids and hopefully provide a better life for them, that is the ambition.
Away from the extravagance of Alexandra Palace and the party that is the World Championship. A far cry from the glamour of the Premier League roadshow and the televised tournaments, the PDC Tour is a tough school.
Having earned your card via the Challenge Tour or at Qualifying school in January, the hard yards begin at weekend floor tournaments - one-day events held away from the TV cameras and big crowds. These pave the way for prize money and ranking points and that is where Cross has made his mark.
"To get up in the morning and do what I love doing is a dream and it has come to reality for me. Everything has changed so much and I could not have imagined or even wished it to go any better than it has - it's phenomenal how it has all changed over the year.
"Once I got my card, I had a goal to make the top 64 and to try and keep my Tour card for the following year and to progress nicely. But to progress at the rate I have, and to feel as comfortable as I am starting to feel - I have to pinch myself."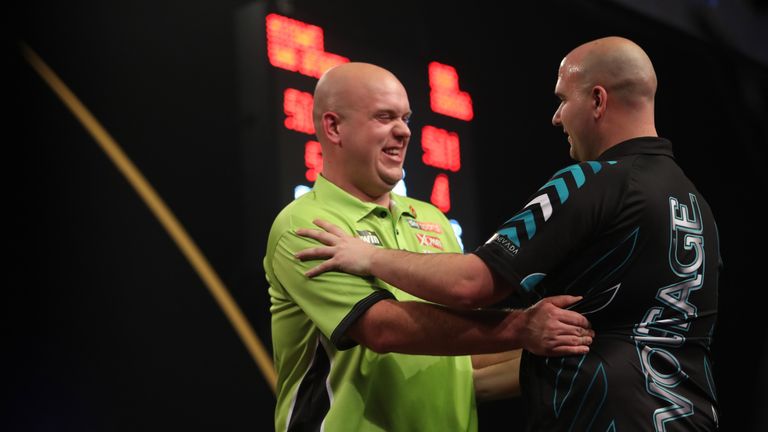 Cross has made himself a contender and he has done so by starting from scratch on the PDC's Challenge Tour where he secured a top-two finish last year and with it one of 128 slots on the PDC Tour for 2017.
The results have been spectacular, most notably four Players Championship titles, which means he tops the Players Championship Order of Merit ahead of the Minehead major.
Two more European Tour finals, where he was beaten by Michael van Gerwen, got him into the European Championship where he made it all the way to his first televised major final only to lose to Van Gerwen again.
"I didn't expect to come in and have the impact that I have but over that time I have done different things and you keep progressing, keep practising and keep getting better.
"At the start of the year I was still pinching myself and couldn't believe it was my job but now I do see it as my job and I'm practising harder.
"I go in no 1 seed but in fairness a few of the guys, with World Series events and other things, miss some of the events so you don't know if you would have got the No 1 spot as they could have taken both events on a weekend."
That run means he qualified for the Grand Slam and has, or live have, competed in all the year's televised majors. He also looks set to be the highest ever seeded debutant at the World Championships in December.
"It's hard work though and providing for those that support him has been a driving factor in his success and will to succeed."
There has also been an addition to the Cross clan - the arrival of a puppy means there are some dog-walking duties to be taken care of.
"I'm always altering things to try and get better. It's not always about the darts too, I'm trying to eat healthier and look after myself, I even bought a dog to walk," says Cross.
"Now I am walking all the time, I am getting out, walking along the beach, getting fresh air and clearing my head and it is helping me concentrate better.
"It's so demanding mentally when you are playing all the time - you end up more mentally tired than you are physically so those days and time with the family are a chance to rest."
In a year where Mensur Suljovic, Peter Wright and Daryl Gurney have all become new major champions, Cross has his sights set on breaking through at the top level.
"I have to do my practice and I notice if I don't I have a bad weekend and when I don't practice I feel like I don't deserve to be there playing if I haven't put the effort in," Cross added.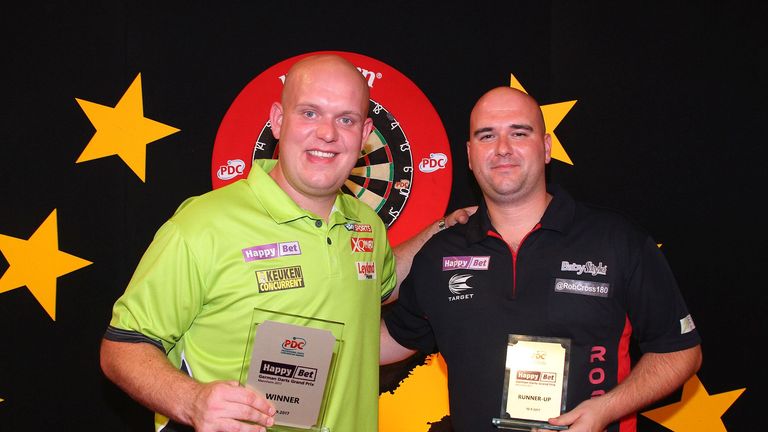 "The ultimate ambition is to be winning trophies, but that will only come when I am ready and relax on stage and the man becoming a regular opponent is the benchmark
"You look at Michael who does it week-in, week-out - he is constantly a winner and he is a good role model to look up to because that is how I want to be."
One thing is for certain when Van Gerwen and Cross meet again, and they could in the quarter-finals should Cross beat Ross Montgomery and progress from the last 16, is that Cross will be ready. Lessons are being learned at a rapid rate although whether there is a chance to walk the dog and clear the mind in time is unlikely.
The Grand Slam of Darts continues on Sky Sports on Friday on Sky Sports Action from 7pm as the quarter-finals gets underway. Cross faces MvG on Saturday from 8pm
Keep up to date with the news as the tungsten enters its busiest time of year with the PDC World Championships just around the corner get all the latest at www.skysports.com/darts and join in the conversation @SkySportsDarts.