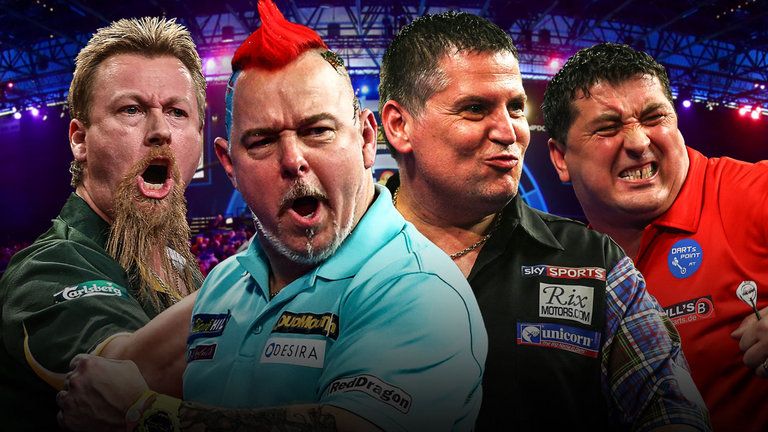 Re-live five moments from the Grand Slam of Darts that will make you smile...
Nine-dart shoot-out
The spirit of a penalty shoot-out brought to the oche, between two men named Webster. The rarely seen nine-dart shoot-out, required because both Websters finished evenly in the group phase, gives each player three visits to the dartboard. The highest score wins. But, when it happens, we all win…
Taking a tumble
Raymond van Barneveld has long held a special place in the hearts of darts fans, who routinely throw themselves at the great veteran's feet. But not like this guy. Watch the video above to see a dedicated fan hurling himself over the barricade and falling flat on his face.
Taylor's explosive interview
Sixteen-time world champion Phil Taylor was handed the perfect opportunity to lavish praise on a young rival, but spectacularly opted not to.
He was asked, is Daryl Gurney the future of darts?
"Who? Daryl Gurney? To be honest, no. Not really, no."
In total Taylor says "no" six times then duly beat Gurney the following night.
Another Taylor tongue-lashing!
But even beating Gurney didn't satisfy Taylor leading to another humorous interview.
"He didn't pour me a glass of water. It's called respect," he ranted.
"These lads are like zombies. Enjoy yourself. I wish I was 20 years younger! I'd be fighting every week!"
An MVG Mohawk?
Guaranteed to put a smile on your face was the moment that Michael van Gerwen and Peter 'Snakebite' Wright shared after the final, won by the former.
Van Gerwen had his baby daughter involved in the celebrations and Wright, ever the mischief-maker, tried to mould her hair into a Mohawk to resemble his own. Cue hilarity between the world's two best players.