Premier League Darts: Michael 'Bully Boy' Smith on not being 'the whipping boy'
"I want to be best player on the planet, I want to be Michael van Gerwen, I want to take his spot."
By James Dielhenn
Last Updated: 22/02/18 5:55pm
Michael 'Bully Boy' Smith is keen to remind you that he is not top of the league, despite his 100 per cent winning start to the new Premier League Darts season.
He is, technically, in second place with an identically perfect record to Simon Whitlock. No, the league is not upside-down.
"By this time, the last time I played, I was out already," Smith says from Berlin, where he plays Whitlock for the opportunity to separate himself from the pack.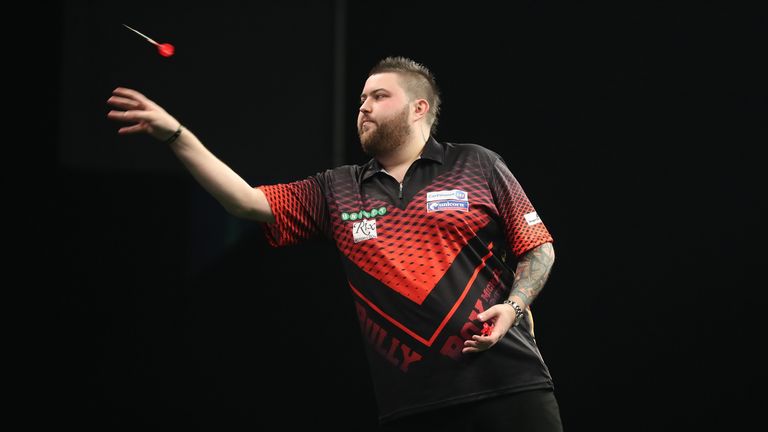 I don't want to be eliminated and be the whipping boy - I want to be whipping people!
Michael Smith
He is referencing the 2015 season, his debut in the notoriously gruelling Premier League, when it took Smith five weeks to win a match. It would be his sole victory of the season, and he finished bottom of the league with seven defeats from nine.
"It was depressing and it got to me," Smith admitted. "I knew this time I wouldn't let it happen again. I wasn't going to roll over and give people easy games.
"I don't want to be eliminated and be the whipping boy - I want to be whipping people!"
He has lived up to his 'Bully Boy' moniker so far this season. Smith profited from an injury to Gary Anderson to win on the opening night, before taking advantage of newbies Daryl Gurney and Mensur Suljovic. He has shown a ruthless streak so far, that was completely absent in his first foray onto this stage.
He must have been nervous when the phone rang, asking him to play again?
"The phone never rang," Smith said. "My missus was watching on the telly - I never watch darts - and she said: 'they are announcing the Premier League line-up'. My TV must have been a few minutes behind because my phone started blowing up, stupidly.
"I only found out when [PDC chairman] Barry Hearn announced it on the TV. It was mixed emotions - really excited but also nervous because I didn't want the same thing to happen again."
The St Helens player is still just 27 yet, already ranked at No 9 on the PDC order of merit, this Premier League seems like it might have been crucial to his career. Another failure like 2016 would not have resulted in an invitation to try again next year.
"I've taken my head out of the clouds. The main difference is that I've now got two kids, instead of one. Junior is four now, and understands that I go away, which makes it harder. He doesn't like me going but he watches me on TV. I'm getting married so everything I do is for the family. I strive for them.
"[The goal] I first got here it was to not get eliminated. It still is now. After the nine weeks it's to push into the top four. I want titles now, I'm sick of being second-best, third-best or last.
"I want to be best player on the planet, I want to be Michael van Gerwen, I want to take his spot. Of course I can do that, and I've proved that. Michael has better consistency than me, at the moment. I've always believed [I can better him] otherwise I would never have started playing darts."
He looks upon this year's four debutants with the experience of knowing where they might go wrong. The foursome occupy the bottom four spots, where Smith was once accustomed to being. Suljovic has no points yet, Rob Cross has won once, while Price and Gurney have not won at all.
"I told Mensur's manager last week that he's making a big mistake by missing non-TV tournaments. He's losing the winning edge. He's only playing once a week and has lost all three matches. He's not playing Pro Tours or floor matches. Practice isn't good enough - you need match practice. Missing those tournaments won't help - it helps you fail. This is where I went wrong two years ago."
Smith and Whitlock, who is also returning to the competition after unsuccessful previous spells, will share a smile when they try to end each other's perfect records on Thursday.
"When the fixtures were announced, everybody said me and Simon shouldn't even be here! Every week me and Simon talk about that. We laugh at those people now, having to delete their twitter comments. We're top of the league. Nobody expected that, except for me and Simon. We knew."
The Mercedes-Benz Arena in Berlin is Thursday night's venue with coverage underway from 7pm on Sky Sports Action, Main Event, and Mix. The season continues through to the conclusion on May 17 with the Play-Offs at The O2 in London.
Keep up to date with the latest darts news, previews, reports, reaction and expert analysis. Get all the latest at www.skysports.com/darts and join in the conversation @SkySportsDarts- don't forget to use #LoveTheDarts