Where next for Premier League Darts?
From Carlisle, Taunton and Kidderminster to Berlin, Rotterdam and Dublin
By Paul Prenderville in Berlin
Last Updated: 24/02/18 11:18am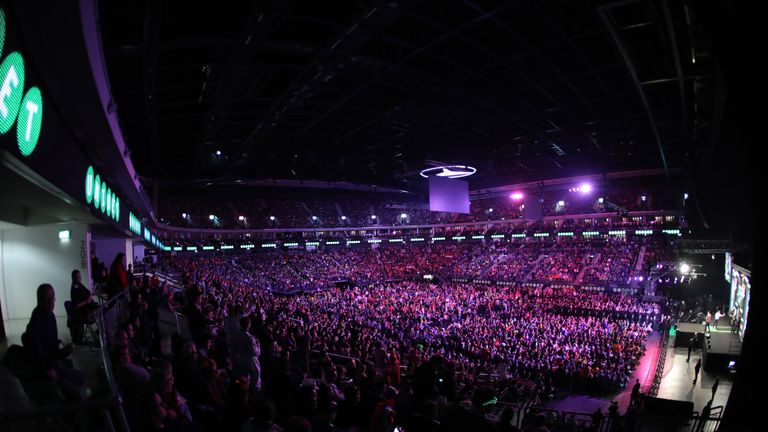 Just when you wonder how much bigger darts can get, the Premier League goes and packs out a 12,000 capacity Mercedes Benz Arena in Berlin - Paul Prenderville considers what is next for the sport that continues to grow at a rapid rate.
In 2005, the PDC launched Premier League Darts as the sport's finest packed out venues such as Reading's Rivermead Centre, Kidderminster's Glades Arena and the Kingsway Leisure Centre, Widnes.
Sky Sports expert Wayne Mardle was beaten by Phil Taylor at Stoke's Kings Hall, which boasted a capacity of around 400, while Mardle remembers a packed out Charter Hall in Colchester holding 600 people.
Chatting to PDC staff on Thursday who were there at the start, they admitted that on that first night there wasn't even a security barrier as The Power walked to the oche.
Yet Thursday night's sell-out at the Mercedes-Benz Arena in German capital was the biggest audience the sport has ever seen, a vivid contrast to Carlisle's Sands Centre, which tournament director Graham Fairhurst is keen to point out was on the first year's rotation.
Premier League Venues - Then and Now
| | | | | |
| --- | --- | --- | --- | --- |
| Premier League 2005 | | Premier League 2018 | | |
| King's Hall, Stoke-on-Trent | Pavilions, Plymouth | 3Arena, Dublin | SSE Hydro, Glasgow | BHGE Arena, Aberdeen |
| Rivermead Centre, Reading | Glades Arena, Kidderminster | Motorpoint Arena, Cardiff | SSE Arena, Belfast | The O2, London |
| Wellsprings Centre, Taunton | Kingsway Leisure Centre, Widnes | Metro Radio Arena, Newcastle | Echo Arena, Liverpool | |
| Sports Village, Norwich | Kingsway Leisure Centre, Widnes | Mercedes-Benz Arena, Berlin | FlyDSA Arena, Sheffield | |
| Sands Centre, Carlisle | Dome Leisure Centre, Doncaster | Westpoint Arena, Exeter | Ahoy Arena, Rotterdam | |
| Pavilions, Plymouth | Charter Hall, Colchester | First Direct Arena, Leeds | Manchester Arena | |
| | G-Mex, Manchester | Motorpoint Arena, Nottingham | Birmingham Arena | |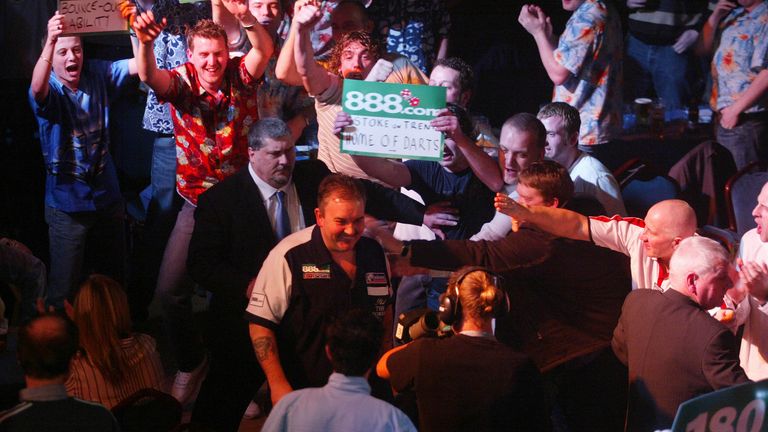 "Those were the venues and they were packed because that's how it was," said Mardle while pointing out it was also a narrow 7-5 reverse.
"Now this is where people want to be and where they want to watch - it's like the Bernabeu and so different to where it started, but we were pleased to be even getting those crowds."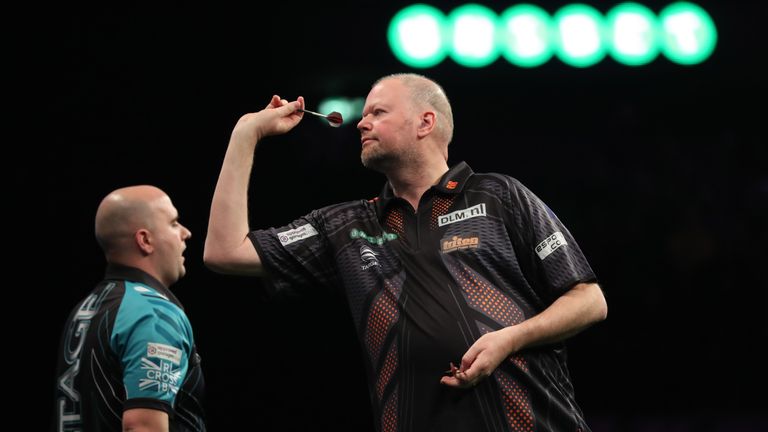 "It is the idea of coming out with your mates, usually in a city centre so there's not to far to travel and it's the best players in five quickfire matches with plenty of 180s and plenty of big check-outs.
PDC Chief Executive Matt Porter on the Premier League appeal
The World Championship is the sport's showpiece, Alexandra Palace its cathedral and the grand old Circus Tavern its spiritual home.
Nothing underlines darts' rapid growth more than the Premier League and its sell-out 16-night arena tour culminating in the play-offs at London's O2, a schedule more familiar with rock gods than tungsten titans as PDC chief executive Matt Porter takes up the story.
"My predecessor Tim Darby was the CEO at the time and he convinced the board we should go to Sheffield Arena - we'd been to some 2,000 and 3,000 venues but Sheffield was the first major venue," Porter tells Sky Sports as the crowd begin to pour into the Mercedes-Benz Arena.
"They ordered enough beer for darts, a sell-out ice hockey match and a sell-out McFly concert which was their three-day schedule and they sold out halfway through the darts.
"The venue world is a small world and everyone heard about it and everyone wanted it. It's now a relatively settled circuit and everywhere we go is a genuine arena."
The crowd, the noise and the arenas bring a unique set of challenges - the difference between regular PDC weekend tournaments and the Premier League is vast - but world No 1 and defending PL champion Michael van Gerwen says it is part of the remit.
"It's nice to do well in front of a new crowd and darts is growing in Germany - they weren't quite partying, they were enjoying the darts," he said.
"We have all done this together but it takes a lot of effort. I am in Prague on Friday for another day of work and with darts growing everywhere we are busy all the time."
New boys usually take a little time to adjust, including current world champion Rob Cross who suffered a pair of defeats on his first two nights of Premier League Darts.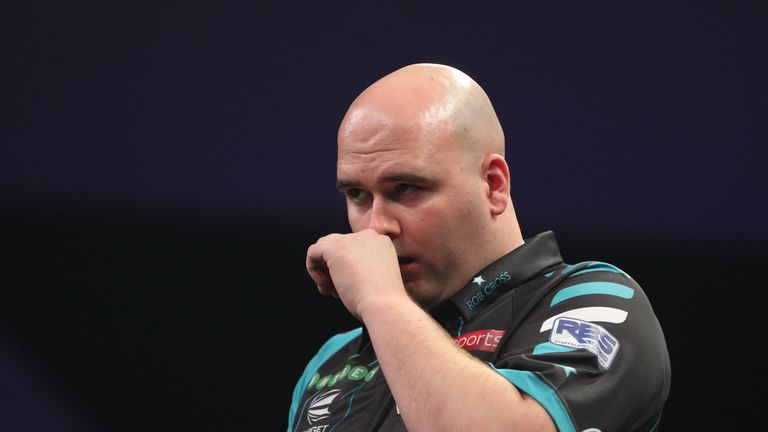 "It's all new so for me still but and the more you play, the more success you have and the better you feel."
Rob Cross
Michael Smith has won his opening four matches this year but finished bottom of the table two years ago with just a single victory.
"When I first came into it, I wanted to impress and try to show everyone how good I was," he said after admitting he would shake at times in front of the huge crowd.
"But now I am more mature, all I want to do is win, I don't care how I do it, good or bad, just get at least a point and hopefully two.
The Premier League carries no ranking points but a prize pool of £850,000 (up from £150,000 in 2005) and it is one of the sport's biggest titles to win.
Much like League campaigns in other sports, there is not much to argue about at the end of 16 arduous weeks of regular competition. Michael van Gerwen has topped the table for each of the last five years and won three of the last four titles.
"It's difficult to do week after week after week but it's nice and I am used to it now," he said.
"I like what I do and that is the key. It is a totally different set-up and you can have an off week like I did against Peter and that happens - noone has ever won all their games in the Premier League!
"It's about being you are the strongest player over those 16 weeks."
Premier League selection is always a hot topic during the Worlds. To qualify or be picked is vindication of a fine year and your standing as one of the current 10 best players in the game.
"It's not a ranking event but that doesn't mean it's not important," Porter adds.
"The players talk about winning the Worlds, winning the Premier League - the players also talk about qualifying or getting a wild card so it matters.
"It is not someone having it their way for a day, a weekend or a week, it's a consistent show of who is the best of the best."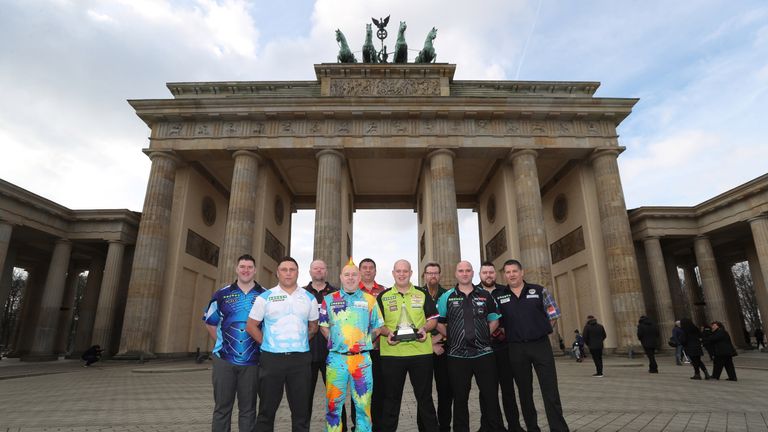 Having now added Germany to the Netherlands it seems there is no holding back the PDC in their plans to expand the game of darts, but Porter insists they will take their time and make sure the decision is right .
"Rotterdam was obvious and Germany was a logical progression, we have European Tour, Championship, the World Cup and German fans have really bought into the PDC.
"It's important not to race into a market because there might be a bit of interest - if you don't time it right you can waste 10 years. When we went to Rotterdam it sold out in 45 minutes, this year it was 10 minutes and a record crowd tonight - these things prove we've done it at the right time."
And what of Mardle's Madison Square garden dream?
"Logistically for a one night show that probably means in and around western Europe," Porter smiles as he considers the question of where next.
"Maybe a second night in the Netherlands, a second night in Germany but we don't want to overkill those markets.
"We know there is interest in the Czech Republic, Belgium possibly Scandinavia in the future but for the moment we are pretty settled with where we are."
The PDC have shown is that they will leave no stone unturned, and who knows, maybe in time Mardle's dream will not be not too far off and in Dave Clark's words: 'New York are you ready for darts?
Attention switches to Exeter's Westpoint Arena next Thursday venue with coverage underway from 7pm on Sky Sports Action and Main Event. The season continues through to the conclusion on May 17 with the Play-Offs at The O2 in London
Keep up to date with the latest darts news, previews, reports, reaction and expert analysis. Get all the latest at www.skysports.com/darts and join in the conversation @SkySportsDarts- don't forget to use #LoveTheDarts