Gary Anderson's back injury concerns behind him after another major crown
"I think Gary Anderson is one of the best players I've ever seen" - Wayne Mardle 
By Paul Prenderville
Last Updated: 15/03/18 6:18pm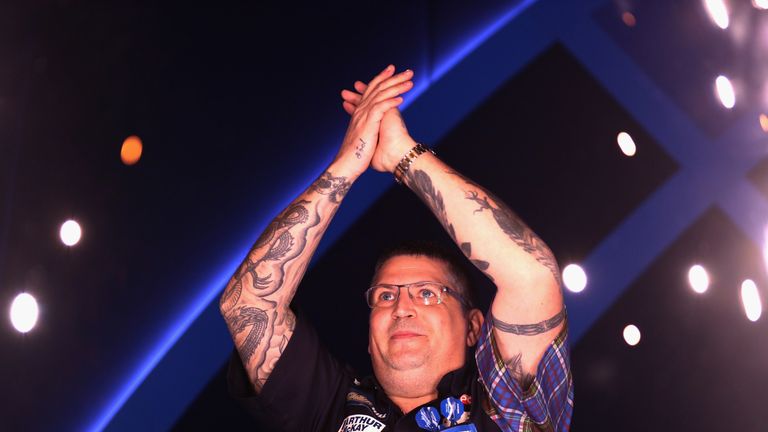 Life is good for Gary Anderson at the moment, arguably in the form of his career he talks to Sky Sports about another major title, a 22-match unbeaten run and overcoming a serious back injury.
December 29 seems a long time ago now and almost three months on from his World Championship exit the Flying Scotsman can look back on quarter-final defeat to Phil Taylor in his own phlegmatic matter.
"I don't think I played that bad and it was Phil Taylor in the quarters where I got beat," he tells us ahead of his Premier League meeting with Raymond van Barneveld on Thursday night.
"I was struggling to throw the dart, really struggling to be honest and all I could give was what I had and that was about 20 per cent - my body was absolutely breaking.
"I've got seven or eight months to get myself ready for the next one and hopefully it won't be the same again."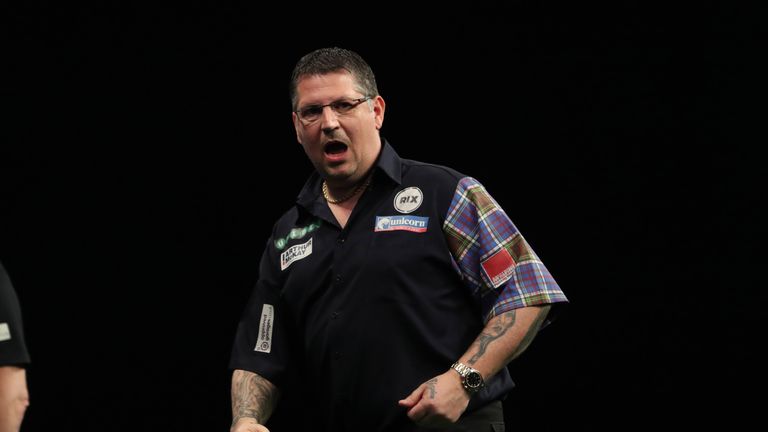 That defeat also started a worrying period of uncertainty for Anderson who was dealing with a difficult back problem that was visibly hindering him the longer matches went on. He had scrambled through his third round match with Steve West and left the stage in a hurry before labouring a touch against The Power.
It prompted one of his biggest admirers, Sky Sports' Wayne Mardle, to suggest that he needed to consider pulling out whether for one, two or more weeks, maybe even the whole league campaign as he looked to correct the injury.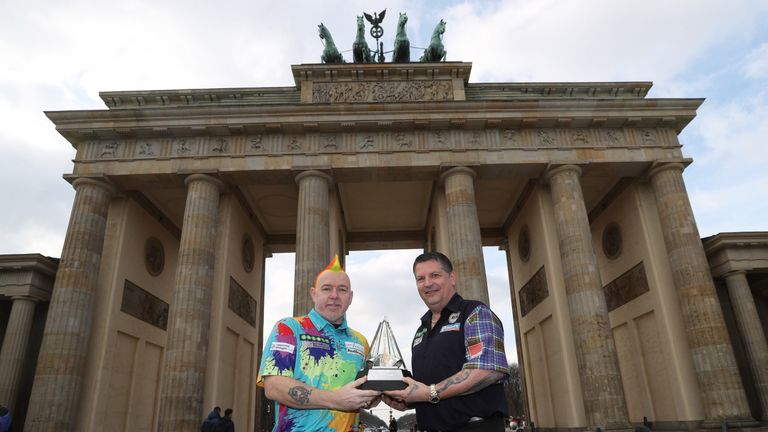 "We spend so much time on the road, sitting in cars sometimes for eight hours a day and I suppose it catches up with you in the end."
Gary Anderson
Surely a break would do Anderson good? Wrong. Having sat out some of the early season, the two-time Premier League champion started this year against Michael Smith in Week 1 - a 7-5 defeat from a 5-1 lead and again the longer he was on stage the more injured he looked.
"I have been absolutely done with my back for probably about four or five months so there's been no practice whatsoever - I've just been turning up on the night but I'm moving a bit easier and starting to play a bit better.
"It's been since November with twisted muscles and various other bits out of place! I've been at osteopaths once or twice a week for the last four months so it's been busy.
"It's been every week, getting cracked back into place and keeping me going.
In the end, Anderson has battled and is still battling through. Massages, treatment and rest seem to have done the trick.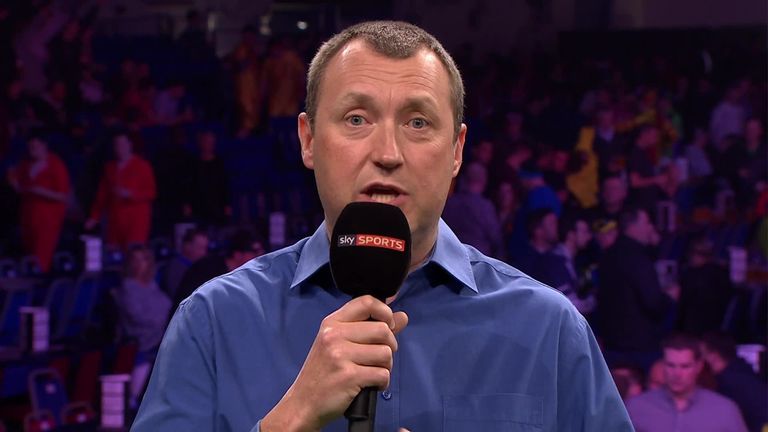 Gary Anderson has looked good ever since he realises his back injury was only a muscle strain. It's like 'there's nothing wrong, it will go away and I will get better'.
Then he played Michael van Gerwen that week and since then he's looked relaxed and knows he's got the freedom to play well again.
Sky Sports' Wayne Mardle
Although 'done the trick' would appear to be underselling things! Anderson is currently on a 22-match unbeaten run, has added a sixth major televised title to his mantelpiece when claiming the UK Open in Minehead - and that victory over Corey Cadby was the filling in a weighty Pro Tour sandwich.
"The place was more or less shut down when we got down there - and it was cold, but I like the cold," he says of a tournament played behind closed doors as Storm Emma and the Beast from the East battered the south West.
"I told myself if I could be there or thereabouts after 10 legs I would have a chance and it seemed to work for every game.
"Three matches in a day is hard work and it's hard with a few hours between games and sometimes sitting about but it went well!
"Actually it was quote like the Pro Tours that we play at the weekend so it was strange."
The two-time world champion is not usually one to play too much in the PDC Tour tournaments, certainly not early on in the year, preferring to time his run into form for the business end of the year. However, by March he has won a UK Open qualifier and just this weekend doubled up in Barnsley for a couple of Players Championship titles.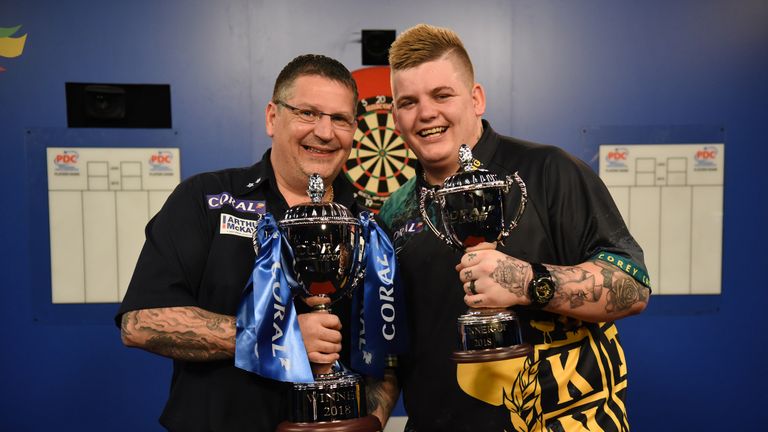 In among the injury worries and the titles, Anderson found time to play out one of the greatest games seen in a long time - a thrilling Week 3 contest in the Premier League against Michael van Gerwen. Anderson lost but averaged more than 110 in doing so and took out a 170 finish just seconds after MvG had missed a nine-darter.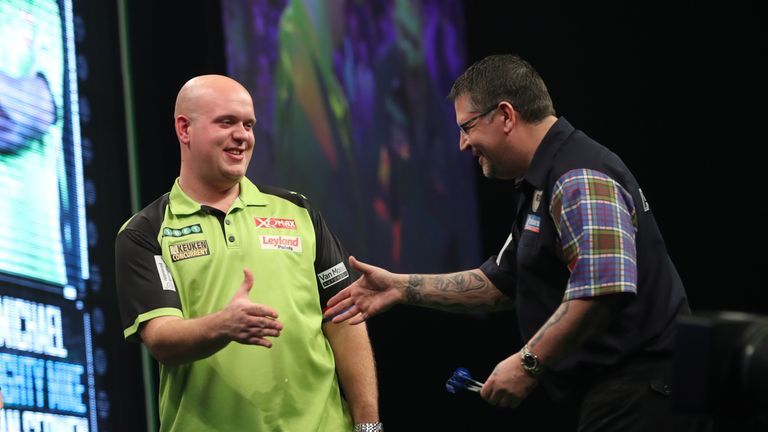 When Anderson and Van Gerwen let each other play - and they do - they can hit whatever they want.
They literally don't miss and if they do it's one dart in one leg and two darts in another and before you know it perfection is upon us.
Wayne Mardle on MvG-Anderson
So what it is about the world number one that brings out the best in Anderson: "We just play! We enjoy it and even though I lost if I had taken my doubles it could have been different - we had the same averages
"He is the no 1 in the world but he knows I can play and I must be one of the only players that he doesn't like playing against. We push each other and he knows it will be the same again the next time we play."
The Scot has been quick to point out that he will not be going anywhere as the sport rushes to seek new stars and Mardle insists there is plenty of life in this Flying Scotsman.
"He can go as long as he wants within reason. He's not going to be chucking darts when he's 60 because he won't be able to concentrate that long. Gary can go until he's 55 easily."
Anderson takes on Barney this week, with his sights set on a place in the top four, having made the play-offs in each of the last four years with titles in 2011 and 2015. He only has one win in the event so far this year but much like many of his years, he tends to play himself into the competition.
"I've got a great record against Barney so I am looking forward to it - we will both be up for it so it should be a good one.
"Every year the PL gets harder and harder but we are all there to win it and if I didn't think I could win it I wouldn't be there - but then I think anyone of us could go through it and win it.
A play-off place in each of the last four years and two titles in the event since 2011 suggest he knows what he is doing and he will be just fine - and having dealt with his back injury concerns with another major title, it would be no surprise to see him doing the same in May at The O2.
The 2018 Premier League heads to the Motorpoint Arena in Nottingham on Thursday with coverage underway from 7pm on Sky Sports Action & Sky Sports Main Event. Nine weeks of tungsten action will then continue through to the season's conclusion with the Play-Offs on May 17 at The O2 in London.
Keep up to date with the latest darts news, previews, reports, reaction and expert analysis. Get all the latest at www.skysports.com/darts and join in the conversation @SkySportsDarts - don't forget to use #LoveTheDarts