Rob Cross and Michael Smith target Premier League Play Off debuts
By Paul Prenderville at The O2
Last Updated: 17/05/18 6:11am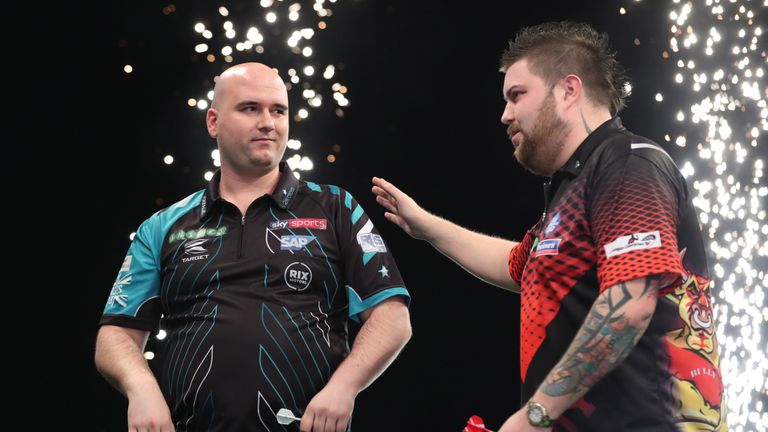 Rob Cross and Michael Smith have declared themselves fit and ready to make their Premier League Darts Play Off debuts on Thursday night.
The pair have been battling illness for the last couple of weeks as the demands of the darts year take their toll.
Cross withdrew from the weekend's Dutch Darts Masters after suffering a damaged cartilage in his chest, while Smith has been batting pleurisy and was evidently struggling during his draw in Aberdeen last week.
With a possible place in the England team - alongside Cross - still a possibility, he travelled to Zwolle at the weekend but was beaten by Stephen Bunting and has been resting up ever since.
"I'm still a bit sore but I will put it to the back of my mind. I've taken a lot of painkillers, a lot of medication and I'll be good to go," Smith told Sky Sports.
"I think it goes back to Manchester maybe, it started of as a bit of a cough and then after I drew with Daryl (Gurney) I was coughing and felt something pop. I thought I had cracked a rib but the doctor told me it was pleurisy and I've been trying to get on top of it."
It underlines how far the pair have come that they have had to marry a Premier League schedule with life on the Pro Tour, effectively keeping them competitive for seven days a week.
It's been an eye-opener for Cross, who told Sky Sports that he was glad of the opportunity to rest at the weekend: "I feel good, I feel better. I've still got it but it is better than where it was.
"I couldn't play at the weekend but the medication seems to have kicked in and I'm good to go. I feel a bit fresher and over the next few weeks I have a holiday with the family booked so I am now looking forward to a longer rest.
"I've been back on the practice board the last couple of days."
With both men now fit and ready to represent the new generation in the Docklands, attention switches to the title.
World champion Cross has made the final four on his debut, while Smith has put a miserable first Premier League season two years ago behind him to look at home in the big arenas on the biggest stages and finished second.
Cross will face three-time PL champion Michael van Gerwen in a repeat of their epic World Championship semi-final while Smith faces his great friend and mentor Gary Anderson - a two-time Premier League champion. A daunting prospect for both? Not a bit of it.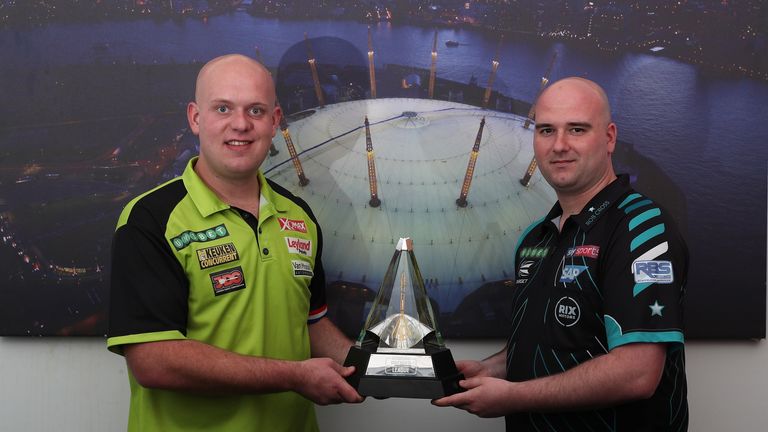 "I think it's better to place Michael first, it's the beginning of the evening and I am going to feel fresher," says Cross.
"Later on you could throw a few wobblers in and you can't do that against Michael so I will come out and be at my sharpest.
"My first game I was useless and then missed a few chances - on Thursday I will need to take chances and if I do I will win.
"This has been a new experience for me and I've learned from it and if selected next year I will learn again, but that doesn't mean I can't win. I'm as good as these players, if not better."
Smith and Anderson go back a long way and Bully Boy is no longer intimidated by the man who has had a bit of hoodoo over him.
"At the start I said I didn't want to be eliminated like I did two years ago - then the target was the top four and now I am here to win it," he said.
"Gaz will be a tough game and then the odds are Michael in the final as he has barely missed one and I feel like I've let a couple go against him.
"Beating Gary on the first night did me a lot of good and settled me down straight away. It used to be hard to play him as I showed him so much respect.
"Before I knew it he would have got three or four legs away from me. I can't let that happen tomorrow, I have got to hit him myself early but it should be fun."
After a campaign where both have had to overcome obstacles, if Cross or Smith were to claim the title it would represent a considerable but not unexpected achievement for either man.
Premier League Darts - Play Offs
| | | |
| --- | --- | --- |
| | Order of Play | |
| Michael van Gerwen | v | Rob Cross |
| Michael Smith | v | Gary Anderson |
| | Best of 19 legs | |
| | | |
| | The Final | |
| | Best of 21 legs | |
The tungsten action continues for the conclusion of the Premier League season with the Play-Offs on Thursday, May 17 at The O2 in London
Keep up to date with the latest darts news, previews, reports, reaction and expert analysis. Get all the latest at www.skysports.com/darts and join in the conversation @SkySportsDarts- don't forget to use #LoveTheDarts
Never miss the big kick-off or have to deal with interrupted games or low-quality streams with a NOW TV Sky Sports Pass. You'll get exclusive coverage of the Premier League, Sky Bet EFL, EFL Cup and loads more starting from just £7.99. No contract.