World Grand Prix: Ruthless Phil Taylor blasts Dave Chisnall 6-0 in Dublin to win 11th title
Phil Taylor destroyed Dave Chisnall 6-0 to win the World Grand Prix title in Dublin for the 11th time.
Last Updated: 13/10/13 10:35pm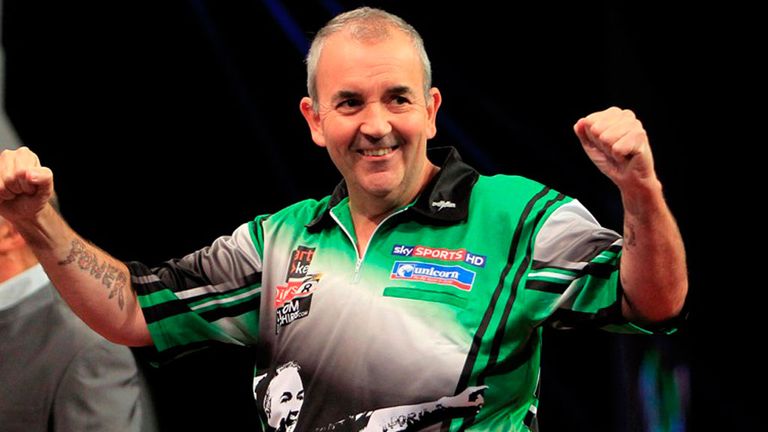 World no 1 Taylor won 18 of the 20 legs in a ruthless display which left Chisnall shaking his head in disbelief.
Taylor won the first three sets without Chisnall even having a shot at a closing double and he simply refused to back off.
At one point it seemed as if the 16-time world champion would win the match without dropping a single leg but Chisnall finally ended the onslaught in the first leg of the sixth set.
In the tournament where players must start with a double, Taylor missed 12 times in a row to the increasing mock delight of the crowd.
While Taylor saw the funny side, Chisnall got down to 32 and won his first leg of the match at the 16th time of asking by hitting double 16.
Chisnall, who kissed the board in relief, also finally found his first 180 of the match to draw level at 2-2 after Taylor had checked out with a 164 in the third leg but any hopes of a miracle comeback were soon quashed.
Taylor, who averaged 97.67 and hit 18 of his 31 shots at closing doubles, took the final leg to complete a 6-0 whitewash, something he'd never managed in his 10 previous victories in this event.
Taylor sympathy
A rather sheepish Taylor said later: "I feel sorry for Dave, I really do. It's his first major final. He's going to be the 'the kid' in a few years' time."
Taylor also added that he was sorry the crowd didn't get to see more action.
"They wanted Dave to make a game of it really. I'm very sorry. These people have paid good money and come out to see us and it's been a bit of a whitewash. I'm sorry about that but that's my job.
"That's the way you've got to be. You've got to have that bit of a killer in you."