Code crackers
Sid Waddell hails the spirit of the two codes at the Grand Slam and picks out the stars of the show.
Last Updated: 14/11/11 4:07pm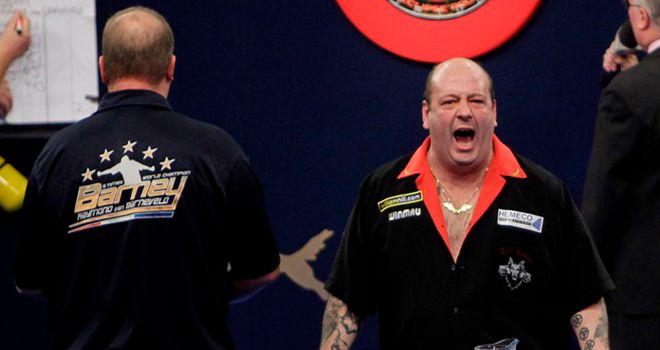 It's been nice to see the spirit that exists between the PDC and BDO players in Wolverhampton.
I suspect that has something to do with the changes to the organisation of the BDO in recent months; I have reason to believe there is a much more relaxed attitude from their guys towards the PDC.
I believe that it's in the interests of the game for them to follow where the PDC has led - and that's why I heavily backed the players who broke away in the early 1990's.
I also feel the PDC's Tournament Director Tommy Cox should be congratulated for format of the Grand Slam. We've seen players from both codes and players of all ages suffering a few first-round nerves up there and we've seen some cracking matches.
And how about darts as a combination of theatre and self-discovery? Just one year ago Scott Waites was 8-0 down to James Wade in the final of this tournament, then won 16 out of 20 legs to take the trophy. He must have walked back to Halifax on Cloud Twenty Seven.
What happens this year? In his first match he ran into an inspired Michael van Gerwen, who was matching Phil Taylor's world record average at the start of the fourth leg. The Dutchman is a great talent and beat him 5-3.
Then in his second match, Waites was 4-1 up on Tony O'Shea only to lose 5-4 and be knocked out. As a result, the champ was going home on the second night. It just shows what can happen in this sport!
Another BDO player, Ted Hankey, was only going to get better after getting 'spankey'd' 5-0 in his opening match. It was no surprise to me that he was a bit OTT in his game with Raymond van Barneveld and his win means the Dutchman is going home.
Barney lost two out of two and it doesn't look like he's enjoying his darts much at the moment. I don't think he's in the mental shape to show World Championship form or to compete at the very top of the game.
I was also surprised to see Dave Chisnall lose both of his opening matches because he has looked like a world beater at times. I fancied him before the tournament, but Sid the Black Spot has struck again!
He had an amazing opening match against James Wade in which they both boasted 100 per cent checkout ratios after the first six legs. Unfortunately, Wade brought out some big three-dart finishes and Chizzy seemed to get overawed by the experience later on in the game.
It seems Wade has left some of his heavily-publicised personal problems behind. He won both of his opening matches 5-4 and I agree with Rod Harrington when he says that he's the main challenger to Phil Taylor.
The Power is looking strong and inspired one of my favourite Twitter lines of the tournament so far in his 5-1 win over James Hubbard in his first match "Young master Hubbard went to the cupboard and Taylor threw him one measly bone."
Improves
Elsewhere, it was good to see that Martin Phillips, who was one of the greats of the 1980's, can still do it as a veteran. He lost narrowly to Adrian Lewis, who isn't going to retain the World Championship unless he improves his concentration.
He doesn't have the composure he was showing this time last year and was rushing certain darts throughout the game, but he relaxed towards the end and he needs to maintain that.
Another former world champ, John Part, has been playing very well recently and seems to have his appetite for the game back. He's definitely in the frame and it was also nice to see Terry Jenkins produce a few 100+ finishes, which was his trademark in the Premier League.
I also like Paul Nicholson, who has his eyes set on qualifying for the Premier League. The best way for him to impress is with his darts, but I liked the line he used about "A-List" fans to get the crowd on his side. I think he's trying to make it clear that he's a very nice Geordie lad, who got a bit of cheeky Aussie attitude stuck into him while he was living over there.
Keep an eye on him, Part, Mark Walsh, Wade and The Power for the rest of the tournament. This is a cracking event with a cracking crowd and I'll be Tweeting away for the duration.
I'm known as Tweety Pie Waddell at the moment, but I'll become Stiletto Sidney and indulge in a bit more serious analysis later in the week.