Open for business
Hankey, Nicholson, Whitlock, Lewis... Sid Waddell names the men to watch at the UK Open.
Last Updated: 07/06/12 2:26pm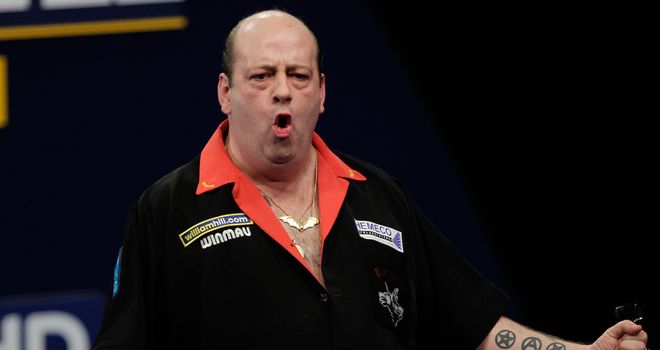 Lately I've been going through my old darts notes, which stretch back to the 1972 News of the World Championships.
I cast my mind back to the semi-final of that tournament when Alan Evans beat the reigning champion Dennis Filkins to send hundreds of Welsh supporters with plastic leeks absolutely nuts.
That was an iconic moment in darts and the UK Open, which was inaugurated in 2003, is a bit of a throwback to those days.
Back then, the atmosphere at darts events was a bit like a boy scout jamboree, but with beer. The players used to turn up at 9am, get their pint of lager and then go and stand in a queue for the practice boards.
At this week's UK Open we'll see a similar thing with players queuing on the gantry to throw their practice darts. It's almost monastic to see the lads lining up and practising before going down into the hurly burly of the crowd.
This tournament will feature 177 players and many of them will have their pals and families standing a few feet from the oche to cheer them on, rather than watching at home on the television.
This is a different type of atmosphere to the other events and I think that's a big positive. The Premier League is where huge crowds go and dress up in daft costumes, but the UK Open shows that darts is still a game you can play with your friends and family.
You'll see lads with their mouths open in awe as they stand next to Phil Taylor or Adrian Lewis and because it's an open draw, anybody can end up playing anybody.
There are lots of matches taking place on lots of boards at the same time and you occasionally see a load of players run over to the balcony to watch when they find out there's a good match in progress.
Here's who I'll be keeping an eye out for...
The ones to watch
I've said the UK Open is a bit like a jamboree and there'll be a touch of the pantomime about it, thanks to the much-publicised arrival of Ted Hankey.
We've seen guys in the past like Peter Manley who would play the bad guy, but I think what you see is what you get with Ted. He throws darts with his heart on his sleeve; I don't think it's an act with him. That's why his progress - or otherwise - should be interesting.
He could meet Mervyn King on Thursday night and it's not long ago that Merv was a Premier League player. I'm looking forward to that potential match.
I think another darts bad boy, Paul Nicholson, is suffering from the same disease as the Count. I follow him on Twitter and I think the act overbalances the talent at times.
He seems to get very defensive. When people criticise him he seems to take it deep and he's got to get an iron mentality and maintain concentration on the board. Nico and Ted seem to allow their concentration to drift to the crowd.
But he's still one of my tips to do well here. Last year he beat Gary Anderson and Phil Taylor on the same day and I think he can recapture that form. If he can get the equation right then he can shake a few cages.
Also keep an eye on Mark Hylton, who is one of the few people in darts with a better degree than me. My degree in 1962 was in Modern History, but he's got one in Modern History AND English Literature. Maybe he should be commentating and I should be throwing the darts!
He's an interesting lad. He used to be an airline cabin steward and he looks as though he means business. He looks like a guy who gets up at 8am, goes to the gym, has a close shave and then practises for three hours. He seems like a well-organised bloke and he won his opening match 9-0 here last year!
He plays Antonio Alcinas on Thursday night, who was in the Spanish team that knocked Phil Taylor and James Wade out of the World Cup a couple of years ago. He's no stranger to big-time upsets.
Denis Ovens always seems to do well in this event and I also like Peter Wright (whose wife does his hair like a colourful cockatoo). I'm also backing Justin Pipe after his unsuccessful cagefighting career when his only victory was against a hamster!
Look out for young lads Arron Monk and Joe Cullen, who seems to go from strength to strength. A few years ago his dad entered him in this event by mistake - he was supposed to go into the British Open, a BDO event - but he's never looked back.
Kim Huybrechts is worth watching and I like the chances of Dave Chisnall, who had a very strong grounding in the BDO. It hasn't taken long for him to look the part in the PDC and he almost bullies his opponents into submission.
We always see somebody go on a ballistic streak, like Shayne Burgess did when he got to the final in 2003 or when Barrie Bates did the same in 2006, so there should be plenty of surprises.
But the big stars will be in the mix as well. Of the eight men who played in the Premier League I'm expecting Gary Anderson to raise his form as few notches.
However, Phil Taylor may struggle with fatigue at times. Having a week's rest between each Premier League night was good for him, but this intense three days might test his stamina. He may not be the same dominant force in tournament darts.
I have a feeling the two to beat could be Simon Whitlock, who has an amazingly solid game, and Adrian Lewis - just because he's Adrian Lewis!
Tune in all weekend on Sky Sports to find out!