Wayne Mardle pays tribute to record-breaking Michael van Gerwen
Last Updated: 02/01/17 11:02pm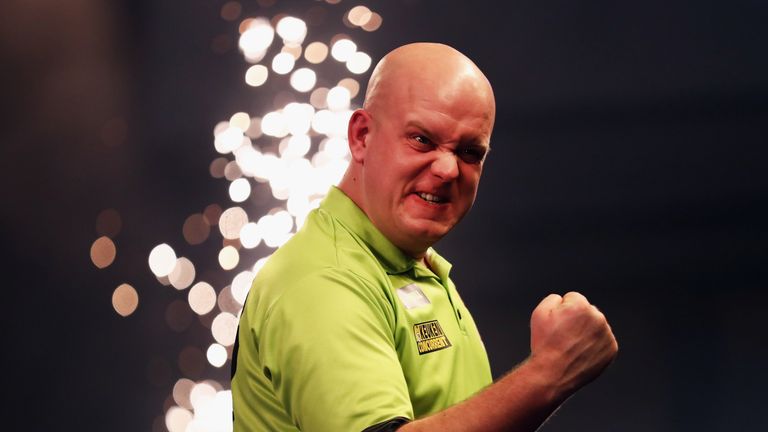 Wayne Mardle hailed Michael van Gerwen's record-breaking performance as unplayable as the brilliant Dutchman set new darting standards on Sunday.
The world No 1 beat Phil Taylor's World Championship average of 111.21 with a near flawless display against his fellow countryman and five-time world champion Raymond van Barneveld.
MVG put up an average of 114.05 in a performance that included 15 180s and a string of three-figure finishes as he set his sights on a second world title.
Standing in his way will be two-time defending champion Gary Anderson, but when reflecting on Sunday's spellbinding display, Sky Sports expert Mardle admitted the brilliant Dutchman is setting new standards.
"It was also a record for Barney as the highest losing average," said Mardle.
"It was one of those games, they both set each other of. Michael in the first set was poor, he lost it 3-0 and from then on it was easy for him.
"Barney was throwing superb darts but getting absolutely nowhere - I have never seen anything like it, it was unplayable."
Van Gerwen was only too pleased to hear that he had beaten Taylor's record. The Dutchman is displaying dominance reminiscent of 'The Power' in his pomp and won't rest until he has another world title under his belt.
"It's good to hear Michael talk about records - there are only certain people that can think of them," he added.
"He wanted to know what it was and who it was because he wants to go and tell them [which is Phil Taylor], I've got another record, I've taken another one of you.
"He cares about performances but he says he has still got a World Championship to win and he is right, he hasn't won anything yet it was just a stunning performance and that is underplaying it
"It was unbelievable and I have never seen the like of it over that amount of legs
Former World Championship runner-up and fellow Sky Sports expert Rod Harrington added his own words of praise following a performance that left the darting world in awe.
"That was so impressive from Michael van Gerwen - sometimes it is easy to play great darts when someone is not hitting anything against you because you are not under pressure," Harrington said.
"But Barney threw everything at him, as much as he could but Michael got better and better, including probably the finest set of darts we have ever seen.
"We might see some higher average but not over this long a distance. It was an incredible display of darts under that pressure and over that distance. It was clinical and that average was even better from the second set onwards.
"But he has got a final, if he doesn't win that final then the semi-final drifts away."
You can follow all the action from Monday's final on Sky Sports 1 and Sky Sports Darts from 8pm and if you can't watch you can keep up to date with our live blog right here on www.skysports.com/darts and across our digital platforms
New customer winter madness offer: save over 40% on your Sky Sports Month Pass, just £20