Robert Kubica clocks 100 laps in 2017 Williams at F1 Abu Dhabi test
Almost two Abu Dhabi race distances for Kubica as he bids to land 2018 Williams seat; Raikkonen fastest, Alonso crashes
By Pete Gill and James Galloway
Last Updated: 14/02/19 3:46pm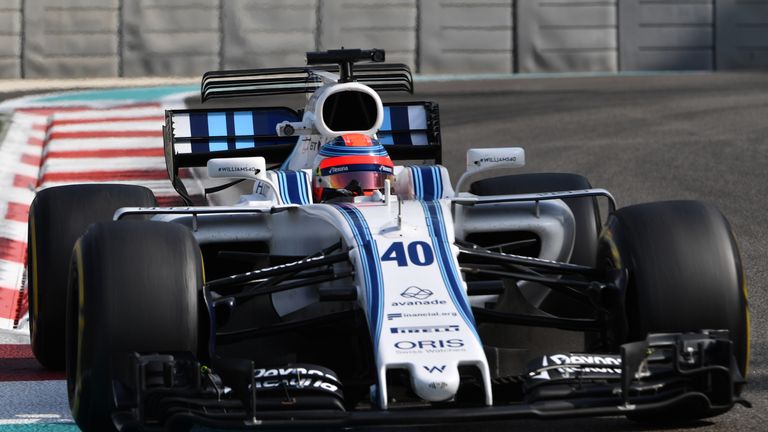 Robert Kubica has admitted he would feel disappointed if he did not now land a 2018 Williams race seat after feeling "confident and comfortable" in his appearance for the team at F1's post-season tyre test
In what is being viewed as Williams' final check on whether the Pole is physically able to return to F1, Kubica completed the first of two half days in Abu Dhabi as he drove the FW40 for the first time.
Who is driving on Day Two?
F1 2018: Dates and driver line-ups
Kubica completed exactly 100 laps and recorded a best time of 1:41.296 which placed him only ninth in the timesheet, but set on the soft tyre. Set in similarly hot day-time conditions, it was slightly faster than Williams race driver Lance Stroll's quickest lap in Practice One of the Abu Dhabi GP last Friday, although car and fuel settings are unknown.
"What the future will bring, I do not know, but today was the kind of day that if nothing else happens there will be disappointment because I feel confident and comfortable," said Kubica.
Having not driven an F1 car for over six years before this summer, Kubica believes he has made good progress in the tests he has completed since and insists the arm injuries which had appeared to end his career are not signifcantly impairing him.
"I am starting from scratch because F1 has changed so much over the past seven years, but the experience I gained while racing in F1 has helped me to get on top of the learning process," he added.
"I have some limitations and I have to adapt, but one positive thing is how my body is reacting and how natural I feel every day when I am driving these cars, so that gives me a lot of confidence."
Kimi Raikkonen topped the timesheet with a 1:37.768 on Pirelli's new hypersoft tyre, which debuted on Tuesday.
Daniel Ricciardo was second for Red Bull ahead of world champion Lewis Hamilton and Haas' Romain Grosjean.
Every driver than Kubica set his fastest time on the new-for-2018 hypersoft compound.
Stroll took over from Kubica for the final three hours of the day and was fifth fastest on the hypersoft, 1.7 seconds faster than the Pole.
The 2018 hypersoft tyre is three steps softer than the 2018 soft tyre and two steps softer than 2017's fastest ultrasoft tyre.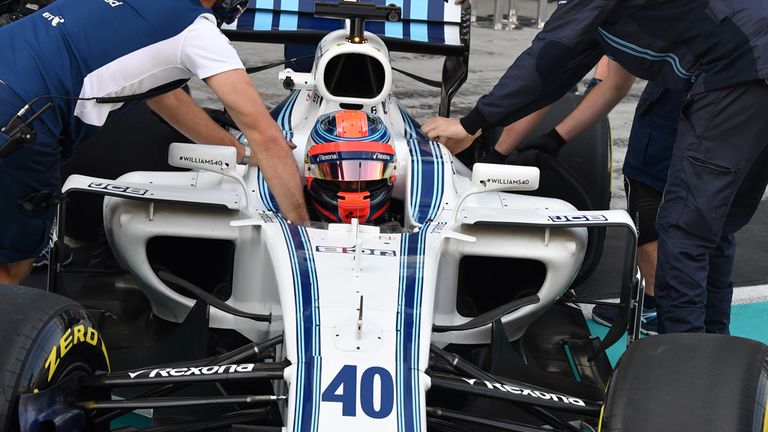 Kubica will be back in the FW40 on Wednesday afternoon to close the test after Sergey Sirotkin makes his own Williams debut on the final morning.
It is believed Kubica is poised to partner Stroll in 2018 so long as he is able to cope with the physical demands and rigours of driving the FW40 in this week's outing.
Fernando Alonso completed 115 laps on his final day in a Honda-powered McLaren and was sixth fastest, although his running was interrupted by a spin into the barriers during the morning.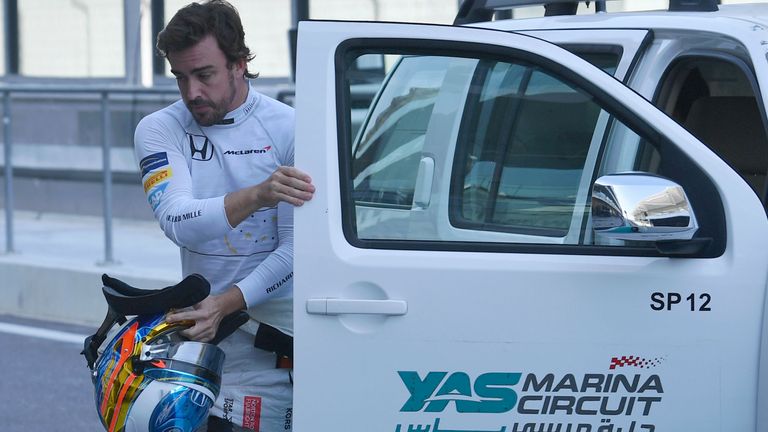 Abu Dhabi tyre test timesheet: Day One
| Driver | Team | Time |
| --- | --- | --- |
| 1. Kimi Raikkonen | Ferrari | 1:37.768 |
| 2. Daniel Ricciardo | Red Bull | 1:38.066 |
| 3. Lewis Hamilton | Mercedes | 1:38.551 |
| 4. Romain Grosjean | Haas | 1:39.270 |
| 5. Lance Stroll | Williams | 1:39.580 |
| 6. Fernando Alonso | McLaren | 1:39.762 |
| 7. Nico Hulkenberg | Renault | 1:39.803 |
| 8. Nikita Mazepin | Force India | 1:39.959 |
| 9. Robert Kubica | Williams | 1:41.296 |
| 10. Sean Gelael | Toro Rosso | 1:41.428 |
| 11. Marcus Ericsson | Sauber | 1:41.681 |
| 12. Oliver Turvey | McLaren | 1:41.914 |
*All times set on hypersoft tyre bar Kubica on softs