Lando Norris' F2 diary: Azerbaijan GP 2018
In his first column for Sky Sports, Lando Norris explains why he left Baku disappointed despite increasing his championship lead and discusses McLaren's weekend
By Lando Norris, Carlin F2 driver: @LandoNorris
Last Updated: 11/12/18 2:28pm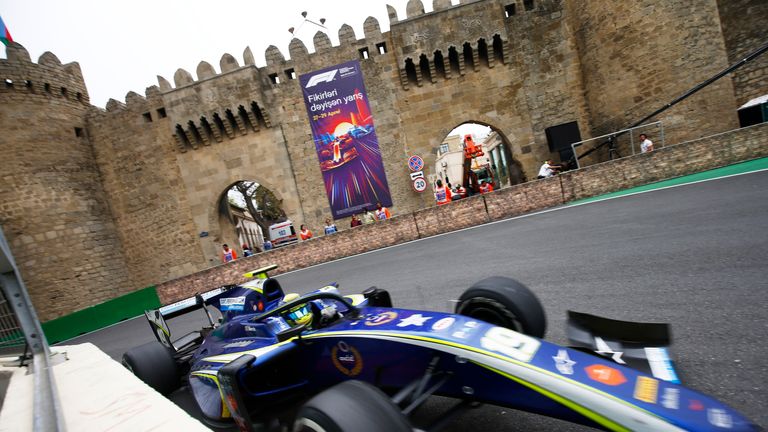 Sitting here at the airport waiting for my flight back to London, it's 24 hours since yesterday's second race in Baku but I still can't hide my disappointment.
I could have done better in both Azerbaijan races. Okay, I started Saturday's Feature Race with a nine-point lead after a win and a fourth place in the first two races in Bahrain and I'll get to Barcelona with an increased 14-point advantage.
It's more points but not the amount I'd wanted. The Carlin Dallara could have been better and I made too many mistakes which cost me possible podiums in both races.
Like Bahrain, I'd never previously raced at Baku so Friday morning's 18-laps were my first driven laps around the street circuit.
I say that because I arrived early last week and spent a couple of days cycling the circuit with my physio/dietician John Malvern from PAP who I've worked with for the past five years.
Baku was a very different track in many ways to where I'd driven an F2 car before like Paul Ricard, Magny Cours and Bahrain. Very long straights so you wanted to go low on the wing but there were also high-speed corners that weren't easy 'flat' so it was a compromise in terms of car set-up. It was quite technical too in some places, around the Castle was very tight and twisty, a complete mixture really.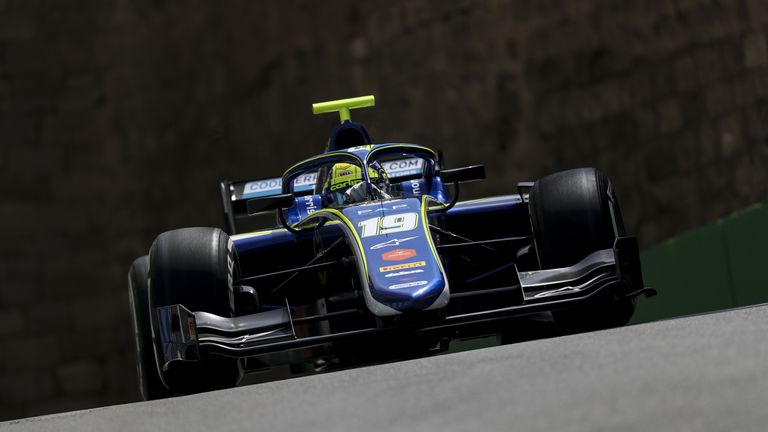 Qualifying on Friday afternoon was hectic with a lot of yellows with drivers on cool down laps or pushing hard all at the same time. I only got one proper lap in on my first run which was good enough for P2. I tried pushing again but there were yellows and then a red flag.
I pitted for new tyres and felt confident I could improve. I did an alright lap to claim a front row spot but was cross that I didn't nail it having made a mistake in Sector One.
Sixth place in the Feature Race was a pretty decent recovery after how the race began. The clutch instantly bit and the car stalled at the green light for the installation lap so I started from the pit-lane at the back.
The Bahrain weekend had seen a lot of cars stalling at the start of both races and this proved to be no different - and unfortunately I was one of them this time! I made up quite a few positions but then lost a couple making sure of a safe release at my pit-stop. I didn't feel as confident with the car's set-up as I had in qualifying. But we got a bit lucky with mistakes and failures from others.
My start from third on the 'reverse' grid in Sunday's Sprint Race wasn't great and then I had to avoid the car ahead of me which had stalled. I was a little too cautious in the opening laps.
Then going into Turn One, I had the slipstream off Nicholas Latifi and George Russell had the slipstream off me. We were three abreast with me on the outside. I could see in my left mirror that they were there but couldn't tell how far alongside they were. We all braked really late, and I dived into the corner, but needed to leave a big gap not wanting to turn in on them as I still wasn't sure where they were at.
I went in hot, got some oversteer because I was on the dirty side of the track, and knew I'd end up in the wall if I tried to make the corner, so steered right, losing positions. I recovered two places and just as I caught Nyck De Vries, he got DRS off Latifi. I basically made one big error at T1 which cost me a podium. In the final classification it was a fourth place for me.
Over a Grand Prix weekend, being McLaren's Test & Reserve driver, I also spend some time over in the F1 Paddock. I watched qualy from the McLaren pit box on Saturday and then Sunday's race from the pit box and was listening in on the radio. It was very exciting and super fun to watch.
It was interesting to see Turn One, the scene of my slip up, was a major talking point in the GP too. It's a very difficult corner mainly because of the very long straight into a very big braking zone. Tyres, brakes, cooling - not giving optimum performance and therefore it's easy to 'lock up' and make mistakes.
Additionally, the wind gusts on the day made it very tricky lap in lap out. It's also the main overtaking opportunity and that's why so much action happened there. It can make your race or break your race as we even saw in the GP.
It was a tough one for McLaren, we always knew it was gonna be with our weaknesses kind of coming out here. Compromise between making up for our lack of straight line speed hindering us in other areas. Early laps did not really go well with double punctures for Fernando and a flat spot for Stoff.
But everything changed and with some good tactics and decisions, as well as some luck combined with mistakes from others, we managed to score a double points finish with seventh and ninth places. So we maximised the opportunities given and were the only Renault team with both cars in the top 10. But the team are working extremely hard and we're looking forward to Barcelona which hopefully should suit the MCL33 better.
LN