Spanish GP: Sebastian Vettel defends Ferrari pit-stop strategy
No option but to stop twice, insists Vettel; Wolff reveals Mercedes almost followed Ferrari onto strategy before sealing 1-2 in Barcelona
By Matt Morlidge
Last Updated: 11/12/18 12:48pm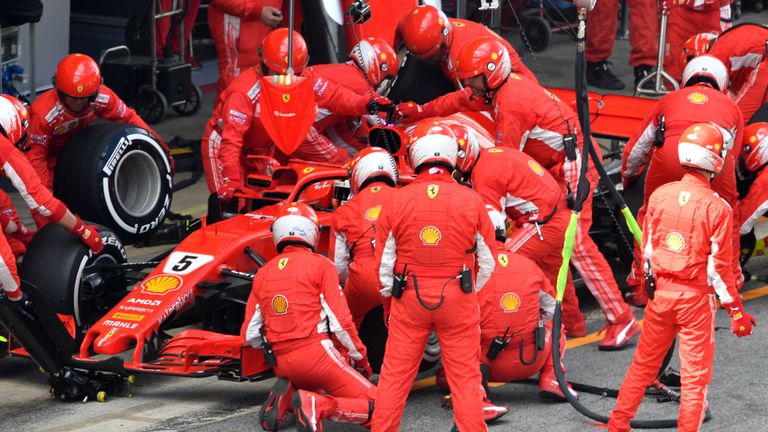 Sebastian Vettel has backed Ferrari's strategy at the Spanish GP despite losing two places through a second pit-stop, insisting the team had "no option" but to differ from their rivals.
Vettel has fallen 17 points behind Lewis Hamilton after finishing fourth in Barcelona, though he was just a place behind the eventual race-winner before Ferrari pitted him again under the Virtual Safety Car.
That decision - coupled with a lengthy 5.5s stop - allowed both Valtteri Bottas and Max Verstappen to pass the four-time world champion, and Hamilton insisted Ferrari made a "mistake" with their strategy.
Hamilton dominates as Ferrari suffer
Lewis says win can be "turning point"
WATCH: First-lap carnage in Spain
But Vettel says his team had no choice and could not one-stop like Mercedes and Red Bull, telling Sky F1's Natalie PInkham: "For us it was not an option to stay out.
"We were going through the tyres quicker than the others today. It looks different and it looks wrong, but from the inside I think it was the right thing to do."
Vettel struggled with tyre life throughout the race, and continued: "It's hard to say how it would have been without the [compound] change.
"I think it probably impacted more on us than the others."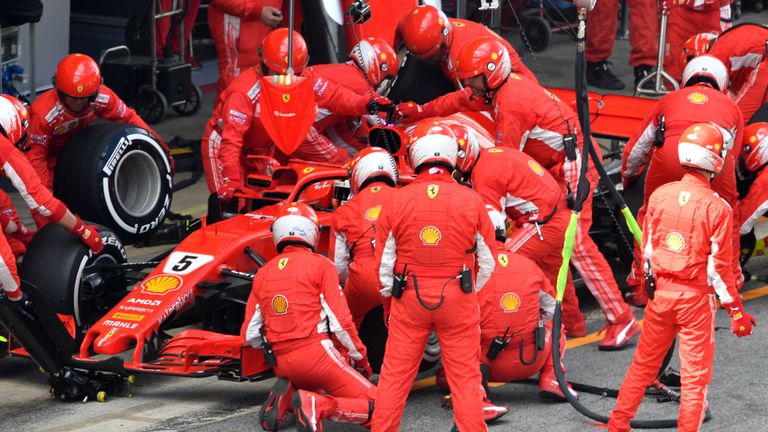 Though Bottas appeared comfortable in second place at the chequered flag, Toto Wolff admitted Mercedes were concerned after noticing blisters on his tyres in the last few laps.
And Wolff also revealed that the team, who eventually sealed their first 1-2 of 2018, were tempted to follow Ferrari onto a two-stop strategy.
"It was a very difficult call to make," the Mercedes boss told reporters. "We have had it in the past - in Shanghai, it was [a question of] trading track position for fresh tyres. We debated it again.
"But based on the experience of struggling to overtake Max, for us track position was more important. It was a very difficult decision and l fully understood why they did it."
Vettel's second slow stop was not helped by Sergio Perez entering the pits at the same time for Force India, but he claimed: "It was my mistake. I overshot the box and the guys had to reshuffle and that cost us time."
That error meant the German emerged back on track behind Verstappen's Red Bull.
Even though Verstappen suffered car damage after a bizarre collision with Lance Stroll in the Williams, Vettel could not challenge and he believes Ferrari, who have had the consistently quicker car this year, never had the pace in Spain.
"Overall we were a little bit quicker [than Verstappen] but as the laps went on, we just didn't have enough pace," he added. "He was doing more or less the same [lap times] with the damage.
"We were just not quick enough and even at the end I was not in a healthy shape with the tyres even though mine were the freshest."