Hamilton stuns Vettel
Lewis Hamilton passed Sebastian Vettel to win the Chinese Grand Prix on Sunday, with Mark Webber finishing third in Shanghai.
Last Updated: 17/04/11 4:05pm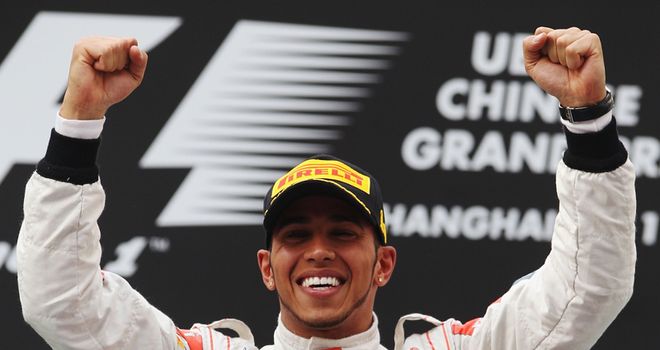 Lewis Hamilton scored a stunning win in the Chinese Grand Prix on Sunday to deny Sebastian Vettel a hat-trick of victories.
The McLaren driver passed his Red Bull rival with just four laps to go at the Shanghai International Circuit to climax a race filled with overtaking, incident and strategic intrigue.
That much was underlined by the presence of Mark Webber on the podium, Vettel's team-mate putting in a much-needed performance to come through from 18th on the grid to finish third.
Jenson Button came home fourth having led the early laps before making a blunder in the opening round of pit stops - the Englishman briefly pulling into Vettel's pit box rather than his own.
Mercedes GP's Nico Rosberg and Ferraris' Felipe Massa, who both led at various stages of the 56-lap race, finished fifth and sixth respectively.
Massa's team-mate Fernando Alonso finished seventh ahead of Mercedes GP's Michael Schumacher and Renault's Vitaly Petrov, with Sauber's Kamui Kobayashi claiming the final world championship point.
Starting third on the grid, Hamilton had to battle past Button as well before finally overhauling Vettel for the lead.
The 2008 world champion had said after qualifying that his intention was to preserve his tyres for the race and in the end it was this aspect that did for Vettel.
The defending world champion elected to run a two-stop strategy but the three-stopping Hamilton had fresher rubber in the closing laps and made it count.
The result not only denied Vettel a hat-trick of wins in 2011, it also prevented him from scoring his fifth Formula One victory in a row dating back to his title surge late last year.
For Hamilton, it was a first victory since last August's Belgian Grand Prix and a result which moved him into second place in the drivers' standings.
He now has 47 points, 21 fewer than Vettel, while Button (38) moves down to third place with Webber (37) fourth.
Poor start
Button took the lead at the lights after pole man Vettel fluffed his lines. The German then diced with Hamilton, who forced his way into second place.
Behind the top three, Rosberg held station off the line while Massa moved fifth after passing Alonso on the opening lap.
Webber had only climbed two places to 16th by the end of lap two, although Schumacher moved up quickly from 14th to ninth.
Starting eighth on the grid, meanwhile, Paul Di Resta ran seventh early on ahead of Force India team-mate Adrian Sutil.
At the front, Hamilton, whose car suffered a fuel leak in the garage prior to the race, was keeping Button honest but Vettel also closed and passed the second McLaren.on lap 14.
He then pitted in tandem with Button, who inexplicably pulled into the Red Bull pit before promptly moving to the McLaren box just a few yards ahead.
Vettel duly got ahead and there was more misery for McLaren when Massa also got the jump on Hamilton.
The winner when the first stops panned out was Rosberg, who had come in on lap 13 and leapfrogged the Red Bull and the McLarens to go five seconds clear by lap 20.
He led from Vettel, Button, Massa and Hamilton, with Schumacher sixth but coming under huge pressure from Alonso.
Alonso eventually squeezed past, but within moments the German was in the pits for his second stop anyway.
Rosberg stopped again on lap 25, promoting Vettel into the lead. Webber, who was again not using KERS after suffering more problems with it, stopped on the same lap and rejoined in 13th.
Button dropped to eighth after pitting at the end of lap 24 but was soon heading back up the order with a pass on Di Resta.
Rosberg passed Alonso for third at the start of lap 29, while Button also closed in on the Spaniard and passed him for fourth at the end of the long back straight one lap later.
Vettel pitted from the lead in what was his final stop at the end of lap 31 and rejoined on hard tyres in sixth place, behind both McLarens and Rosberg.
Alonso pitted for a second time at the end of lap 32, while leader Massa did likewise a lap later to hand the lead back to Rosberg, who now had Button on his tail.
Meanwhile, Webber overtook Petrov for seventh on lap 35, with Hamilton putting a brave move on Button at the end of the start-finish straight at the start of lap 36 to go second.
Frenetic
The action was frenetic throughout the field, with Alonso passing Petrov on lap 37.
Button made his third and final stop from third place on lap 38 but then flat-spotted one of his new tyres as he pushed too hard - and to no avail as Hamilton emerged ahead after his third stop one lap later.
Rosberg pitted from the lead on lap 40, emerging right in front of the charging Hamilton but doing well to hold the Briton at bay.
That left Vettel out in front and on course for his third win of the year - provided that his tyres held up.
Hamilton passed Rosberg on lap 42 after the German had been warned by his team that his fuel level was critical.
Three laps later, Hamilton was up to second as he passed Massa across the start-finish line.
Button passed Rosberg on lap 45, while Webber was by now charging and he passed Alonso for sixth on lap 46.
Hamilton was taking chunks of time out of Vettel's lead, with the gap down to less than a second with six laps remaining.
At the end of lap 50 Vettel defended at the end of the back straight, but it seemed only a matter of time before Hamilton would find a way past.
He did just that two laps later with a brave move into turn seven.
Webber took fourth from the fading Rosberg on lap 54, but he was not done yet and passed Button for the final podium place on the penultimate lap.
Di Resta, meanwhile, came home 11th to be denied a hat-trick of points finishes at the start of his F1 career.
The race brought only one retirement, with Toro Rosso's Jaime Alguersuari pulling off the track on lap 10 when a wheel came loose following a pit stop.
Result
1 Lewis Hamilton (Gbr) McLaren 1hr 36mins 58.226secs, 2 Sebastian Vettel (Ger) Red Bull 1:37:03.424, 3 Mark Webber (Aus) Red Bull 1:37:05.781, 4 Jenson Button (Gbr) McLaren 1:37:08.226, 5 Nico Rosberg (Ger) Mercedes GP 1:37:11.674, 6 Felipe Massa (Bra) Ferrari 1:37:14.066, 7 Fernando Alonso (Spa) Ferrari 1:37:28.848, 8 Michael Schumacher (Ger) Mercedes GP 1:37:29.252, 9 Vitaly Petrov (Rus) Renault 1:37:55.630, 10 Kamui Kobayashi (Jpn) Sauber-Ferrari 1:38:01.499, 11 Paul di Resta (Gbr) Force India 1:38:06.983, 12 Nick Heidfeld (Ger) Renault 1:38:10.965, 13 Rubens Barrichello (Bra) Williams 1:38:28.415, 14 Sebastien Buemi (Swi) Scuderia Toro Rosso 1:38:28.897, 15 Adrian Sutil (Ger) Force India at 1 lap, 16 Heikki Kovalainen (Fin) Lotus F1 at 1 lap, 17 Sergio Perez Mex Sauber-Ferrari at 1 lap, 18 Pastor Maldonado (Ven) Williams at 1 lap, 19 Jarno Trulli (Ita) Lotus F1 at 1 lap, 20 Jerome d'Ambrosio (Bel) Virgin Racing at 2 laps, 21 Timo Glock (Ger) Virgin Racing at 2 laps, 22 Vitantonio Liuzzi (Ita) HRT-F1 at 2 laps, 23 Narain Karthikeyan (Ind) HRT-F1 at 2 laps Not Classified: 24 Jaime Alguersuari (Spa) Scuderia Toro Rosso Retired
Drivers' Championship:
1 Sebastian Vettel (Ger) Red Bull 68pta, 2 Lewis Hamilton (Gbr) McLaren 47, 3 Jenson Button (Gbr) McLaren 38, 4 Mark Webber (Aus) Red Bull 37, 5 Fernando Alonso (Spa) Ferrari 26, 6 Felipe Massa (Bra) Ferrari 24, 7 Vitaly Petrov (Rus) Renault 17, 8 Nick Heidfeld (Ger) Renault 15, 9 Nico Rosberg (Ger) Mercedes GP 10, 10 Kamui Kobayashi (Jpn) Sauber-Ferrari 7, 11 Michael Schumacher (Ger) Mercedes GP 6, 12 Sebastien Buemi (Swi) Scuderia Toro Rosso 4, 13 Adrian Sutil (Ger) Force India 2, 14 Paul di Resta (Gbr) Force India 2, 15 Jaime Alguersuari (Spa) Scuderia Toro Rosso 0, 16 Jarno Trulli (Ita) Lotus F1 0, 17 Rubens Barrichello (Bra) Williams 0, 18 Jerome d'Ambrosio (Bel) Virgin Racing 0, 19 Heikki Kovalainen (Fin) Lotus F1 0, 20 Sergio Perez (Mex) Sauber-Ferrari 0, 21 Pastor Maldonado (Ven) Williams 0, 22 Narain Karthikeyan (Ind) HRT-F1 0, 23 Timo Glock (Ger) Virgin Racing 0, 24 Vitantonio Liuzzi (Ita) HRT-F1 0
Constructors' championship: 1 Red Bull 105pts, 2 McLaren 85, 3 Ferrari 50, 4 Renault 32, 5 Mercedes GP 16, 6 Sauber-Ferrari 7, 7 Scuderia Toro Rosso 4, 8
Force India 4, 9 Lotus F1 0, 10 Williams 0, 11 Virgin Racing 0, 12 HRT-F1 0